Team USA Beats Canada to Win First Olympic Gold in 20 Years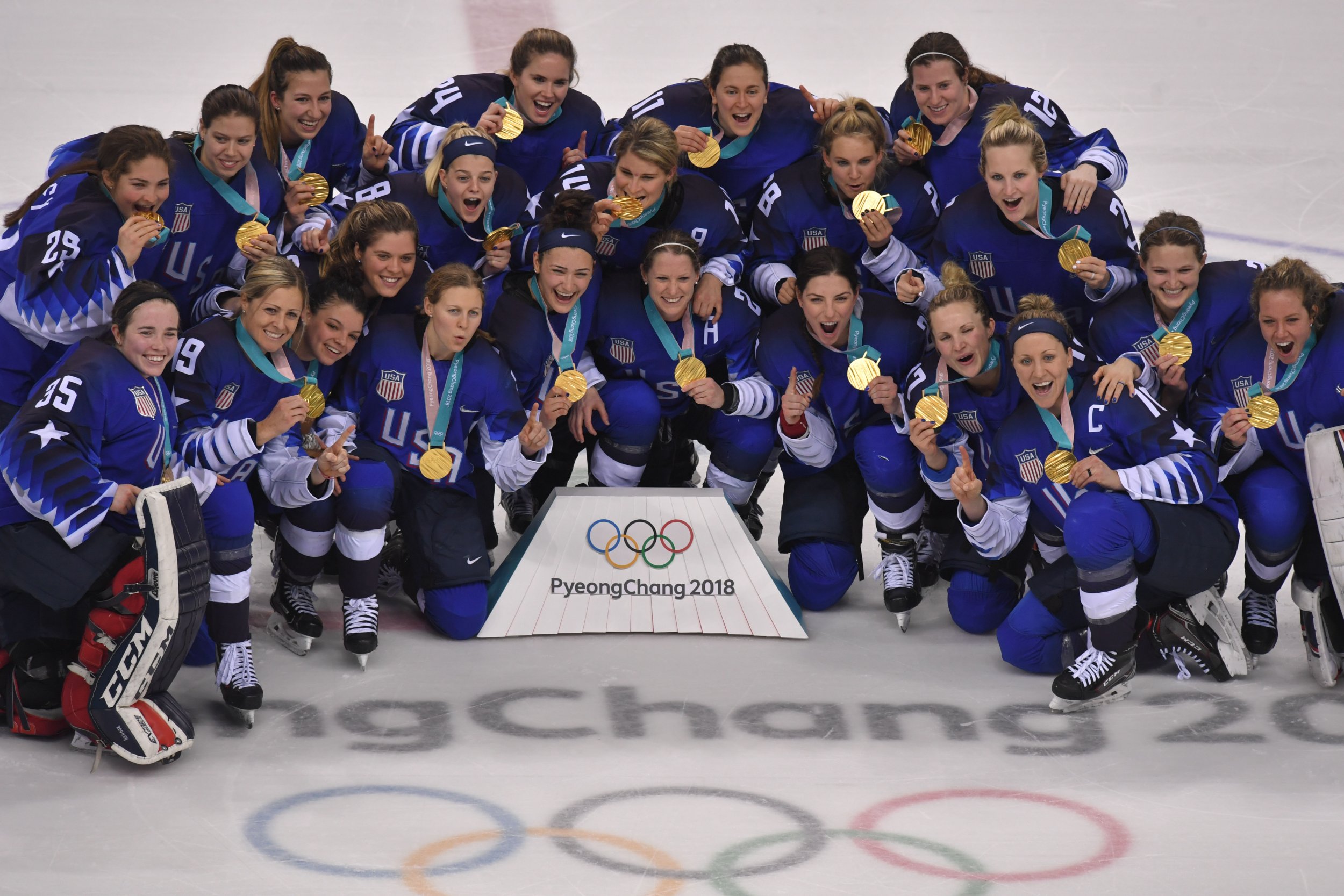 Team USA ended a two-decade wait for a gold medal in ice hockey, after a thrilling 3-2 shootout win against Canada in the women's final.
Tied at 2-2 in the shootouts after the five regulation shots, Jocelyne Lamoreau-Davidson scored for the U.S. before 20-year-old goalie Maddie Rooney secured her place in U.S. hockey history by stopping Meghan Agosta's effort.
Rooney's save clinched its team's first Olympic gold medal since the 1998 games in Nagano, when women's hockey made its debut on the Olympic stage and the U.S. beat Canada 3-1 in the final.
The two North American rivals met again at the corresponding stage four years later in Salt Lake City, in Vancouver in 2010 and in Sochi four years ago, with Canada winning gold on all three occasions.
"It is everything for our country," American coach Robb Stauber said after the game. "I can't tell you how happy I am for our players. We love them, it is unreal. I am just so thankful for the outcome. It was a thrilling final, it was unreal. I am just so happy for our players."
For Canada, however, it was a crushing disappointment.
"This medal really hurts," Melodie Daoust, whose acrobatic finish had put her team 2-1 up in the shootout, told Associated Press.
"It's painful."
Canadian goalie Shannon Szabados added: "It becomes more individual and less of a team thing, so a little harder to swallow. But [it's] the way it goes."
The U.S. had lost to Canada 2-1 earlier in the tournament but started strongly and went ahead with 19:34 played in the first period, thanks to a short-handed goal from Hilary Knight.
But Canada hit back in the second period as Haley Irwin scored with 22:00 on the clock and Marie-Philip Poulin added a second less than five minutes later.
Monique Lamoreaux-Morando then tied the game in the last period as the two teams continued to trade chances but could not be separated and the game headed to the shootout, a first in a women's hockey Olympic final.
Rooney, who had saved 29 of the 31 shots she faced in regulation and in overtime, stopped Natalie Spooner, Poulin and Brianne Jenner in the shootout but Agosta and Daoust found the net.
At the other end, Gigi Marvin and Amanda Kessel scored but Hannah Brandt, Emily Pfalzer and Hilary Knight could not find a way past Szabados, who saved 39 of the 41 shots she faced during the contest.
It was then left to Rooney to stop Agosta's second effort and with that Canada's bid to equal the former Soviet Union's record of five Olympic golds in a row.