Tear Gas Used on Protesters Near Donald Trump's Church Photo Op, D.C. Police Attorney Admits
A lawyer for Washington D.C.'s Metropolitan Police Department on Friday said that tear gas was used on protesters gathered around Lafayette Square Park ahead of President Donald Trump's controversial photo op at a church last June.
During a federal court hearing, attorney Richard Sobiecki confirmed that authorities used tear gas on protesters around Lafayette Square Park on June 1, 2020. The demonstrators gathered to protest the police killing of George Floyd.
"The curfew, violence of past nights, chaos created by federal defendants, discharge of tear gas in that direction was not unreasonable," he said, according to WUSA-9.
Sobiecki maintained that officers "did not target specific protesters," nor did they violate anyone's constitutional rights.
The Justice Department asked the judge to dismiss the lawsuit filed by the American Civil Liberties Union against Trump over violence used on the protesters. The department argued that the lawsuit was unnecessary because Trump is no longer in office.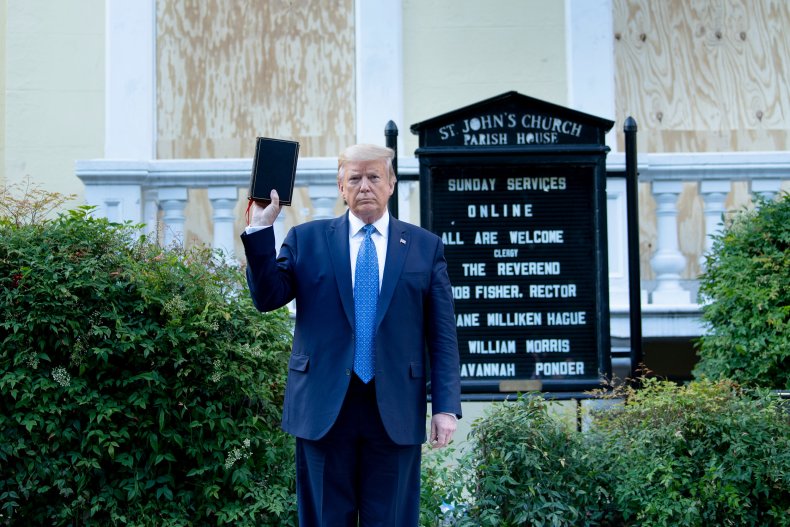 Police cleared protesters in Lafayette Square using force moments before Trump walked from the White House to St. John's Church, where he posed for photos with a bible and senior aides.
Though officials have stated that the crowd was dispersed due to a 7 p.m. citywide curfew imposed by Mayor Muriel Bowser, critics of Trump alleged that protesters were moved so that the then-president could engage in a photo op.
After the incident, U.S. Park Police acting Chief Gregory Monahan testified that tear gas wasn't used on protesters, but some assumed that he defined the sustained as CS gas. He did confirm that cops used pepper balls, sting balls and "smoke canisters" that held no irritants.
Officers "and other assisting law enforcement partners did not use tear gas or OC Skat Shells," said a spokesperson for Park Police on June 3.
Fox News' Laura Ingraham and other conservative media personalities also claimed that tear gas wasn't used on protesters near the area. Reporters at the scene quickly disputed the claim, including CNN national security correspondent Alex Marquardt who called reports of no tear gas "ridiculous."
"I was in the middle of a crowd coughing up a lung. All sort of projectiles were being fired at a peaceful crowd,"Marquardt tweeted.
D.C National Guard Major Adam DeMarco told congressional lawmakers in July that tear gas was used.
"I could feel irritation in my eyes and nose, and based on my previous exposure to tear gas in my training at West Point and later in my Army training, I recognized that irritation as effects consistent with CS or 'tear gas,'" he said. "Later that evening, I found spent tear gas canisters on the street nearby."
Newsweek reached out to the U.S. Park Police for comment. This story will be updated with any response.