Tech CEO Michael Lofthouse Apologizes for Racially Abusing Asian Family
A tech CEO has apologized after a viral video captured him racially abusing an Asian family at a California restaurant.
Michael Lofthouse, the CEO of San Francisco-based IT company Solid8, was filmed hurling racist abuse at Jordan Chan's family while they were celebrating her aunt's birthday at Lucia, a restaurant inside Bernardus Lodge and Spa in Carmel Valley on Saturday.
"Trump's gonna f*** you!" Lofthouse is seen telling them in the video after giving them the finger. "You f***ers need to leave... f***ing Asian piece of s***."
He was thrown out of the restaurant by a staff member, who is heard telling him in the clip: "You do not talk to our guests like that. Get out now. They are valued guests. You are not allowed here ever again."
In a statement to ABC7, Lofthouse apologized, calling his behavior in the video "apalling" and saying he had been taught to "respect people of all races."
"My behavior in the video is appalling. This was clearly a moment where I lost control and made incredibly hurtful and divisive comments," he said. "I would like to deeply apologize to the Chan family. I can only imagine the stress and pain they feel."
Lofthouse added that he will take the time to reflect on his actions and "work to better understand the inequality that so many of those around me face every day."
But Chan's uncle Raymond Oroso told the station that he doesn't accept the apology. "He's just saving face. I think he really meant what he said and what he did," Orosa said.
He noted that Instagram comments apparently posted by Lofthouse towards one of the family's supporters since the incident at the restaurant included the comments, "Asian f***" and "come near me and my people and u r f***ing dead."
Lofthouse and Solid8 have been contacted for comment.
His Linkedin page appears to have been taken down, but his Facebook profile remains active. His Twitter account says he has been suspended.
In a caption alongside the video on Instagram, Chan wrote that Lofthouse had "relentlessly harassed" her family as they celebrated her aunt's birthday.
"This is the face of the man who relentlessly harassed my family and I completely UNPROVOKED, UNWARRANTED, and UNCONSCIONABLE," she wrote.
"We were celebrating my tita's birthday, literally just singing happy birthday to her and taking pictures, when this white supremacist starts yelling disgusting racist remarks at us. ('Fuck you Asians' 'Go back to whatever fucking Asian country you're from' 'You don't belong here')."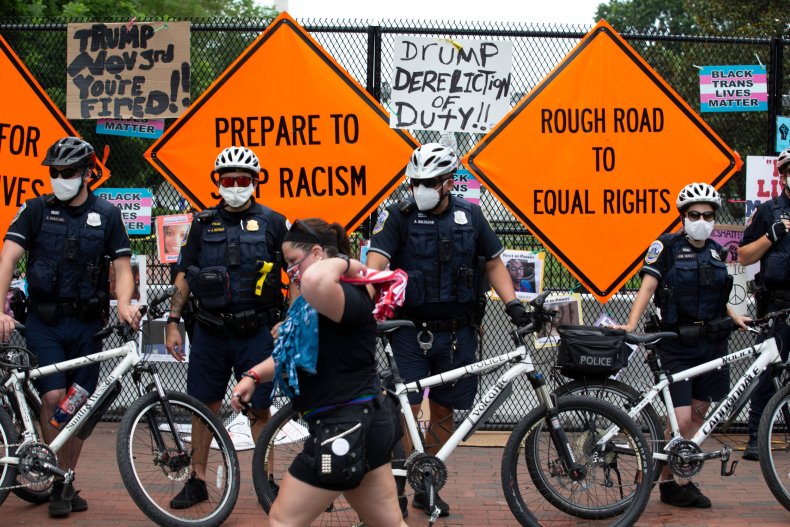 In a statement provided to Newsweek, Sean Damery, the regional vice president and GM of Bernardus Lodge and Spa, apologized to Chan's family for the "unfortunate" incident.
"This is an extremely unfortunate situation, however we are proud of our staff at Lucia in keeping with Bernardus Lodge's core values; this incident was handled swiftly and the diner was escorted off property without further escalation," Damery said.
"We provide guests with a safe environment for lodging and dining; and extend our sincere apologies to the guests enjoying a birthday celebration on a holiday weekend."
Chan said that President Donald Trump was responsible for emboldening racists. She wrote: "It is no coincidence that this man has the audacity to showcase such blatant racism on the 4th of July. White supremacy has a notorious habit of masquerading as patriotism!
"The fact that Donald Trump is our president (i.e. THE MOST POWERFUL MAN IN THE WORLD) gives racists a platform and amplifies voices of hate."
Chan has been contacted for additional comment.
The U.S. has seen an uptick in racist and xenophobic attacks against Asians and Asian Americans amid the coronavirus pandemic. Videos capturing such incidents have gone viral in recent months.
"These incidents include being told to "Go back to China," being blamed for "bringing the virus" to the United States, being referred to with racial slurs, spat on, or physically assaulted," according to The Anti-Defamation League, which has collated some of the incidents.
Critics have accused Trump of encouraging xenophobia by referring to the virus as the "Chinese virus." At his rally in Tulsa, Oklahoma, the president referred to the virus as "Kung flu."
The incident also comes following weeks of sustained protests against racism and police brutality across the U.S. sparked by the death of George Floyd, a Black man, in Minneapolis police custody on May 25.