One man who took part in storming the U.S. Capitol on Wednesday has already issued his regrets. Brad Rukstales, the CEO of Chicago-based tech company Cogensia, claimed attending the Capitol riot was the "worst personal decision of his life."
Rukstales, who resides in the Chicago suburbs, traveled to Washington, D.C., and took part in breaking into the Capitol. Politicians inside were forced into lockdown while protesters stole and vandalized property in the name of President Donald Trump and the claim that he'd actually won the 2020 presidential election.
In a written statement, published by CBS 2, a Chicago CBS affiliate, Rukstales apologized for his part in the riot after he apparently "followed hundreds inside." "My decision to enter the Capitol was wrong, and I am deeply regretful to have done so," he wrote. "Without qualification and as a peaceful and law-abiding citizen, I condemn the violence and destruction that took place in Washington."
The statement continued: "It was the single worst personal decision of my life; I have no excuse for my actions and wish that I could take them back."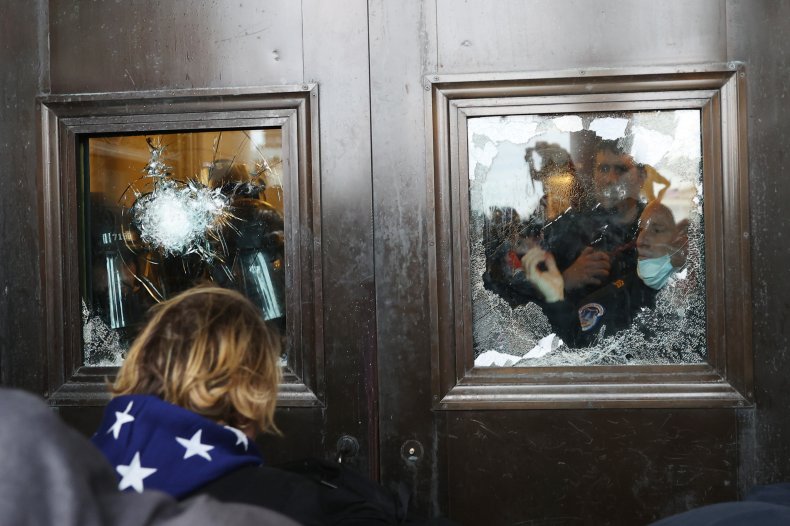 Rukstales did not expand much on that to CBS 2 when it approached him at home. Though he was open about joining the riot and confirmed he entered the Capitol, Rukstales closed the door on a reporter when asked why he made the decision to breach the Capitol.
"I had nothing to do with charging anybody or anything like that," he said in the television interview. "I was at the wrong place at the wrong time. And I regret my part in that."
As of publication time, a total of 82 arrests have been made since the Capitol building break-in Wednesday, according to the Los Angeles Times, Rukstales being one of them. The CEO has apparently donated $28,000 to Republican causes, $12,000 directly to Trump's campaign.
Cogensia also issued its own statement on Rukstales' involvement in the riot. It confirmed on Twitter Thursday that Rukstales has been temporarily removed from the position of CEO based on his actions.
"Our CEO, Brad Rukstales' participated in the recent Washington DC protests," the tweet read. "Those actions were his own and not acting on behalf Cogensia [sic] nor do his actions in any way reflect the policies or values of our firm. He has been placed on leave of absence while we assess further."
Twitter users have not responded kindly to Rukstales. His name has been mentioned a handful of times by angry Americans who watched the Capitol riot unfold and want to see justice.
Newsweek reached out to Rukstales and Cogensia for further comment.