Ted Cruz Accuses Portland Mayor of Antifa Support, Calls for Investigation Into Violent Protests
Texas Senator Ted Cruz accused Portland Mayor Ted Wheeler of ordering police to stand down and allow antifa protesters to physically engage conservative activists over the weekend.
Wheeler, who is also the commissioner of the Portland Police Bureau, has been targeted by an onslaught of criticism over the most recent clash between far-right and anti-fascist groups in the city on Saturday. A conservative journalist was reportedly assaulted by anti-fascist protesters during the violent street fighting and Cruz joined several right-wing media figures and politicians in calling for Wheeler to be investigated.
"To federal law enforcement: investigate & bring legal action against a Mayor who has, for political reasons, ordered his police officers to let citizens be attacked by domestic terrorists," Cruz tweeted Saturday, one of several pleas for more media attention and potential prosecution of the anti-fascist protesters.
"To law enforcement: find & prosecute these violent felons," Cruz added Saturday via Twitter.
An alleged attack against Andy Ngo went viral on social media, with videos and pictures showing him bloodied and asking why Portland police officers were not doing a better job defending those engaging with the antifa members.
Other videos from the Portland clashes Saturday appeared to show Ngo being punched and kicked by men wearing black hooded clothing and face masks. Although officers only appear in videos taken well after the clashes began, the Portland Police department acknowledged that demonstrators were throwing "milkshakes" containing cement.
"Police have received information that some of the milkshakes thrown today during the demonstration contained quick-drying cement. We are encouraging anyone hit with a substance today to report it to police," the official Portland Police Twitter account noted Saturday afternoon.
Local news outlets reported three protesters were arrested Saturday, although it was unclear if the arrests were tied to the alleged assault of Ngo. As of Monday morning, Wheeler and the mayor's office have not issued any official statement over the violent assaults.
Portland authorities anticipated the protests and stationed riot police near Pioneer Square, Chapman Square and Waterfront Park in order to help curb violence. As social media posts indicate, the riot police fired off non-lethal rounds to disperse protesters from both sides by Saturday afternoon, The Oregonian first reported.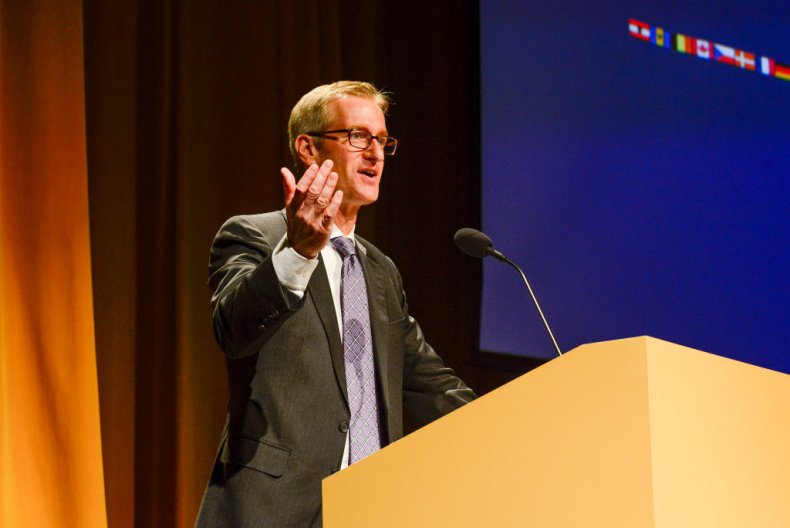 Over the weekend, Cruz reiterated his frequent claim that news organizations are lead by left-wing supporters who he believes were ignoring the Portland clashes Saturday, despite the assault of Ngo being widely covered by national news outlets.
"Sickening criminal assault. To mainstream 'journalists': don't cover this up, don't ignore it," Cruz tweeted Saturday. He later retweeted CNN anchor Jake Tapper, applauding the cable news network for covering the Portland clashes.
"Thank you for reporting on this sickening assault. Other journalists should do the same & those who facilitated or turned a blind eye to domestic terrorists—e.g., the Mayor—should be held fully accountable. By DOJ. By civil litigators. By criminal prosecutors. AND by the media.
U.S. Ambassador to Germany Richard Grenell remarked on the Portland street fighting, tweeting, "Where is Mayor @tedwheeler? Where is the national media?! @MrAndyNgo."
He went on to label the events "a pre-meditated attack on someone because intolerant radicals don't like that Andy happens to be gay, Asian and conservative."
In October 2018, Wheeler was criticized for not doing enough to prevent antifa members from blocking traffic and harassing drivers in Portland after demonstrators showed up for an OccupyICE event. Local KPTV news reported at the time that the Immigration and Customs Enforcement union in the region also demanded a criminal investigation into Wheeler's response.