Ted Cruz and Bernie Sanders Win Wisconsin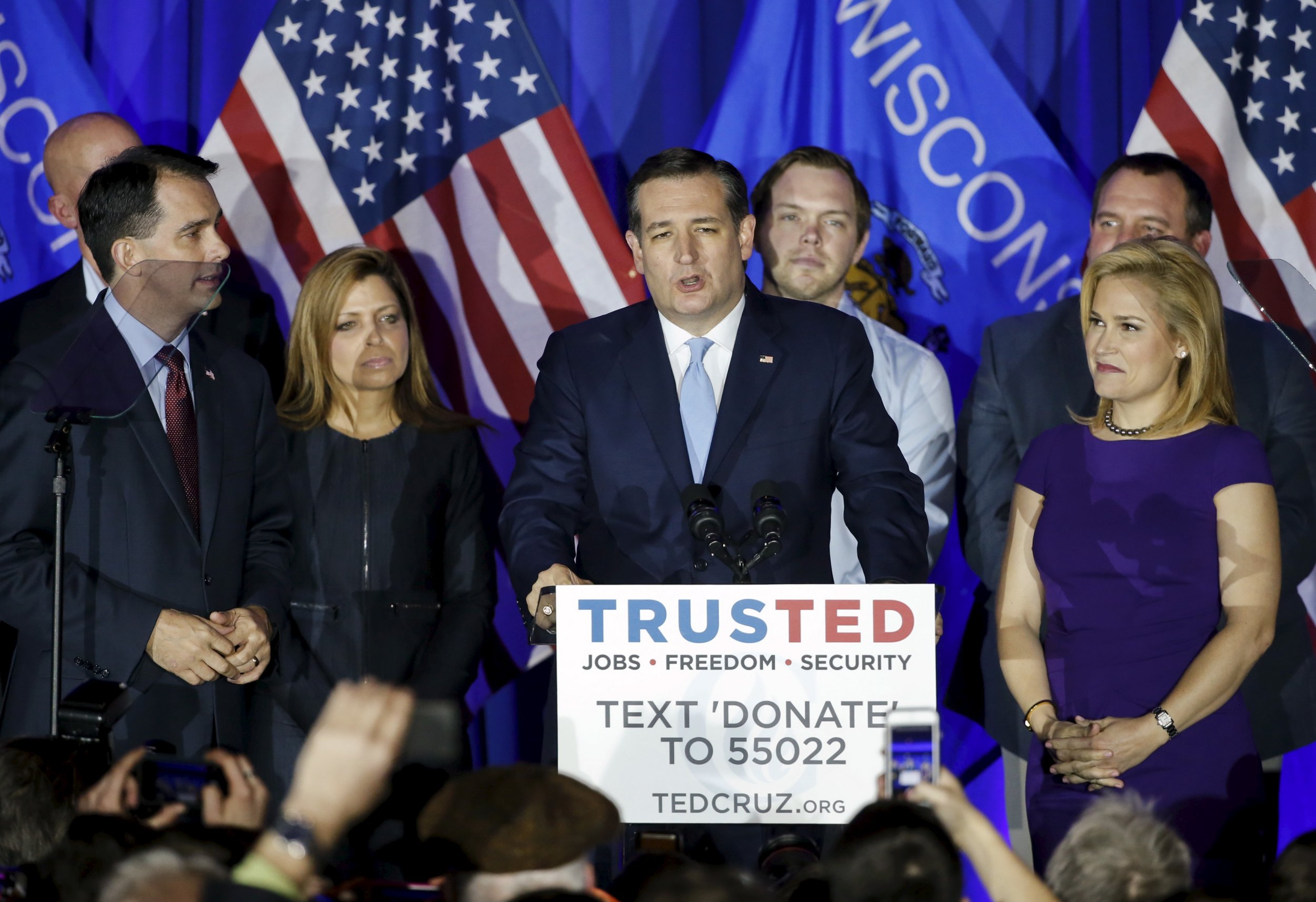 Presidential contenders Ted Cruz and Bernie Sanders won their respective primary races on Tuesday in the Midwestern battleground state of Wisconsin, defeating national front-runners Donald Trump and Hillary Clinton.
Just 20 minutes after the polls closed at 9 p.m. ET, NBC News called the Texas senator as the projected winner of the Republican race, with 50 percent to Trump's 34 percent of the vote. Sanders was projected as the winner in the Democratic race, with 56 percent of the vote over Clinton's 44 percent, according to the network.
Before voting began, Cruz was poised to gain all of the 42 delegates in the winner-takes-all Republican race. Meanwhile, Sanders, who had a narrower lead over Clinton in the Badger State, was hoping for a victory to rack up his delegate count. The Democrats had 86 delegates up for grabs in Wisconsin.
During his victory speech on Tuesday night, Cruz told his supporters that he is "more and more convinced" he will win the majority of the delegates to first defeat Trump for the Republican nomination, and then Clinton in the general election.
"Tonight is a turning point. It is a rallying cry. It is a call from the hardworking men and women of Wisconsin to the people of America. We have a choice, a real choice," Cruz said. Wisconsin Governor Scott Walker, who last week endorsed Cruz for president, stood beside the Texas senator as he spoke.
"Tonight, we once again have hope for the future. Tonight is about unity, and tonight is about hope," Cruz added.
Speaking to a riled up crowd, Cruz pointed to his recent wins in Utah, Colorado and North Dakota. He then outlined his presidential plans to destroy the Islamic State militant group, protect the Second Amendment, repeal Obamacare and "rip to shreds" President Barack Obama's Iranian nuclear deal.
"Jobs, freedom and security, that's what this election is all about," Cruz said. He geared much of his speech at prevailing over Clinton in the general election, rather than beating Trump in the race for the Republican nomination.
"Hillary, get ready. Here we come!" he said in closing.
Instead of hosting his usual press conferences following a primary win, the Trump campaign issued a statement Tuesday in the wake of his loss.
"Trump withstood the onslaught of the establishment yet again," the campaign said. "Ted Cruz is worse than a puppet—he is a Trojan horse, being used by the party bosses attempting to steal the nomination from Mr. Trump."
Moments after Cruz finished speaking, Sanders addressed his supporters in Laramie, Wyoming, where the Democrats will caucus on Saturday. He spoke about the momentum he has gained since launching his run for president almost a year ago and pointed out that the media said he was running a "fringe" campaign.
"This is a campaign of the people, by the people and for the people," he said, paraphrasing Abraham Lincoln. "We have decided that we do not represent the billionaire class. We do not represent Wall Street, or the drug companies, or the fossil fuel industry, and we do not want their money."
"All over this country, young people are standing up and saying we want to help determine the future," he added.
Clinton, who attended a fundraiser on Tuesday night, tweeted a congratulatory message to Sanders, while simultaneously encouraging her supporters.
Tuesday marked the first day of voting since Trump made waves with his controversial comment that women should face "some sort of punishment" for having an abortion. And earlier on Tuesday, the real estate tycoon revealed his plan to force Mexico to pay for a border wall by blocking remittances.
On the national level, Cruz has pulled into a statistical dead heat with Trump, according to a Reuters/Ipsos poll published earlier on Tuesday. His gains marked the first polling since November in which one of Trump's rivals for the GOP nomination has threatened his lead.