Ted Cruz Calls for Swift Action on Texans' High Electric Bills as Cancun Fiasco Lingers
As Senator Ted Cruz, a Texas Republican, continues to face criticism for his family trip to Mexico amid power and water outages during a severe winter storm that hit Texas and the southern U.S. last week, the conservative lawmaker has now called on regulators to take action as some Texans face massive electric bills.
Cruz was photographed at the airport on Wednesday afternoon boarding a flight to Cancun, Mexico with his family as millions of Texans remained without power. After the photographs circulated widely and neighbors revealed text messages from Cruz's wife inviting them to join the family trip, Cruz flew back to Texas the next day and admitted he'd made a mistake. Now, as the mockery and criticism of the Republican lawmaker persists, Cruz has criticized electric companies charging Texans thousands of dollars to keep their power on during the winter weather.
"This is WRONG. No power company should get a windfall because of a natural disaster, and Texans shouldn't get hammered by ridiculous rate increases for last week's energy debacle. State and local regulators should act swiftly to prevent this injustice," Cruz tweeted on Sunday. The senator linked to an article in The Dallas Morning News about Texans facing $5,000 electric bills for five of the freezing days of the storm.
Newsweek reached out to Cruz's press secretary of further comment but did not immediately receive a response.
The article shared by Cruz outlined a key issue with the Texas electrical grid that some Democrats have raised as criticism in the wake of the massive power outages—the electricity market in the state has been deregulated. Under normal weather conditions, supporters of the deregulated system would point to the low cost of electric bills generally enjoyed by Texans. However, with the electric grid largely failing amid the severe winter weather, critics are highlighting problems such as the high bills and a lack of preparation they argue better regulation would have addressed.
"The crisis we're facing in Texas isn't due to a mistake. The system was designed this way. In the name of 'deregulation,' Republican lawmakers have created a Wild West energy system," former Democratic presidential hopeful Julián Castro, a Texan, tweeted last week. "They line the pockets of oil producers and leave Texans vulnerable to disaster."
Forrest Wilder, news and politics editor at the Texas Monthly, explained the failure on Twitter as well.
"The fundamental feature of Texas's power grid is deregulation. We went further and faster than any other state with turning things over to the market. That's on policymakers," Wilder wrote. "One of the features of the Texas power market is scarcity. It's a feature, not a bug. Scarcity drives up prices, which is good for the industry but [disastrous] during a crisis," he added.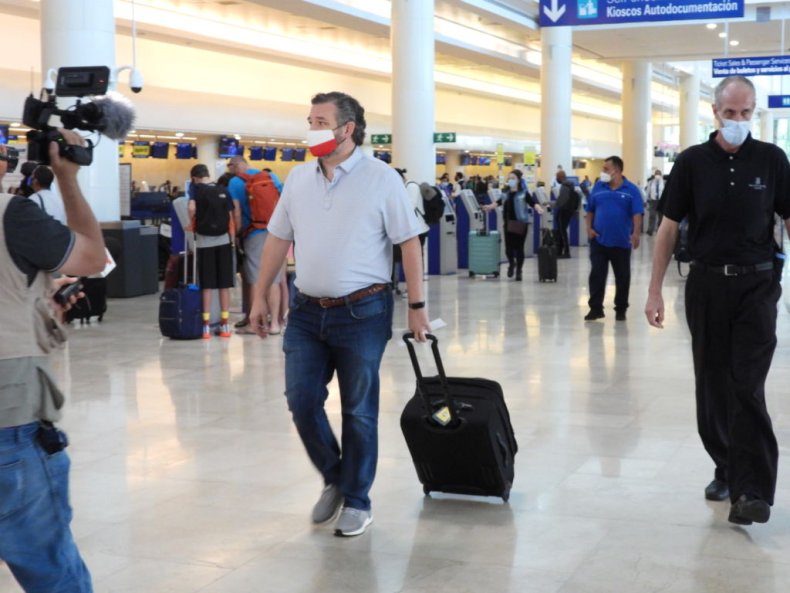 Some Republicans, including Texas Governor Greg Abbott, bizarrely blamed the Green New Deal for the state's power outages—despite the liberal policy proposal never having been voted on or implemented. Additionally, Texas only garners about 7 percent of its electricity from wind power, while 80 percent comes from natural gas, coal and some nuclear.
"Fossil fuel billionaires are profiting off this nightmare. CFOs called it a 'jackpot.' The reason GOP are scrambling to blame the Green New Deal is bc it's the biggest legislative threat against the corrupt powers responsible for (& benefiting from) the suffering unfolding now," Representative Alexandria Ocasio-Cortez, a New York Democrat who proposed the Green New Deal, tweeted last week.
This weekend, Ocasio-Cortez joined several Democratic lawmakers at a Houston food bank as she and former Texas Representative Beto O'Rourke amassed about $5 million to help Texans struggling because of the winter storms.
Cruz, for his part, tweeted photos of himself handing out bottles of water to those in need.