Texas Paper Rips Ted Cruz's 'Second-Amendment Absolutism' on Ghost Guns
Texas Republican Senator Ted Cruz was taken to task by a newspaper in his own state this week for his attempt to block President Joe Biden's latest crackdown on "ghost guns."
On Monday, the Houston Chronicle editorial board criticized Cruz for promoting "Second-Amendment absolutism" amid a rise in U.S. gun violence. The editorial comes after Cruz and three other Republican senators announced last week that they would attempt to stop Biden's latest gun control measure, which is meant to stop Americans from purchasing so-called "ghost guns," unlicensed firearm kits that can be self-assembled at home.
"Cruz's Second-Amendment absolutism makes about as much sense as a man stepping into a subway car and opening fire with a Glock," the newspaper wrote, in reference to a shooting at a subway station in New York City last week that left 29 people injured.
"As polls show, most Americans realize that modest gun-safety measures have nothing to do with abridging Second Amendment rights. They have to do with pushing back against only-in-this-country gun insanity, insanity that tolerates gun deaths as mere collateral damage. Only in this country can we rise up and say 'enough,'" it added.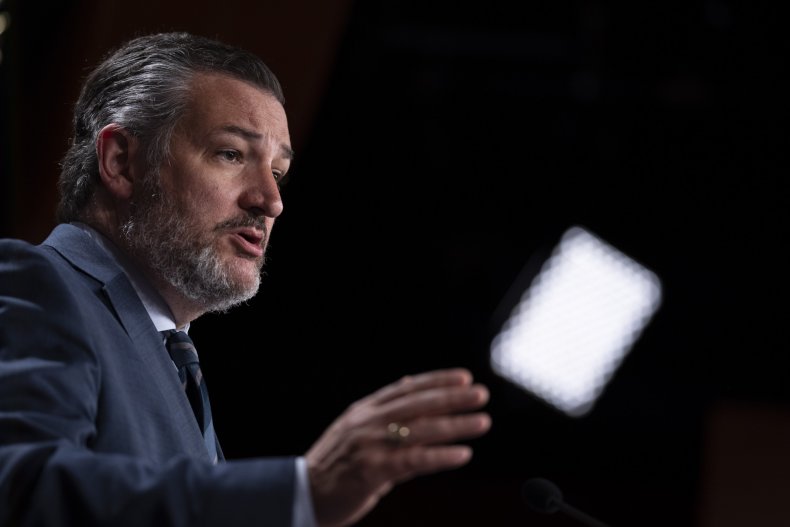 The newspaper's criticism came after Cruz claimed that Biden's crackdown on the unlicensed firearms creates a "false narrative" and "anti-gun sentiment" that the ghost guns lead to a rise in crime.
"By introducing this resolution, we're pushing back," Cruz said, alongside GOP Senators James Lankford of Oklahoma, Mike Braun of Indiana and Mike Lee of Utah. "We want to stop the Biden administration from issuing the final rule expanding the definition of firearms and instituting a national gun registry, we want to stop the false narrative that links the rise in crime to 'ghost guns,' and firearms, and we want to protect law-abiding citizens who are exercising their Second Amendment rights."
Biden's measure, announced earlier this month, would mandate background checks for anyone buying a ghost gun, and requires commercial manufacturers to become licensed and include a serial number on each weapon. The White House said since ghost guns are not currently regulated in the same way as other U.S. firearms, they are more difficult to trace by law enforcement and criminals are able to purchase them without passing safety checks.
"We are experiencing a growing problem: criminals are buying kits containing nearly all of the components and directions for finishing a firearm within as little as 30 minutes and using these firearms to commit crimes," the White House said. "When these firearms turn up at crime scenes, they often cannot be traced by law enforcement due to the lack of a serial number."
Last year alone, nearly 20,000 suspected ghost guns were reported to the Bureau of Alcohol, Tobacco, Firearms and Explosives (ATF) as having been recovered by law enforcement officers in criminal investigations, The Hill reported, adding that this is an increase of 10 times the number from 2016.
In order for Cruz's resolution to move forward, it would need to pass in the Senate with a simple majority vote, a move that is unlikely in the 50-50 split chamber.
Newsweek contacted Cruz's office for additional comment.