Ted Cruz and Jimmy Kimmel Trade Vicious Insults Over Army Comments
A war of words has erupted between Jimmy Kimmel and Ted Cruz following the Texas senator's comments about the U.S. Army being "emasculated."
The late-night host and the politician have been embroiled in a feud for a long time with the pair often trading vicious barbs over their differing politics.
This weekend, Cruz praised the Russian military in a move that opened the Republican up to criticism and Kimmel certainly did not hold back in his Monday night monologue.
For context, Cruz retweeted a side-by-side comparison of a Russian military recruitment ad and a recent U.S. Army advertisement that highlighted the real-life story of Cpl. Emma Malonelord.
"Perhaps a woke, emasculated military is not the best idea...." he tweeted before later backtracking and saying Democrats "and woke media are trying to turn [the military] into pansies."
Kimmel then explained the drama to his Monday night audience.
"Ted Cruz, who four years ago took permanent residence up the a** of a man who beat him in every election by calling his wife ugly and slandering his elderly father—says this is emasculating," Kimmel joked.
"Primarily because Ted Cruz is not human—he's a moist, gelatinous tubeworm whose elastic band pants are filled with an inky discharge every time he speaks."
"Maybe this would be more Ted's speed," Kimmel continued while showing a fake ad of Cruz heading to Cancun during the Texas Freeze with the caption: "Army. Be All You Cancan Be."
"Army. Be All You Cancun Be. Right?" Kimmel continued. "I'll tell you something, for a guy named Ted, he gives the worst talks."
Shortly after the episode aired, Cruz hit back at Kimmel on Twitter and challenged the comedian to a basketball rematch.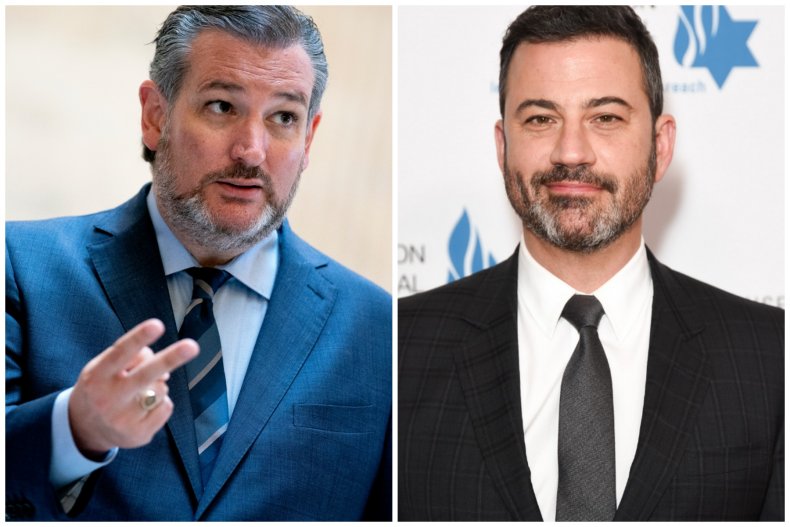 "@JimmyKimmelLive keeps talking crap. Really tough guy," Cruz wrote.
"Here's a reminder, when we played one-on-one, I kicked his ass. He has to live with that...forever. Rematch, punk?"
Cruz shared a link to a charity match the two played in 2018 for Texas Children's Hospital and Generation One, a Houston-based education non-profit.
However, Kimmel has since hit back with a more cutting response, writing: "Oh Ted... you get so sad after you masturbate."
Just last week, Kimmel hit out at Cruz for a tweet about Joe Biden and fast-food chain Chick-fil-A, calling the Senator a "Chick-fil-A-hole."
"Right, he's killing us one zesty buffalo at a time," Kimmel joked on his show. "Poor Ted Cruz, he's still looking for something to distract us from fleeing to Cancun."