Video Urging Josh Hawley and Ted Cruz Expulsion Viewed 2 Million Times
A viral video calling for GOP senators Josh Hawley and Ted Cruz to be expelled after the violence on Capitol Hill has now been watched more than two million times.
The clip, produced by anti-Donald Trump PAC Really American, splices footage of Cruz and Hawley with police officers getting crushed or beaten by protesters.
A woman's voiceover explains the reasons why they should be removed from office, claiming both lawmakers played a major role in inciting the insurrection in Washington, D.C.
Five people, including a police officer died during the violence that engulfed the Capitol on January 6 in hopes of derailing President-elect Joe Biden's impending move into the White House after Trump addressed crowds at a Stop the Steal rally.
Both Hawley and Cruz have been widely condemned for challenging the Electoral College results during certification, especially after the Capitol siege.
The Really American video, which was shared on Sunday, racked up more than two million views in just nine hours, as well as more than 17,200 retweets.
The female narrator says: "The 14th Amendment to the U.S. Constitution is clear: No American who is engaged in insurrection or rebellion is allowed to hold office."
"While seven Republican senators voted to overturn the November 2020 election, Ted Crus and Josh Hawley share the most blame for firing up the violent mob of Trump supporters that attacked the U.S. capitol and killed five people," the narrator continues.
A clip of Cruz addressing Trump supporters is then played, in which he says: "We will not go quietly into the night." Hawley is then seen talking to a news show host saying: "There were big problems with this election. There were major election integrity issues. There needs to be an investigation. There needs to be changes to the law."
Alongside a picture of Hawley pumping his first into the air, the narrator says: "The same terrorists who Josh Hawley greeted at the Capitol with a raised fist broke into the people's house with the intent to kidnap and even murder elected officials."
The video then plays a clip of a Trump supporter outside the Capitol, saying: "Death is the only remedy for what's in that building."
The video accuses Cruz and Hawley of continuing "undeterred to lie about the election." The narrator says: "Now militia groups are planning to attack the Capitol again next week. Even more Americans could be hurt all because Cruz and Hawley refuse to accept any responsibility.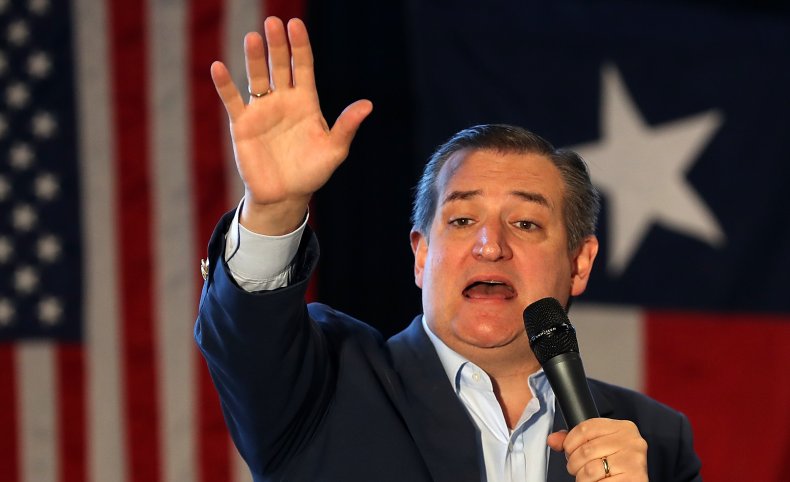 "Cruz and Hawley are too dangerous to wait to vote out. They need to be expelled from the Senate immediately and prosecuted for aiding and abetting acts of terrorism."
Calls for their resignation or removal by Congress have grown among lawmakers since the Capitol attack.
West Virginia Senator Joe Manchin said his colleagues should consider expelling Cruz and Hawley for their alleged roles in inciting the January 6 "insurrection" at the Capitol.
In a Friday interview on PBS' Firing Line with Margaret Hoover, Manchin said that while he has a good personal relationship with Cruz and Hawley, their alleged violation of the 14th Amendment's rule against inciting an insurrection and holding public office should be investigated.
Senator Patty Murray (D-WA) has also called for the resignation of Hawley and Cruz. She alleged they broke their oath of office by spearheading election overturn efforts in the Senate which, she says, inspired the rioting mob.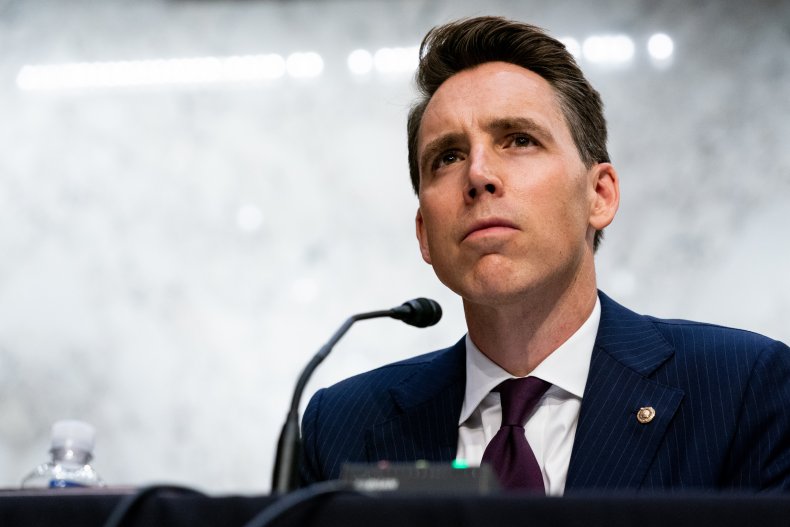 "As a Senator, I respect every member who disagrees with my ideas. I reserve my right to use my voice to fight for what I believe in," Murray said. "But at the end of the day, our job is to keep this country a democracy where voices win, not brute force. Any senator who stands up and supports the power of force over the power of democracy has broken their oath of office. Senators Hawley and Cruz should resign."
Hawley said that he only objected to the Electoral College vote count because he wanted an opportunity to highlight that "some states, particularly Pennsylvania, failed to follow their own state election laws" by expanding voting options during the ongoing COVID-19 pandemic.
Cruz has echoed Hawley's sentiment, saying: "What I was doing and what the other senators were doing is what we were elected to do, which is debating matters of great import in the chamber of the United States Senate."
Both Cruz and Hawley's offices have been contacted for comment by Newsweek.