Ted Cruz Trashed For Grilling Ketanji Brown Jackson On CRT, 1619 Project
Senator Ted Cruz is being slammed online for interrogating Supreme Court nominee Ketanji Brown Jackson about critical race theory.
The Texas senator first took issue with references made to Nikole Jannah-Jones during a speech Jackson gave at the University of Michigan on MLK Day in 2020. Hannah-Jones wrote The 1619 Project, which won the Pulitzer Prize.
"It is not something that I've studied. It doesn't come up in my work," Jackson said about The 1619 Project. "I was mentioning it because it was, at least at that time, something that was talked about and well-known to the students that I was speaking to at the law school."
Cruz then moved on to discussing critical race theory, an academic framework that examines how race and racism function in various institutions. Republicans have decried critical race theory, passing laws to ban the theory from schools.
Jackson repeatedly emphasized that she has never studied critical race theory and that it doesn't apply to her work as a judge.
"It wouldn't be something that I would rely on if I was on the Supreme Court," Jackson said.
If confirmed, Jackson will be the first Black woman to serve on the high court in its 233-year history. Lawmakers on both sides of the aisle celebrated Jackson's historic nomination during the first day of hearings on Monday.
Twitter users quickly pounced on Cruz's statements.
"Oh man, after Ted Cruz's questions in this hearing, I'm very worried that Nikole Hannah-Jones is not getting confirmed to the Supreme Court," wrote journalist Ian Millhiser.
"You'll be shocked to hear that Ted Cruz's line of questioning today is pretty odious," MSNBC's Mehdi Hasan tweeted.
Sawyer Hackett, co-host of the "Our America" podcast with former presidential candidate and Obama administration official Julián Castro, said Texas was "thoroughly embarrassed" by its senators during the second day of hearings.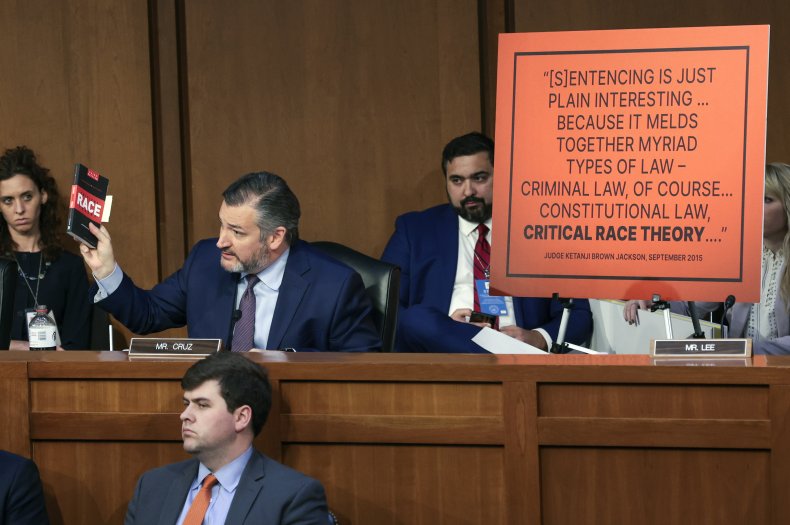 The Republican National Committee on Tuesday also attempted to tie Jackson to critical race theory. The committee posted a GIF depicting Jackson with her initials "KBJ" being crossed out and replaced with the initials "CRT," meaning critical race theory.
The committee was also criticized for the post, with many decrying it as "racist."
"Critical Race Theory is being used as a slur against Judge Ketanji Brown Jackson," Kentucky's Charles Booker wrote on Twitter. "For some politicians, it's the new way to say the N-word. It's not right, and this Senate confirmation is too important. The American people deserve better."
Democratic Congressman Eric Swalwell tweeted at the committee, "Why do you hate black people?"