Ted Cruz, Lee Zeldin Attack 'Sick' Jen Psaki Supreme Court Protest Remarks
Republicans Ted Cruz and Lee Zeldin have attacked White House Press Secretary Jen Psaki for her "sick" remarks on people protesting after the leak of an alleged draft majority decision from the Supreme Court that suggests Roe v Wade, the 1973 ruling that guarantees safe and legal abortion across the country, should be overturned.
Activists believe that overturning the law would mean that many states would make abortion illegal, forcing women to travel to states where it is legal or to seek out illegal abortion services, which are likely to be less safe.
Although pro-life activists and conservatives have praised the Supreme Court leak, which was first reported by Politico on Monday, there have been many protests across the country against it, including in Washington, D.C., outside the Supreme Court and in New York City. CBS News reported on Thursday that the nine Supreme Court justices were given extra security after they received threats and their home addresses were shared online.
At a White House press conference on Thursday, Psaki was asked by a journalist: "Activists posted a map with the home addresses of the Supreme Court Justices. Is this the kind of thing the president wants, to help your side to make their point?"
She said: "Look I think the president's view is that there is a lot of passion, there's a lot of fear, there's a lot of sadness from many people across this country about what they saw in that leaked document. We obviously want people's privacy to be respected, we want people to protest peacefully if they want to protest. That is certainly what the president's view would be."
Protests at Private Residences
The reporter replied: "So he doesn't care if they if they are protesting outside the supreme court or outside someone's private residence?"
Psaki said: "I don't have an official U.S. government position of where people protest, we want it of course to be peaceful. And certainly the president would want peoples' privacy to be respected, but I think that we shouldn't lose the point here – the reason people are protesting is that women across the country are worried about their fundamental rights that have been law for 50 years, the rights to make choices about their own jobs and own health care are at risk. That's why people are protesting, they're unhappy, they're scared."
Sen. Cruz (R-TX) called Psaki's remarks "SICK" in a tweet.
"The Biden White House is openly urging rioters to target the Justices' homes & threaten their families. Radical Dems want to "burn it all down," and they are happy to employ violence against anyone who doesn't comply."
Zeldin, a Republican representative in Congress for New York's 1st congressional district, added: "Does anyone in the Biden Admin have the courage & decency to speak out in defense of the physical safety of our nine Supreme Court Justices? The doxing & intimidation campaign targeting these Justices is illegal & Jen Psaki just used her platform to green light it."
Tom Fritton, the president of Judicial Watch, a conservative foundation, which promotes transparency, accountability and integrity in government, politics and the law, also critized the Biden adminstation.
"The Biden White House seems to be condoning dangerous and unprecedented intimidation and crimes targeting the Supreme Court Justices of the United States," he tweeted.
Newsweek has contacted the White House for comment.
Responding to the alleged Supreme Court leak in a statement on Tuesday, U.S. President Joe Biden said it wasn't clear whether the draft was "genuine" or reflects the court's final decision, but his administration strongly backs Roe.
The leak suggested that the Supreme Court voted to overturn Roe by 6-3.
Cruz has speculated that a clerk for Sonia Sotomayor, a Democratic justice on the court, leaked the draft.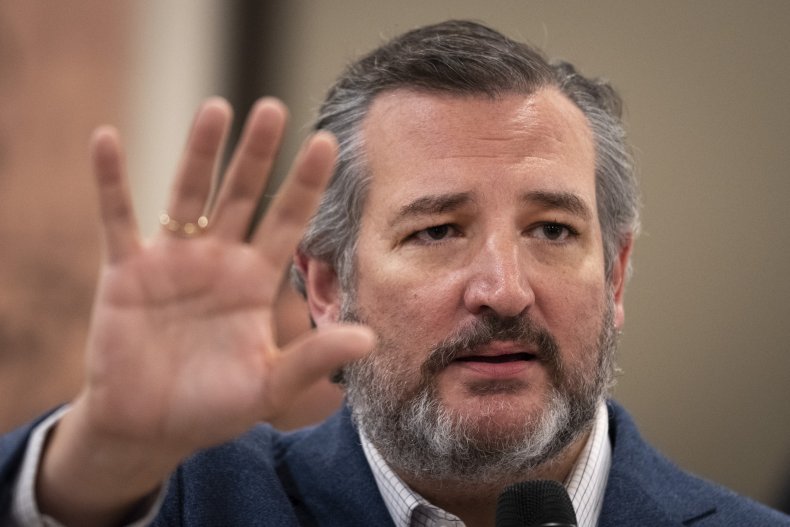 Correction 5/6/22 at 11.26 a.m. Eastern Time - The article incorrectly said Ted Cruz speculated that Sonia Sotomayor leaked the opinion. It has been amended to correctly read "one of Sonia Sotomayor's clerks."