Ted Cruz Warns of 'Constitutional Crisis' If Ginsburg Is Not Replaced, Fears a 'Contested Election'
With a political battle brewing over who will fill the Supreme Court seat of Ruth Bader Ginsburg, Texas Senator Ted Cruz has said her replacement must be in place before November's election.
Tributes have poured for Ginsburg as a liberal and feminist champion following her death on Friday from cancer at the age of 87. Democrats have expressed anger at the move by Republican Senate leader Mitch McConnell to put a nominee to a vote within hours of her death being announced.
Democratic presidential contender Joe Biden said that any decision on her replacement should be made by the winner of this year's election.
But Cruz said that the next justice needed to be in place before November 3 to avoid leaving the Supreme Court with just eight members and the possibility of a deadlock if the election results are challenged.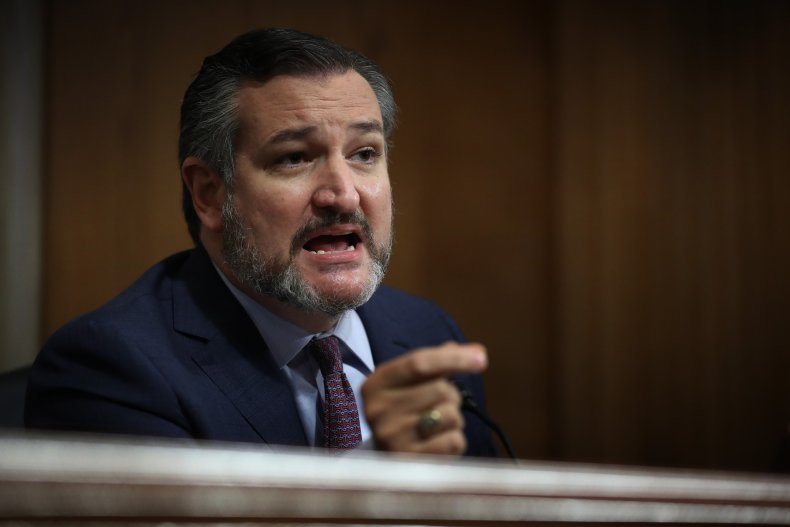 "We cannot have Election Day come and go with a 4-4 Court," he tweeted, referring to the conservative and liberal balance in the Supreme Court following Ginsburg's death.
"We risk a constitutional crisis if we do not have a 9-Justice Supreme Court, particularly when there is such a risk of a contested election," he added.
This sentiment was a follow up to his messages on Friday when "We are one vote away from losing our fundamental constitutional liberties. I believe @realDonaldTrump should nominate a successor next week and the Senate should take up and confirm that successor before Election Day."
In another tweet, he wrote: "This nomination is why @realDonaldTrump was elected. This confirmation is why the voters voted for a Republican majority in the U.S. Senate."
Ginsburg had told her granddaughter before she died that her "most fervent wish is that I will not be replaced until a new president is installed," NPR reported.
The GOP appears to be moving fast in trying to get her replacement in post before the election. ABC News reported that Trump, who has already appointed two conservatives as president, is expected to put forward a nominee to replace Ginsburg in the next few days.
The Senate where the Republicans have a 53-47 majority would vote on the president's choice, paving the way for the court's balance of power to shift towards the conservatives.
Political strategists say Trump nominating a Supreme Court candidate could shift attention away from his handling of the coronavirus pandemic and help his conservative base.
"This is going to set off a titanic battle. This could seriously affect the election," David Gergen, an adviser who served four presidents told Reuters. Newsweek has contacted the White House for comment.