Ted Cruz Receives Visit From Over 50 Buses in Gun Violence Protest
Texas Senator Ted Cruz received a visit on Thursday from a convoy of over 50 school buses in a procession protesting gun violence.
Gun control advocacy organization Change the Ref led the convoy to Cruz's office, stopping first at the senator's house with 52 school buses that had 4,368 empty seats—the number of children who have been killed by gun violence since 2020.
Cruz has actively fought for gun rights and proposed that an increase in law enforcement in schools would be more effective than tightening gun control in the wake of the mass shooting at Robb Elementary School in Uvalde, Texas two months ago. The shooting left 19 young students and two teachers dead. The tragedy has forced legislators across the country to discuss gun reform.
The buses were decorated with items and memorabilia of school shooting victims, including a kindergarten graduation card given to Sandy Hook victim Chase Kowalski and a LeBron James jersey worn by Parkland school shooting victim Joaquin Oliver, among many others.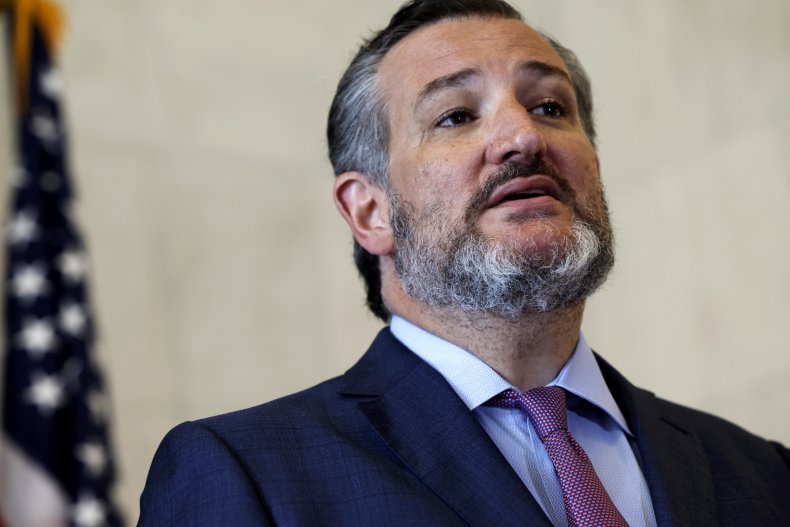 Joaquin's father, Manuel Oliver, is the artist and co-founder of Change the Ref, along with his wife, Patricia. The protest was called "The NRA Children's Museum" and stopped first at Cruz's house in Houston before the buses convened in front of his office on Thursday morning. Its goal is to ask Cruz to implement universal background check legislation for those wishing to buy guns.
Oliver delivered a hand-written letter that his son wrote five years before his death to Cruz's house, though he was told that Cruz was not home. Oliver said that he and his wife found their son's letter a month after he was killed in the 2018 shooting at Marjorie Stoneman Douglas High School in Parkland, Florida.
"I am writing this letter to talk to you about how we're going to solve this gun law movement," 12-year-old Joaquin wrote in the letter, which Oliver read to Buzzfeed News. "Most of you have a problem with the idea of universal back round checks. Why are you mad that there's a back round check it's for your own good maybe you are fond of having crazy people with death machines. You shouldn't have anything against back round checks if you're innocent."
Speaking to press outside Cruz's office, Oliver said, "If you're a senator and you believe the things that are happening are okay, look out for a yellow school bus that will be outside your office."
A spokesperson for Cruz told Newsweek, "Senator Cruz is committed to enacting policies that would stop school shootings. To that end, he introduced legislation to double the number of school resource officers, hire 15,000 school-based mental health professionals to ensure there is early intervention to identify and help at-risk kids, to provide significant resources for enhanced school safety, and to improve the gun background system and prosecute persons who try to illegally buy guns."
Newsweek reached out to Change the Ref for additional comment.