Texas Senator Ted Cruz slammed his boot on a table during a Senate Judiciary Committee hearing Thursday while expressing concerns that the FBI and Justice Department have become "thoroughly politicized."
Senators were questioning FBI Director Christopher Wray during an FBI oversight hearing when Cruz asked about what he said was an FBI training document obtained by conservative organization Project Veritas. This document, Cruz said, "listed various symbols and themes which in the FBI's estimation, were indicative of 'militia violent extremism.'"
Those symbols included the Betsy Ross flag, an earlier design of the current U.S. flag that featured 13 stars instead of 50, and the Gonzales battle flag, according to Cruz. The lawmaker then slammed his boot on the table in front of him to show that it depicted the Gonzales battle flag.
"Well, I will self-report right now that every day in the Senate, I wear my boots that have the Gonzalez battle flag on the back of them," he said.
While Newsweek was not able to independently verify the existence of such a document, the FBI does provide information and resources to help define and pinpoint violent extremism. When responding to Cruz, Wray said that he wasn't familiar with the document and is "not in the practice of trying to comment on documents that I haven't recognized."
"But I will tell you that when we put out intelligence products, including ones that reference symbols, which we do across a wide variety of contexts, we usually make great pains, take great pains to put caveats and warnings in the document that make clear that a symbol alone is not considered evidence of violent extremism," Wray said.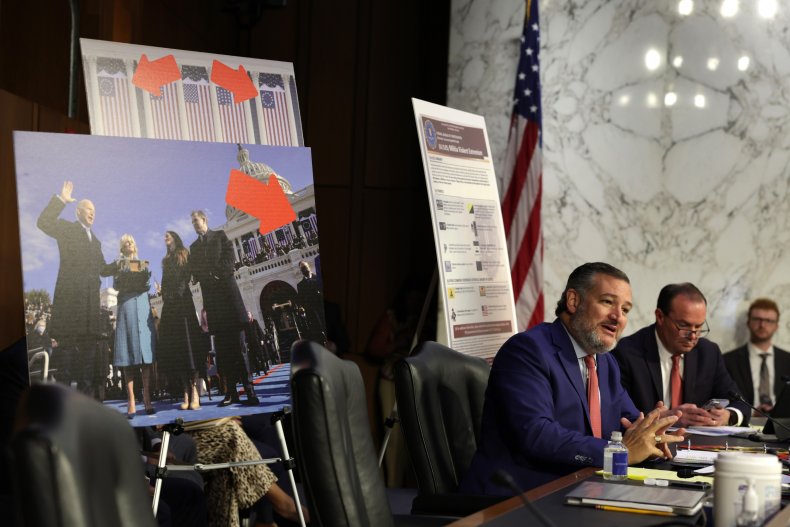 "Director Wray, you don't include things like Antifa," Cruz responded, referencing the alleged FBI document. "You don't include things like Black Lives Matter. Instead, you identify patriotic Americans as suspect."
When Newsweek reached out for comment and confirmation of the existence of such a document, the FBI shared the following statement: "It is our usual practice to decline comment on articles about allegedly leaked FBI documents, internal FBI products, or information shared with law enforcement partners. In this case, we would point out an online article referencing an allegedly leaked document on symbols that may be used by Militia Violent Extremists (MVE) contains the following words highlighted in bold near the top of the document: The use or sharing of these symbols alone should not independently be considered evidence of MVE presence or affiliation or serve as an indicator of illegal activity, as many individuals use these symbols for their original, historic meaning, or other non-violent purposes."
It was not immediately clear what article the FBI was referencing, but The Epoch Times, a far-right newspaper, reported Wednesday on the alleged FBI document. That article shared a picture of the purported memo, which included the same sentence in bold near the top that was referenced by the FBI in its statement.
The Gonzales battle flag is linked to the Battle of Gonzales, during which the first shots of the Texas Revolution were fired, according to the History Channel's website. The battle in October 1835 saw Mexican soldiers fail in an attempt to take a small cannon from a village in Texas due to resistance from a militia of Texans.
The flag depicts a cannon, with a lone star above it and the message "Come and Take It" underneath.
As the story goes, NPR reported, the Texans sewed this flag from a woman's wedding dress and raised it during the conflict.
Cruz's office declined to comment further to Newsweek.
Update 08/04/22, 4:50 p.m. ET: This article was updated with a statement from the FBI.