UTSA Facing Criticism Over Removal of 'Come and Take It' Flag Over Its History
The University of Texas at San Antonio (UTSA) is facing backlash from its board of regents over a recent decision to remove Texas' famous "Come and Take It" flag at football games after some argued that the slogan has a racist, anti-Mexican history.
"The Board of Regents does not support abandoning traditions and history that mean much to students, alumni, and other Texans," Regents Chairmen Kevin Eltife said in a recent statement, according to the Texas Tribune.
"I am very disappointed with this decision and will immediately ask our Board to establish policies that ensure that the governing body of the UT System will have the opportunity in the future to be consulted before important university traditions and observances are changed," Eltife added.
Eltife's statement comes just days after the university announced that it would disassociate itself from the "Come and Take It" flag unfurling tradition at games, along with any other ties to the slogan. The decision was made by UTSA President Taylor Eighmy after a former university professor created an online petition to have the saying removed from the campus.
Opponents of the slogan argue that its origins, which stem from the Battle of Gonzales during the Texas Revolution in 1835, are steeped in racist ideology.
According to the story of the slogan's inception, Mexican authorities loaned a cannon to Texas settlers for protection in Gonzales, and when the Mexican government later asked for the cannon's return, the settlers responded by raising a flag emblazoned with the words "Come and Take It." Ultimately, the Texans used the canon against Mexican forces.
The flag has since been treated as a symbol of Texas pride, but critics argue the slogan is used to support symbols of white supremacy and anti-Mexican and anti-immigrant sentiments.
"Referencing the infamous flag from the Battle of Gonzales, this is a slogan that embodies both anti-Mexican and pro-slavery sentiments," Dr. Ellen Riojas Clark, a former bicultural and bilingual studies professor at UTSA and founder of the petition, wrote in a statement calling for its removal.
"It has carried those white supremacist beliefs from 1835 to today, and in that time has also been widely adopted by anti-government, pro-gun extremists, such as at the January 6 insurrection at the U.S. Capitol. Like the Alamo, the Gonzales flag is an open wound for many Mexican-Americans, especially Mexican-American Texans," Clark added.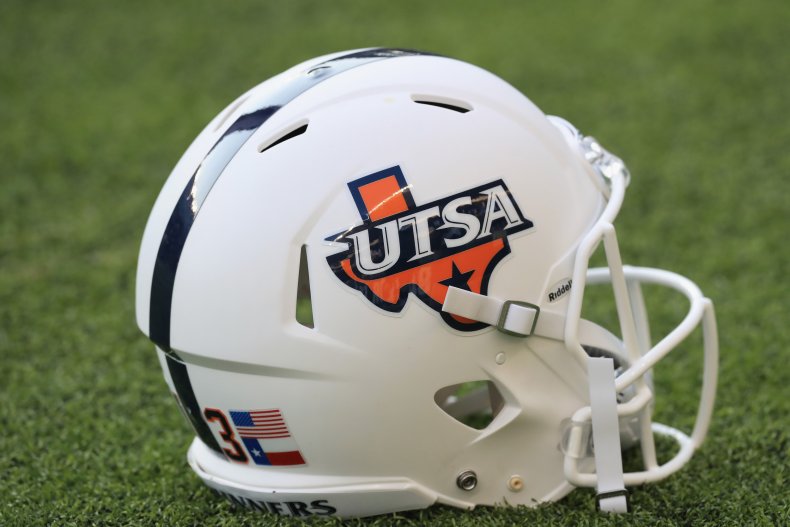 Displaying the flag at UTSA was a fairly new tradition, and began only in 2011, during the school's first football season. On Monday, Eighmy responded to the board's criticism of removing the slogan by stating, "We look forward to continuing our work together to advance education, research and service for the public good," according to the Tribune.
When reached for an additional comment Tuesday, a spokesperson for UTSA pointed Newsweek to Eighmy's announcement last week.
"I have seen this issue raise deep emotions both for and against, and even seen divisive vitriol. I especially recognize that this decision will be unpopular with many of our loyal fans," he said.
"The phrase—as well-intended as it was upon inception and adoption—has increasingly become incongruent with UTSA Athletics and our institution's mission and core values. For our athletics program and our university—each with so much promise and upward momentum—there is no benefit to becoming embroiled in a divisive issue that could carry well into the future and negatively affect our progress," he added.