Ted Cruz Tests Twitter's Censoring Policy While Jack Dorsey Testifies Before Congress
As Twitter CEO Jack Dorsey testified before Congress on Tuesday about the company's moderation policies during the 2020 election, Senator Ted Cruz issued a series of "Twitter tests" to see if the platform would censor his statements.
In an apparent effort to see how the social media platform would respond, Cruz wrote a series of Tweets about voter fraud with attached sources.
The 'tests' come in light of the company's policy to label tweets containing "disputed and potentially misleading" content.
From October 27 to November 11, Twitter said, it labeled over 300,000 tweets related to the election, including at least 50 that were shared or retweeted by President Donald Trump. Of those, 456 tweets were shielded with labels that required the reader to click through in order to read the post.
That many labeled tweets accounted for 0.2 percent of all posts concerning the 2020 election, the company said.
Twitter, along with its fellow tech giants Facebook and Google, cracked down on misinformation policies after social media became a target for the spread of false and misleading content during the 2016 presidential race.
As of last year, Twitter permanently banned all political advertisements, labeled misleading content for viewers, and slowed down the ability to retweet certain content.
The company maintained that its decision to flag disputed tweets during this year's presidential race limited the spread of disinformation and stopped the sharing of such tweets by roughly 20 percent.
But during Tuesday's testimony, Dorsey and Facebook CEO Mark Mark Zuckerberg faced scrutiny from both sides of the aisle for their handling of election information. Republicans felt the tech giants were biased in their decision to primarily flag conservatives, while Democrats said the companies' actions didn't go far enough.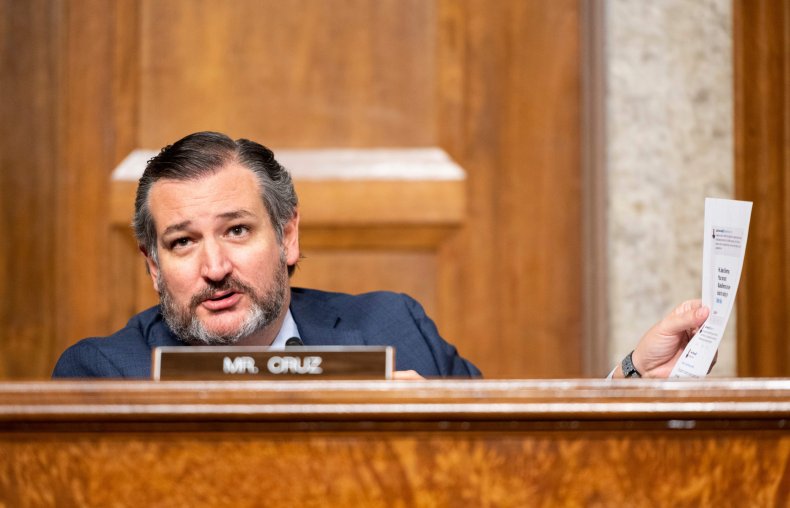 Cruz accused Senate Democrats of urging the tech companies to "abuse their power more" and "silence voices that Senate Democrats disagree with."
"That is very dangerous if we want to maintain a free and fair democracy," he said on Tuesday.
He continued by accusing Twitter of administering its policies in a "partisan and selective manner," citing the company's decision to censor a New York Post article concerning Hunter Biden and not a New York Times story about Trump's tax returns.
In response, Dorsey defended Twitter's actions and said that the decision to censor certain content fell in line with "very clear policies on the content we enable on the platform."
In regard to election fraud, Cruz asked Dorsey if he was an "expert" on the subject, and asked why Twitter is "putting purported warnings on virtually any statement" about the issue.
"We're simply linking to a broader conversation so that people have more information," Dorsey responded.
Meanwhile, Democrats called for more regulation of the tech companies and emphasized their responsibility to limit the spread of misinformation.
"You have built terrifying tools of persuasion and manipulation—with power far exceeding the robber barons of the last Gilded Age," Senator Richard Blumenthal of Connecticut said. "You have made a huge amount of money by strip mining data about our private lives and promoting hate speech and voter suppression."
As of Tuesday afternoon, Cruz's Twitter tests had not been flagged by the company.
Cruz's office provided no additional comments to Newsweek but pointed to the hearing transcript posted online