Ted Cruz Billboard, Posters Spotted in Texas Mocking Senator's Cancun Trip
Photos of a billboard and posters mocking Senator Ted Cruz's (R-TX) trip to Cancun during the state's devastating deep freeze have gone viral across social media.
A digital billboard emblazoned with the message "Texans Froze. Ted Fled" has been seen on the side of a truck was reportedly spotted driving through Houston by Fox 26 journalist Natalie Hee.
The truck, complete with a photoshopped image of Sen Cruz wearing a sombrero against the backdrop of a tropical beach, emerged as the senator faced criticism for flying to Cancun in the middle of a winter storm that has left 24 Texans dead.
Hee tweeted the images along with the message: "Just spotted this truck as we were driving thru Houston! The sign says "Texans froze. Ted fled." The tweet has since been shared thousands of times.
Text under the main image reads: "Paid for by Occupy Democrats election fund and not authorized by any candidate or candidate's committee."
A post on Occupy Democrats' Facebook page on Friday morning claimed responsibility for the stunt.
"FOX News just spotted our billboard truck driving around Ted Cruz's neighborhood!," it read. A linked fundraising page said the group planned to: "put this electronic billboard outside of Ted Cruz's house today."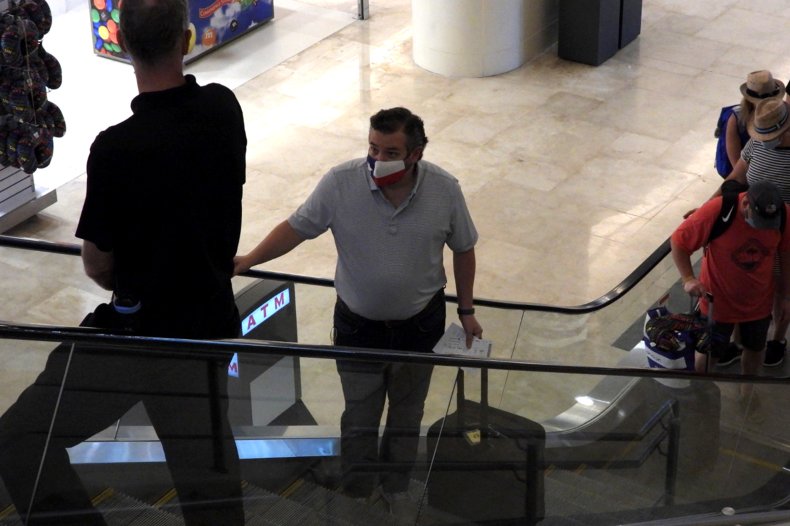 The group claims to be "the largest grassroots Democratic digital movement in our nation's history" with over 10 million online supporters and an aim to: "debunk GOP lies and expose the truth with viral videos, graphics, and news."
Senator Cruz has faced calls to resign after taking a flight to Cancun, Mexico on Wednesday.
Private texts obtained by the New York Times from Cruz's wife Heidi Cruz show her reportedly commenting that their Texas home was "FREEZING" and rooms at the Ritz Carlton where they planned to stay cost $309 per night.
Cruz returned to Texas on Thursday and said in a statement he had planned the trip for his daughters because he wanted "to be a good dad" and had come back because it "didn't feel right." He later conceded the trip was a "mistake."
Protesters have since gathered outside Cruz's home in the River Oaks neighbourhood of Houston.
Meanwhile, prankster comedians Jason Selvig and Davram Steifler posted pictures to social media of a missing poster carrying the face of Cruz and the comment: "LAST SEEN: CANCUN MEXICO leaving his state in the middle of a natural disaster."
The pair, known as The Good Liars, included artwork for the poster to allow others to print it off for themselves. The tweets have been liked over 12,000 times and shared nearly 3,000 times.
Selvig told Newsweek he and Steifler were inspired to action by Cruz's apparent hypocrisy.
"We made them because Ted Cruz is a hypocritical slime ball. He criticized the Austin mayor for going to Mexico during an emergency and then literally does the same thing. Everything about this guy is fake."
Temperatures in Texas have dropped as low as 9F in recent days as the U.S. battles a winter storm that has left many dead.
Texans have faced blackouts while around 13 million people in the state face water shortages as reservoirs run dry. Some have reported running out of food.
Newsweek has contacted Cruz and Occupy Democrats for comment.