Ted Cruz Confronted by Protesters Chanting 'Resign' Outside His House After Returning From Cancun
Sen. Ted Cruz (R-Texas) was met with angry protesters gathered in the bitter cold outside his Houston home while chanting for his resignation after the senator returned from Cancun, Mexico.
A group of protesters held signs and repeated slogans calling for Cruz to step down as he spoke to the press shortly after arriving home on Thursday. Cruz has been under heavy criticism for his trip to the resort destination while most Texans dealt with freezing temperatures and mass power outages.
"Look, it was obviously a mistake," Cruz said. "In hindsight, I wouldn't have done it. I was trying to be a dad. And all of us have made decisions, when you've got two girls who have been cold for two days and haven't had heat or power and they're saying, 'Hey look, we don't have school, why don't we go, let's get out of here.' I think there are a lot of parents that would be like, 'If I can do this, great.' That's what I wanted to do."
"Really from the moment I sat on the plane, I began really second-guessing that decision and saying 'look, I know why we're doing this, but I've also got responsibilities,'" Cruz continued. "And it had been in my intention to be able to work remotely, to be on the phone, to be on internet, to be on Zoom, to be engaged. But I needed to be here. And that's why I came back."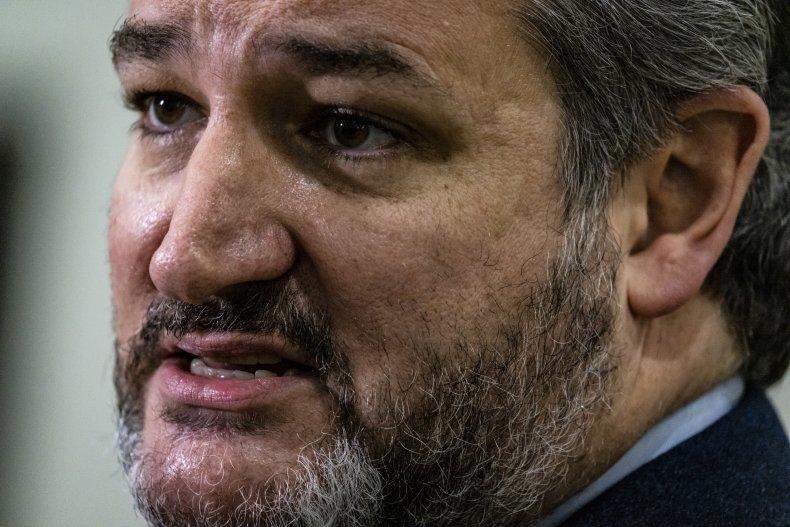 Cruz went on to say that his decision to return to Texas became "more compelling" as the situation grew into a "bigger and bigger firestorm." He also said that he hopes that "all the screaming and yelling about this trip" does not cause a distraction from his goal of "keeping all our families safe."
Photos of Cruz and his family at the airport and boarding a plane headed to Cancun went viral on Wednesday evening, quickly sparking outrage. After it emerged that he was returning to Texas on Thursday amid the backlash, protesters lined up outside the senator's home and waited for his arrival while carrying signs that dubbed him "Cancun Cruz" and called for his resignation.
The record-breaking storm that began on Sunday has blanketed Texas and knocked out power to millions of residents. Dozens of Texans have died while attempting to keep warm during the disaster, while many more have been injured by carbon monoxide poisoning or fires. Although power was restored for many, hundreds of thousands remained in the dark as of Thursday night.
Cruz also faced widespread criticism and resignation calls after he objected to President Joe Biden's Electoral College victory during the joint session of Congress that saw the U.S. Capitol building stormed by violent supporters of former President Donald Trump on January 6.
Newsweek reached out to the office of Cruz for comment.