Texans Are Being Killed by Attempts to Keep Warm Amid Storm Power Outages
Officials have warned Texans to be careful about the methods they use to stay warm after several deaths were linked to a winter storm that has knocked out power in large parts of the state.
The Houston Police Department said a woman and a child died from carbon monoxide poisoning early on Tuesday morning after a family left their car running for heat during a power outage.
In the nearby city of Sugar Land, authorities said three young children and their grandmother, who were also thought to be trying to keep warm, died in a house fire in the early hours of Tuesday.
On Twitter, Houston Police said officers were performing a welfare check at a home in the 8300 block of La Roche Lane in southwest Houston when they found four people—two adults and two children—affected by carbon monoxide poisoning.
A woman and a girl did not survive, police said, while a man and a boy were taken to hospital. Their conditions are not known. According to KTRK, the girl was 8 years old and the surviving boy is 7.
Officials told the local TV station that the woman had been on the phone to a family member while sitting in the car when she passed out. The relative then called 911.
"Initial indications are that car was running in the attached garage to create heat as the power is out," Houston police tweeted. "Cars, grills and generators should not be used in or near a building."
The Houston Chronicle reported that Harris County, which covers most of Houston, had reported more than 300 carbon monoxide poisoning cases by Tuesday. Most were people bringing barbecue pits and generators indoors to stay warm in the frigid temperatures.
In Sugar Land, a city just outside Houston, three elementary-age children and their grandmother were found dead inside a home after apparently lighting a fire to keep warm.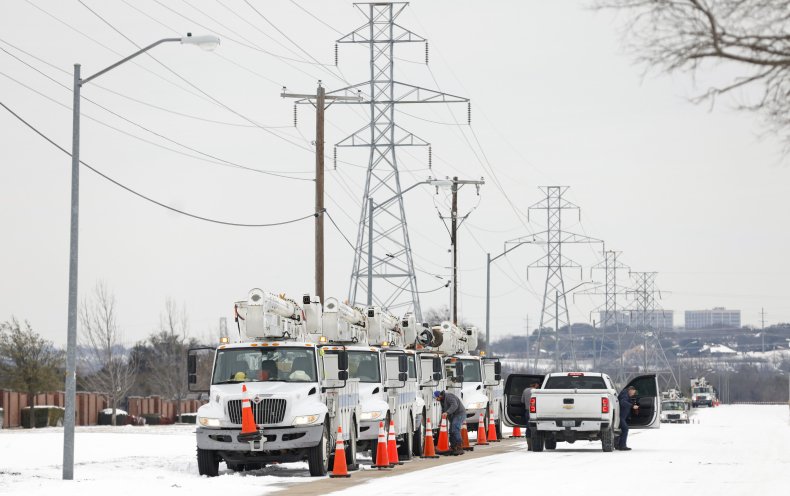 Firefighters were dispatched to a home in the 3200 block of Vista Lake Drive in Sugar Land at around 2 a.m. on Tuesday. They arrived to find the house engulfed in flames, Doug Adolph, spokesperson for the Sugar Land Fire Department, told The Chronicle.
Firefighters found the children's 41-year-old mother and a female friend with burn injuries outside the home. According to CBS DFW, a first responder had to restrain the mother from going back inside.
"They were trying to stay warm," Adolph told the Chronicle. "We can't say that's what the cause was, we just think we know they were using a fireplace."
Adolph advised people trying to keep warm during the extreme weather to wear layers, stay in an interior room and keep the blinds shut.
He added that anyone using a fireplace should ensure the chimney flue was open, stay in sight of the fire and not fall asleep while it was on.
He warned people not to use ovens to heat their homes and to make sure generators were well-ventilated and outdoors.
The U.S. Centers for Disease Control and Prevention warns that carbon monoxide is odorless, colorless and can easily kill people.
The gas is found in the fumes produced any time you burn fuel in cars or trucks, small engines, stoves, lanterns, grills, fireplaces, gas ranges or furnaces, according to the CDC. It can build up indoors and poison people and animals who breathe it.
The agency urges people never to run a car or truck inside a garage that is attached to a house, even with the garage door open. In properties with a detached garage, people should always open the door to let in fresh air when a car or truck is running inside.
This graphic, provided by Statista, shows the impact of power outages across the U.S. during the winter storm.