What Is Carbon Monoxide Poisoning? Woman and Child Die, Hundreds Affected amid Winter Storm
Texas has been hit with hundreds of carbon monoxide poisoning cases as residents try to stay warm amid freezing temperatures and a failing power grid.
On Tuesday, Houston Police said a woman and a young girl died in a carbon monoxide (CO) poisoning incident that appeared to have involved a car. A man and a young boy were also affected and taken to hospital.
The department said on Twitter: "Initial indications are that a car was running in the attached garage to create heat as the power is out. Cars, grills and generators should not be used in or near a building."
The state's Harris County region has seen over 300 CO poisoning cases in recent days, the Houston Chronicle reported, with the Houston Fire Department alone confirming it had responded to at least 130 calls related to such incidents.
Reports of CO deaths have also come out of Oregon, where the Clackamas County Sheriff's Office said four fatalities had been confirmed over last weekend. Three of them were due to "faulty propane heating sources" being used in trailers.
The incidents follow record-breaking cold temperatures across the central and southern U.S., which have left millions without power. Texas has been hit particularly hard, as show in the graphic by Statista below.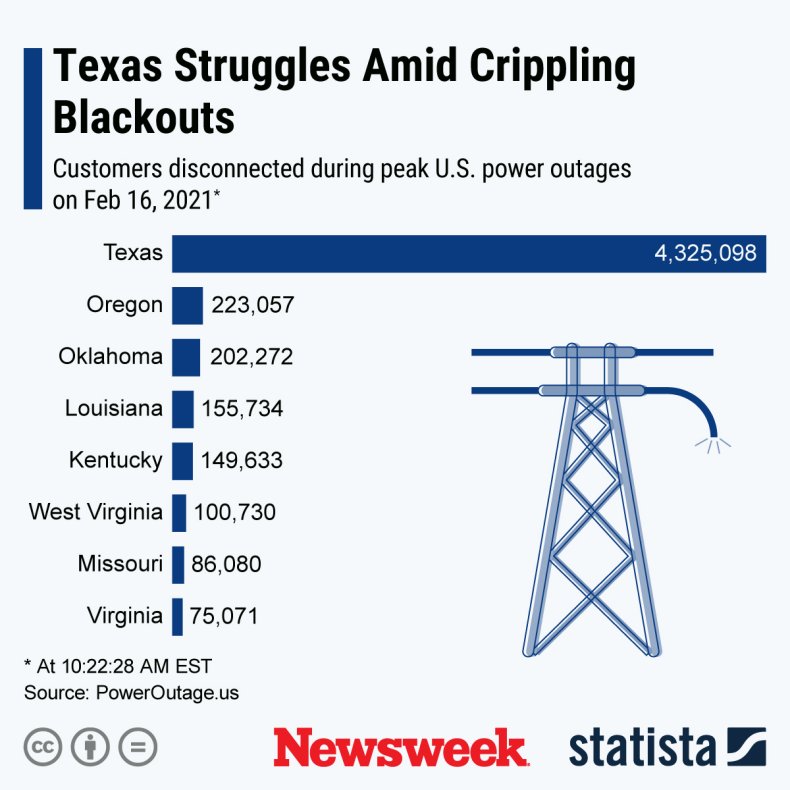 On Tuesday, state governor Greg Abbott called the conditions "unacceptable" and ordered an investigation into the Electric Reliability Council of Texas, which itself had ordered Austin Energy to cut its power usage that same evening as demand increased.
According to the Centers for Disease Control and Prevention (CDC), carbon monoxide poisoning kills 400 Americans every year in incidents it describes as unintentional and not linked to fires. It also causes tens of thousands of trips to the hospital.
Why is carbon monoxide dangerous?
CO is dangerous because in addition to being poisonous it has no smell, color or taste to alert people to its presence in the air.
It is often produced in the home by common heating appliances including gas fires, boilers, central heating systems, cookers and even open flame sources such as charcoal.
CO can also be produced very quickly by running cars. A car left running in a closed garage can produce fatal levels of CO within just 10 minutes.
In the winter, the risk of poisoning from CO increases as people turn to indoor heating sources to keep warm.
What is carbon monoxide poisoning, and what are the symptoms?
CO poisoning occurs when someone breathes in too much of it. When CO is inhaled, the gas is taken into the bloodstream where it combines with hemoglobin—the ingredient in red blood cells which carries oxygen around the body.
When CO combines with hemoglobin, it forms carboxyhemoglobin which greatly diminishes its ability to carry oxygen. It only takes a small amount of CO for this to occur.
The body then begins to suffer from a lack of oxygen, resulting in common symptoms such as headache, nausea, rapid breathing, dizziness, weakness, and confusion.
In severe cases, oxygen deficiency can cause irreversible damage to the brain and heart. It can also be harmful to pregnant mothers and the developing fetus.
People may find that their symptoms improve when they move away from the carbon monoxide source.
How can carbon monoxide poisoning be avoided?
The CDC urges people not to resort to heating their homes using a gas range, oven, portable camping stove or charcoal grill, as these can all be sources of CO. Heating systems should be inspected by a qualified technician once a year.
In addition, cars should never be left running in an enclosed area of the home, such as a garage, and generators should only be run outside.
The CDC recommends installing a CO detector in the home and changing the battery twice a year, when the clocks change in the spring and fall. The detector itself should be changed every five years.
Newsweek, in partnership with NewsGuard, is dedicated to providing accurate and verifiable vaccine and health information. With NewsGuard's HealthGuard browser extension, users can verify if a website is a trustworthy source of health information.
Visit the Newsweek VaxFacts website to learn more and to download the HealthGuardbrowser extension.