Winter Storm Map, Updates As Polar Vortex Pummels Vast Swathes of U.S.
Nearly 160 million Americans were under some sort of winter weather alert on Monday, according to the National Weather Service, with more bad weather expected.
Such a great swathe of the country is affected that weather maps over the weekend displayed unbroken winter storm warnings for 2,000 miles from border to border, while more than a third of the country experienced below-zero temperatures.
Emergency declarations are currently in place in at least seven states—Alabama, Oregon, Oklahoma, Kansas, Kentucky, Mississippi and Texas.
The National Oceanic and Atmospheric Administration said the current conditions are on a par with the historical cold snaps of February 1899 and 1905.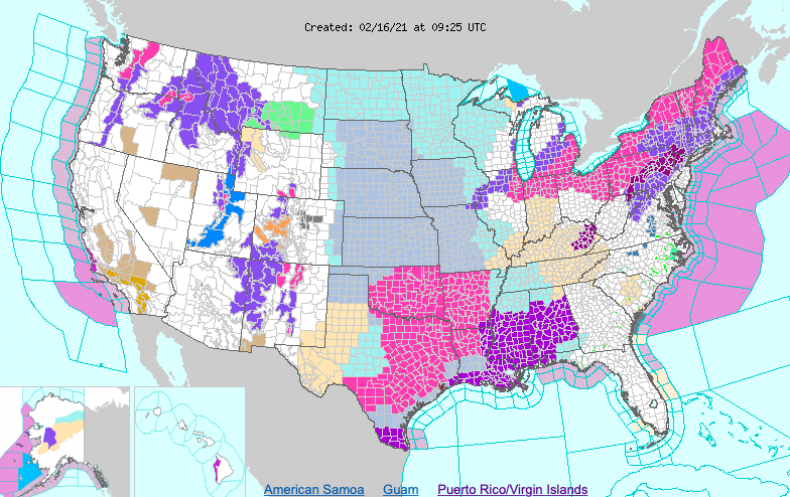 More than 240 cold temperature records could be broken Tuesday as temperatures continue to plummet.
The temperature fell to -32 F in Kansas City, Missouri, -6 F in Oklahoma City and only 5 F in Dallas - the coldest in all three cities since 1989.
Oklahoma City has gone five days without climbing over 20 F—a record that is expected to increase to nine days, with the mercury not expected to climb above 20 F until Thursday earliest.
In the East, 6-12 inches of snow is expected from Arkansas to New York, with the heaviest of it expected from the Mississippi Valley to the Great Lakes.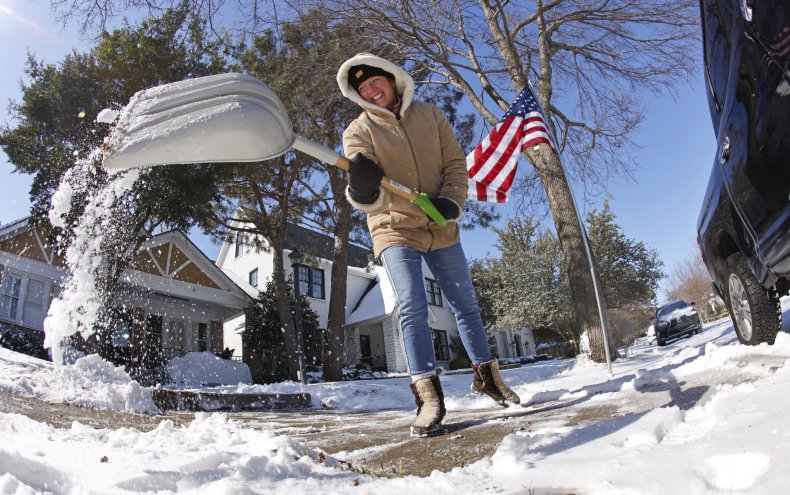 Texas has experienced the brunt of the bad weather, with all but six of the state's 256 counties subject to a winter storm warning on Sunday.
In Brownsville, in the state's southernmost tip, measurable snowfall was recorded for only the second time since 1898.
In Harris County, which includes Houston, officials asked its 4 million residents to stay indoors for the duration of the cold snap.
"The safest place to be is in your home, even if you lose power," Francisco Sanchez, the county's deputy emergency management coordinator, told local news channel KPRC. "It's going to get colder before it gets warmer. These conditions will not improve until Tuesday night or Wednesday morning."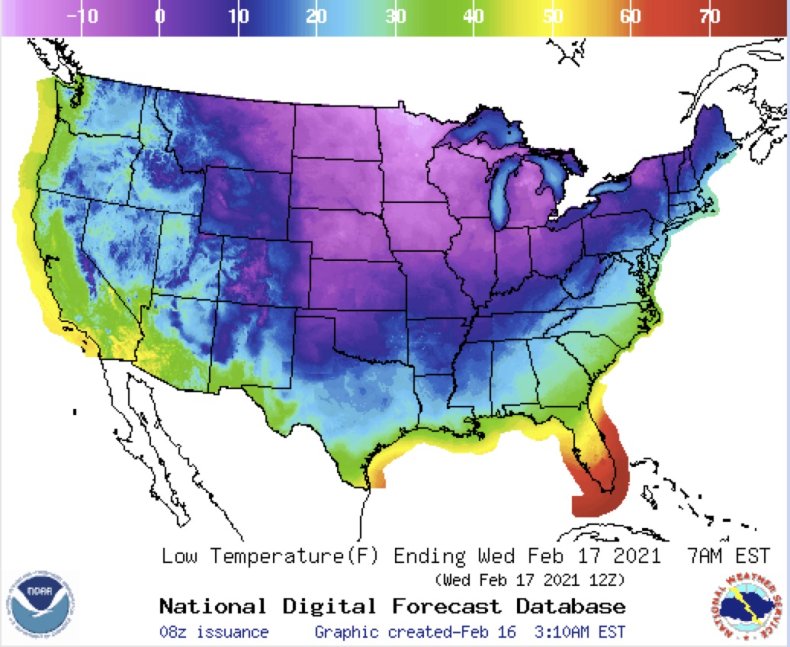 Cities across the country are braced for the cold weather to continue, with below-freezing temperatures expected to affect over 245 million people this week.
More than 50 million Americans will experience temperatures below zero, if forecasts are correct.
In Kentucky, where three people have died due to the cold weather, Transportation Secretary Jim Gray warned that more bad weather was yet to come.
"What we're facing is three winter storms in seven days," Gray told a press conference on Monday. "Kentucky is experiencing its second storm of three. More snow is expected later Monday.
"We had what amounted to an intermission, actually, between the winter storms this weekend. That enabled our highway crews to get a bit of rest and make some headway in clearing fallen limbs and trees, for example, and restocking our salt supplies."
Wind chill has also been a cause for concern, with dangerous lows recorded, including -42 F near Yuma, Colorado, and -25 F near Norton, Kansas, on Sunday.
In Wyoming, areas have recorded more than 50 inches of snowfall over the last few days, while Seattle reported 11 inches, its highest level since 1972.
Dallas and Oklahoma City are two of a number of cities in the south that could experience their biggest snowfall in a decade. Both have already recorded their snowiest weeks on record.
Across the country, the bad weather has been blamed for 15 deaths.