Texans Use Cars to Stay Warm as Winter Storm Cuts Power, Authorities Warn of Fumes
Texans are seeking refuge in their cars after rolling blackouts caused by severe winter weather have cut off their electricity.
The power outages came with little warning amidst an unprecedented winter storm that hit the state over the weekend. Heavy snowfall has frozen pipes and created dangerously icy driving conditions. On Sunday night, President Joe Biden responded to the call of state legislators and declared a state of emergency in Texas, prompting additional equipment and resources to aid the state.
But as temperatures plunged on Monday, more Texans suffered bewildering blackouts that left their homes without heat. By midday Monday, NBC News reported that over 4 million people in Texas were without power. Temperatures yesterday were in the single digits, with subzero wind chill, according to FOX 4 Weather.
"It was awfully cold and of course getting colder, but honestly I slept in all my clothes, pretty much what I'm wearing right now I slept in. I am taking it minute by minute, day by day. I don't plan on driving," Collin County resident Clint Cash said to CBS DFW. The North Texas man has been living in his car and is unable to use a blood pressure machine to monitor a heart condition due to the outage. He added that he was storing microwave meals he could not longer properly heat in the snow.
And not all the outages have been "rolling," as some Texas residents had heard they would be.
"We were told it's a rolling electrical, blackout thing, but I don't see any rolling going on," Odessa, Texas resident Treasure Thaggard told CBS7. She said she planned to stay in her pickup truck until power was restored in her home.
Many people are using their vehicles to generate warmth, which has increased risks of carbon monoxide poisoning, as has generators running indoors. Cash said he was careful to park his vehicle outside. Two people in the state have recently died from the dangerous fumes.
In one incident on Tuesday, a woman and a child were found dead from carbon monoxide poisoning while a man and a boy were rushed to a hospital for treatment. Their car was reportedly running in the attached garage to generate heat for the Houston-area home.
"Initial indications are that car was running in the attached garage to create heat as the power is out," the Houston Police Department tweeted on Monday. "Cars, grills and generators should not be used in or near a building."
As of Tuesday, Harris County, where Houston is primarily located, reported more than 300 carbon monoxide poisoning cases, most of which were caused by people bringing barbecue pits and generators indoors, the Houston Chronicle reported.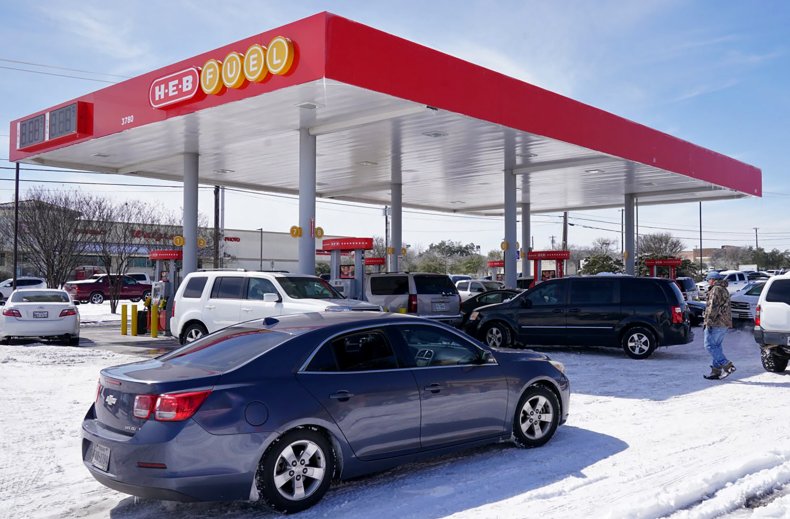 "We have seen nothing like this honestly in Texas that has covered the state like the storm has," Electric Reliability Council of Texas (ERCOT) CEO Bill Magness said Tuesday on WFAA. "It increased demand to an extreme, extraordinary height, and then the storm also made it difficult for the supply to be provided."
Texas Governor Greg Abbott described ERCOT in a press release Tuesday as "anything but reliable."
Newsweek has reached out to the Texas Department of Public Safety for comment.