Ted Cruz, in First Remarks After Cancun Controversy, Says He's Working to 'Get the Power On'
Republican Senator Ted Cruz of Texas has given his first television interview since receiving criticism for taking a trip to Cancun, Mexico while his home state suffers mass power outages and utility shutdowns amid ongoing winter storms. Millions of Texans have gone without power or heat and a few have died amid the storms.
"Texas is going through a horrific storm, and millions of Texans have lost power, lost heat and have been hurt, and our family was among them. We had no heat, no power," Cruz told MSNBC on Thursday afternoon while at the Cancun airport.
"Yesterday, my daughters asked if they could take a trip with some friends, and Heidi and I agreed, so I flew down with them last night, dropped them off here and now I'm headed back to Texas, and back to continuing to work to try to get the power on. What's happening in Texas is unacceptable and a lot of Texans are hurting."
In a previous statement released on Thursday afternoon, Cruz explained, "With school canceled for the week, our girls asked to take a trip with friends. Wanting to be a good dad, I flew down with them.... My staff and I are in constant communication with state and local leaders to get to the bottom of what happened in Texas."
Backlash had been building over Cruz's trip after photos surfaced on Wednesday night of the Republican lawmaker boarding a flight. The Texas Democratic Party called Cruz's actions "disturbing and disappointing" and told him to resign. Democratic Minnesota Representative Ilhan Omar and Cruz's former political rival Beto O'Rourke also criticized him.
"[Cruz] is vacationing in Cancun right now when people are literally freezing to death in the state that he was elected to represent and serve," O'Rourke told MSNBC.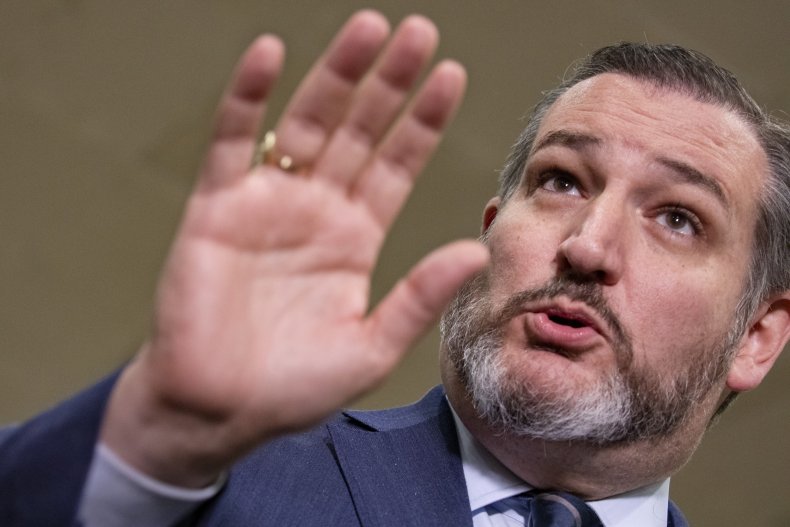 Unprecedented snowfall and record-breaking cold temperatures initially left over 4 million Texas residents without power and heat as the state's electrical grid experienced a major failure earlier in the week. The Electric Reliability Council of Texas (ERCOT), a non-profit board that oversees the electrical grid, has said it is unsure when power will be fully restored.
However, in a Thursday update, the state's Republican Governor Greg Abbott said that power had been restored to over 2 million households statewide. The governor also said that he has requested a major disaster declaration from the federal government. The declaration would allow those harmed by the storms to apply for FEMA assistance to compensate losses not covered by insurance, according to KENS.
"Everyone knows how challenging the past few days have been for our fellow Texans," Abbott said. "I want everyone to know that all of us believe it is completely unacceptable that you had to endure one minute of the challenges that you have faced."
In the meanwhile, 13 million Texans have been told to boil their tap water before drinking it, as record low temperatures froze pipes and damaged local infrastructure. At least a dozen people have died as a result of weather-related causes.
Some conservative commentators and state lawmakers have blamed the failure of wind turbines and other green energy sources for the statewide power outages. However, such sources only provide 25 percent of the state's overall power.
Newsweek contacted Cruz's office for comment.