Ted Cruz Trolled by White House for Applauding Bill He Didn't Support
Republican Senator Ted Cruz of Texas has been trolled by the White House's official Twitter account after praising a program that he voted against as a "great bipartisan victory."
The White House on Wednesday replied to a September 12 tweet that Cruz had made praising the Ports to Plains highway, a project that will stretch from the Mexican border near Laredo, Texas, to the Canadian border in North Dakota. Cruz and Democratic Senator Ben Ray Luján of New Mexico included the project in an amendment to the $1.5 trillion omnibus spending bill that passed in March.
While 18 Republicans joined with Democrats to pass the bill and the amendment for the highway project in the Senate, Cruz was not among them, ultimately voting against the project that he would later boast about on Twitter.
"The Ports to Plains highway will run from Laredo all the way up to North Dakota and into Canada," Cruz tweeted. "This project will bring jobs to Texas and millions of dollars to the state. A great bipartisan victory!"
The White House Twitter account replied to the tweet on Wednesday by pointing out "Senator Cruz voted against this."
Soon after, the phrase "you voted against it" trended on Twitter, with many others piling on the Senator for the alleged discrepancy.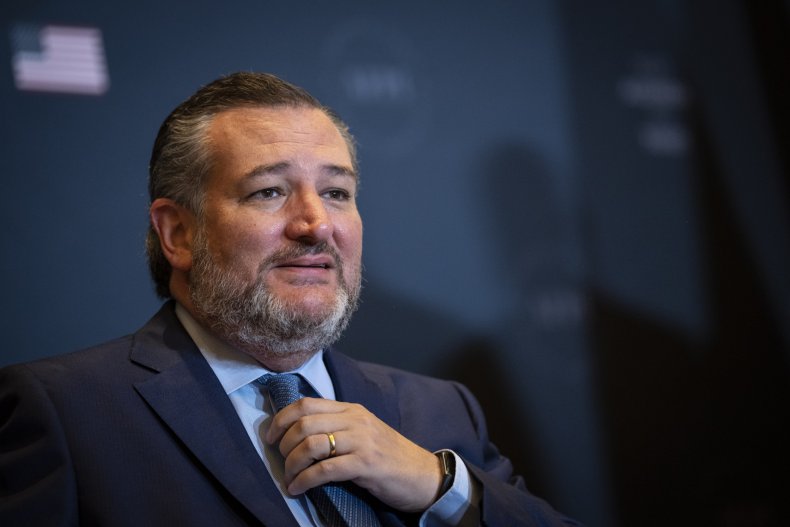 "You voted against it, @SenTedCruz," tweeted writer and producer David Simon, the creator of the critically-acclaimed HBO series The Wire. "But as you are at this late stage nothing but a congealing fistula of lies and political hackery, this tweet of yours was fully anticipated. As predictable as you are contemptible."
"You voted against it," actress Patricia Arquette tweeted. "Thanks Biden and Democrats!"
"LIAR. YOU VOTED AGAINST IT," tweeted producer Teri Weinberg. "Cool, take credit for @TheDemocrats hard work for the people."
Democratic strategist and Fox News contributor Kevin Walling pointed out that Cruz had voted against the legislation that included the project on the same day that the senator tweeted his praise, responding to Cruz on September 12.
Cruz's original tweet included a clip of an interview on the project with Ryan Chandler, a reporter for Texas ABC affiliate KAMC. Chandler tweeted an additional clip from the interview after the White House tweet brought renewed attention on Wednesday, featuring a segment of Cruz responding to a question about his vote against the bill.
"Well listen, that happens frequently in the United States Senate," Cruz said during the interview. "You end up working to get agreement and to pass a particular piece of legislation, but then it gets rolled into a giant bill that has a whole bunch of good things and bad things."
Dave Vasquez, press secretary for Cruz, said in a statement obtained by Newsweek that the senator had been praised by "the Ports-to-Plains coalition and so many local elected leaders" because he "spearheaded the project and built the bipartisan consensus that made it possible."
"What he voted against was a Democrat spending spree that contributed to an economic recession for American families," said Vasquez. "Ports-to-Plains could have easily and unanimously passed the Senate as a separate bill, but it was rolled into the pork-filled omnibus package Democrats rammed through Congress."
The White House Twitter account has recently received praise from some Democrats for sometimes taking a more aggressive tack toward Republicans and other detractors of President Joe Biden.
The account trolled multiple Republican lawmakers last month over alleged hypocrisy for lashing out at Biden's program to forgive some student loan debt, pointing out that many of those complaining the loudest previously had far larger Paycheck Protection Program loans forgiven by the government.
The apparent change in social media strategy came after the White House hired Megan Coyne as its new deputy director of platforms. Coyne previously ran New Jersey's official Twitter account, earning a reputation for crafting the account's humorous, sarcastic and often snarky tweets and replies.
Thomas Gift, an associate professor in Political Science at University College London, told Newsweek that the rhetorical shift on social media reflects the Biden administration abandoning any attempts to "win over" far-right conservatives and ardent supporters of former President Donald Trump.
"It reflects a more realist approach to America's polarization problem," Gift said. "Although Biden may have had high hopes for 'converting' the far-right when he came into office, he's finally, and belatedly, come to the realization that he's never going to win over Trump diehards."
Update 09/22/22, 4:07 p.m. ET: This article was updated with additional information and background.