White House Twitter Blasts Greene, Gaetz and Kelly on Forgiven PPP Loans
The White House is attacking multiple GOP lawmakers for hypocrisy after they complained about President Joe Biden's student loan forgiveness program despite having large loans of their own forgiven by the government.
Biden announced a plan on Wednesday to forgive up to $20,000 in federal student loan debt to individual borrowers, prompting a firestorm of criticism from Republicans, many of whom argued that the debt relief was "unfair" because it would not apply to those who never went to college or had already paid off their loans.
The official White House Twitter account on Thursday hit back against Republican critics who had far larger amounts of debt forgiven after taking out Paycheck Protection Program (PPP) loans, which were signed into law by former President Donald Trump as part of the CARES Act in March 2020.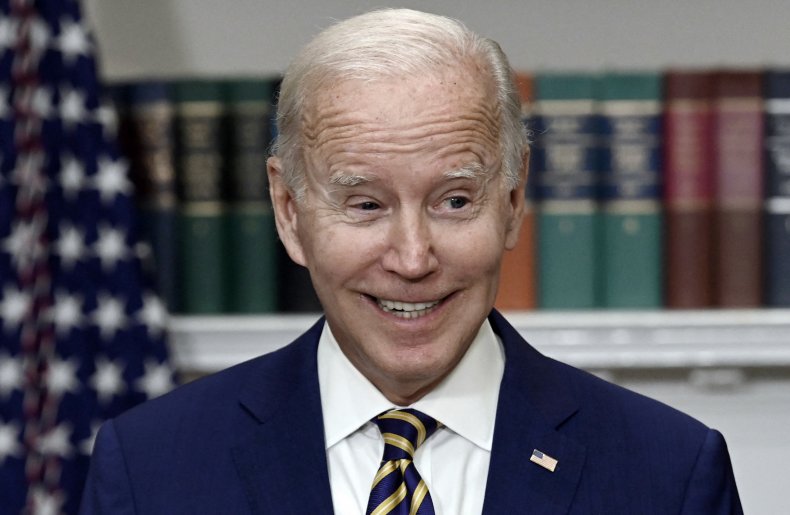 The White House responded to a clip of Republican Representative Marjorie Taylor Greene of Georgia saying that "for our government just to say, ok, your debt is completely forgiven" was "completely unfair" during a Wednesday interview on Newsmax.
"Congresswoman Marjorie Taylor Greene had $183,504 in PPP loans forgiven," the White House account tweeted in response.
Nick Dyer, Greene's communications director, told Newsweek in response to the White House tweet: "We've scoured the White House Twitter feed and can't seem to find a tweet condemning the acts of political terrorism committed against Congresswoman Greene this week. It's a shame that Joe Biden and his spokesmen in the media continue to make MTG a target simply because she is outspoken against Democrat policies, like genital mutilation surgeries for minors."
GOP Representative Matt Gaetz of Florida, who on Thursday lashed out at the student loan debt forgiveness plan and "overeducated elites" during his Firebrand podcast, was called out by the White House for denouncing the program despite having "$482,321 in PPP loans forgiven."
The White House responded to a tweet from Republican Representative Mike Kelly of Pennsylvania arguing that it was "unfair" to ask "plumbers and carpenters to pay off the loans of Wall Street advisors and lawyers" by pointing out that he "had $987,237 in PPP loans forgiven."
Kelly's office responded to Newsweek's request for comment by pointing out a related tweet that the congressman made on Friday afternoon.
"A Democrat governor declared my family's business non-essential and shut our doors," Kelly tweeted. "This money saved over 160 essential jobs in Western Pennsylvania during the pandemic. PPP loans are designed to be forgiven. Student loans are not. Big difference!"
Several other Republican members of Congress who denounced student loan debt forgiveness were also reminded of their own large PPP loan debts being wiped away by the government, including Representative Vern Buchanan of Florida, who the White House said had the staggering amount of "over $2.3 million in PPP loans forgiven."
Many prominent figures responded to the White House account's tweets favorably, with several progressive activists praising the posts and urging further action.
"More of this, please," podcast host and activist Rachel Vindman tweeted in response to the White House's reply to Greene. "We can't let their lies go unchallenged."
"LETS GOOOOOO LMAOOO," tweeted activist Olivia Julianna, who in late July raised over $2.2 million in abortion fund donations after being body-shamed by Gaetz.
"Whoever tweeted this should get a raise just for this," gun control advocate and Parkland, Florida, school shooting survivor David Hogg tweeted. "Good job."
"Hey, WH staff, just so you know, if you're going to continue to drag these hypocrites with clear and hard-hitting messaging, you run a serious risk of surging enthusiasm, electoral success, and continued improvements to the lives of millions of Americans," tweeted author Scott Lynch.
"Receipts! Receipts!" tweeted Leslie Wimes, founder of the Democratic African-American Women's Caucus in Florida. "@WhiteHouse is not playing with these @GOP hypocrites!! #studentloanforgiveness"
Newsweek reached out to the White House and the offices of Gaetz and Buchanan for comment.
Update 08/26/22, 4:12 p.m. ET: This article was updated with additional information and background.