Activist Body-Shamed by Matt Gaetz Raises $1 Million for Abortion Rights
Abortion rights activist Olivia Julianna has claimed victory over GOP Representative Matt Gaetz of Florida for inspiring more than $1 million in donations for abortion funds.
Julianna, a 19-year-old political strategist for the group Gen-Z for Change, says that Gaetz body-shaming her on Twitter over the weekend helped her and the group to raise the large sum within just 72 hours. After the $1 million milestone was reached, Julianna and other members of the Gen-Z for Change team sarcastically shouted, "Thanks Matt Gaetz," before blowing kisses to the Florida Republican in a brief video shared on Twitter.
"A sitting Republican congressmen, @mattgaetz, decided that body shaming a teenager was okay," Julianna tweeted on Thursday night. "So to spite him I raised $1 million in donations to abortion funds in under 72 hours. Abortion is healthcare. Period. #ThanksMattGaetz."
Gaetz attempted to shame the young activist after she pushed back against comments he made during a conservative conference last weekend, when he said that women who protest in favor of reproductive rights protests were "odious on the inside out" and had "the least likelihood of getting pregnant."
"They're like 5 [feet], 2 [inches], 350 pounds, and they're like, 'Give me my abortions or I'll get up and march and protest,'" Gaetz said.
"I'm actually 5'11. 6'4 in heels," Julianna responded in a tweet on Sunday. "I wear them so small men like you are reminded of your place."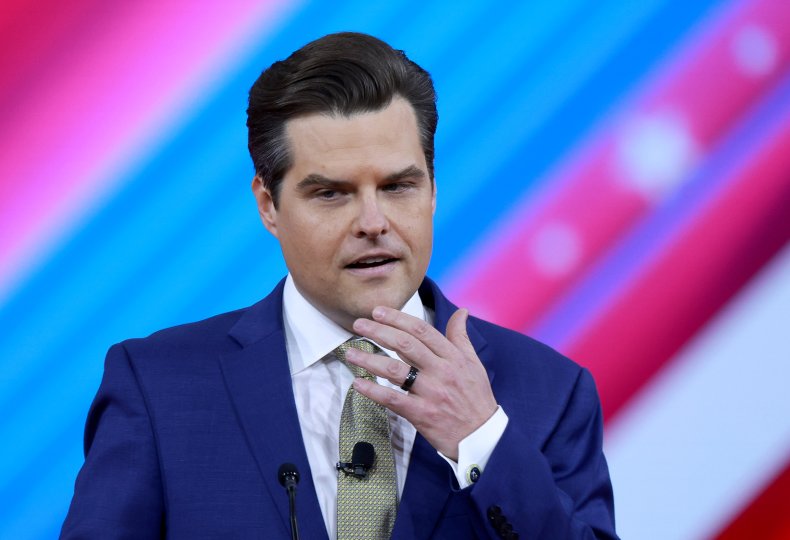 Gaetz, 40, soon after shared a Newsmax article with a headline describing his comments as a "rant sure to raise dander of his political opponents," alongside a photo of Julianna and the comment "Dander raised ...."
Julianna responded with a series of tweets slamming Gaetz, including several with references to an investigation into alleged sex trafficking of a 17-year-old girl. She also sent him multiple "thank you cards" when donations began to rapidly climb.
Julianna tweeted to Gaetz after donations surpassed $1 million on Thursday, "F**k around and find out lol" and a new "thank you card," which read: "How's that for Dander raised? Get rekt. -Olivia Julianna."
The Gaetz-inspired fundraising campaign collected over $300,000 during its first 48 hours, before catching fire to roughly triple the already impressive sum during the 24 hours that followed. The money will be distributed to 50 funds in states where abortion has been limited or outlawed in the wake of Roe v. Wade being overturned.
The amount of money donated was continuing to grow and exceeded $1.1 million at the time of publication.
"I'm in shock," Julianna told Newsweek earlier on Thursday, after the total had eclipsed $500,000. "I did not think this would be as successful as it's been. My goal was only to raise a few thousand dollars; I never expected for this to take off as much as it has."
"[Gaetz] handed me a national platform on a silver platter and now I get to share my messages and my work with even more people," she added. "[If he] would accept my gift I'd like to send him a bouquet of flowers... One flower for every hundred thousand dollars we've raised for abortion funds so far."
"With Roe v. Wade overturned, America is now a pro-life nation," a spokesperson for Gaetz said in a statement to Newsweek on Tuesday, when donations had reached approximately $70,000. "No amount of solicitations will change that."
Newsweek reached out to Gaetz's office and Julianna for additional comment.