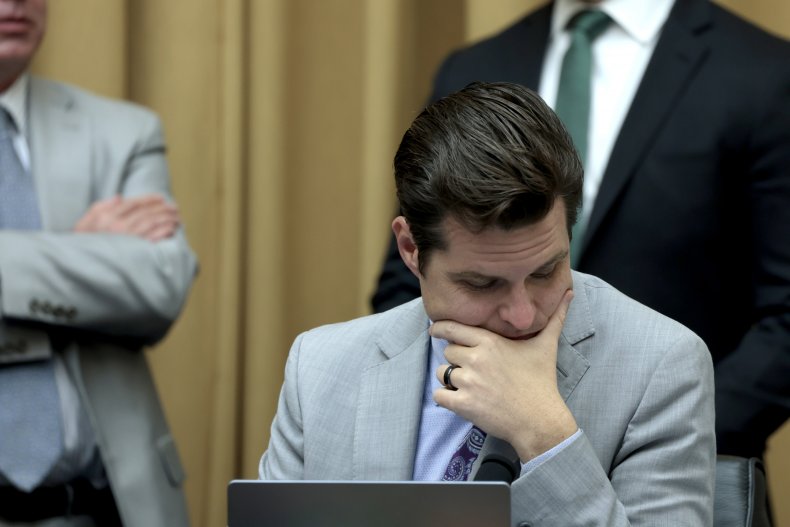 A teenage activist who was body-shamed by Representative Matt Gaetz of Florida sent a "thank you" to the GOP congressman after raising more than $50,000 in donations to abortion funds, with the figure since ballooning to over $70,000.
Olivia Julianna, a 19-year-old Texan who works as a political strategist for the group Gen-Z for Change, thanked Gaetz for fueling the donations with a tongue-in-cheek tweet on Tuesday. Days earlier, Gaetz came under fire for engaging with Julianna after she pushed back against fat-phobic and misogynistic comments he recently made concerning abortion rights activists during a speech at the conservative Turning Point USA Student Action Summit on Saturday.
"Although your intentions were hateful, your public shaming of my appearance has done nothing but benefit me. I have gained a substantial amount of support across platforms, and now because of YOUR HATRED, I've also helped facilitate $50,000 in donations to abortion funds," Julianna wrote in a "special thank you card" addressed to "Dear Matt."
"Your hateful comments towards me will quite literally help pay for abortion services," she added. "Lol. Get rekt."
Julianna signed the card "Sincerely, Olivia Julianna ... A proud abortion rights activist." She said that donations had reached more than $70,000 in a tweet later on Tuesday.
"With Roe v. Wade overturned, America is now a pro-life nation," a spokesperson for Gaetz said in a statement to Newsweek. "No amount of solicitations will change that."
As the donations reached $28,000 earlier on Tuesday, Julianna told Newsweek that Gaetz had been taught "a valuable lesson that should be echoed to every Republican who thinks about crossing or targeting me—don't mess with Texas women."
"Time and time again I've been targeted by hate mobs and right-wingers who think that because of my age that I won't hit back," she said. "Unfortunately, they're learning very quickly that not only do I hit back, but I hit back harder than they ever could."
During his Saturday speech at the conservative conference, Gaetz said that women who attended reproductive rights protests were "odious from the inside out" and had "the least likelihood of getting pregnant."
"They're like 5′ 2″, 350 pounds, and they're like, 'Give me my abortions or I'll get up and march and protest,'" Gaetz said.
"I'm actually 5'11. 6'4 in heels," Julianna responded in a tweet on Sunday. "I wear them so small men like you are reminded of your place."
Soon after, Gaetz tweeted a Newsmax article with a headline describing his comments as a "rant sure to raise dander of his political opponents," alongside a photo of Julianna and the comment "Dander raised ..."
Julianna responded with a series of tweets referencing allegations that the 40-year-old lawmaker sex trafficked a 17-year-old girl, including one that asked if she was "a little too old for" him before adding, "I know you have a thing for targeting teenagers but 19 is on the cusp don't you think?"
In addition to her "thank you card" for the donations, Julianna also thanked Gaetz on Tuesday for improving her ability to spread "pro-choice messages even farther" by increasing her "social media clout." Additional tweets included the hashtag #MattGaetzIsProAbortion and references to the congressman being "owned."
"A sitting congressman decided that body shaming a teenager was appropriate. That is despicable," Julianna told Newsweek. "Matt Gaetz is a creep, and as a side note; if you're going to publicly shame someone for the way they look, you should be ready to look in the mirror."
Newsweek has reached out to Gen-Z for Change for comment.
Update 7/26/22, 9:40 p.m. ET: This story has been updated with a statement from a Gaetz spokesperson.