Is 'Ted Lasso' Ending? What the Cast Has Said About Season 3 Being the Last
Ted Lasso may have been one of Apple TV+'s few breakout hits among both viewers and critics, but its cast has been hinting that the upcoming Season 3 may be the last for the soccer comedy.
The Apple TV+ show won seven Emmys for its first batch of episodes, which turned the show into a big word-of-mouth hit. So big a hit, in fact, that Apple renewed the show for Season 3 back in October 2020, before production on the second season had even begun.
Jason Sudeikis, however, has said multiple times that the show will end with that third season—and the Ted Lasso actor and show creator is not the only cast member to have said this in an interview.
Brett Goldstein, who writes for the show and plays Roy Kent, was the latest cast member to discuss the show ending. He told The Sunday Times: "We are writing it like that. It was planned as three."
What the Ted Lasso Cast Has Said About the Show Ending After Season 3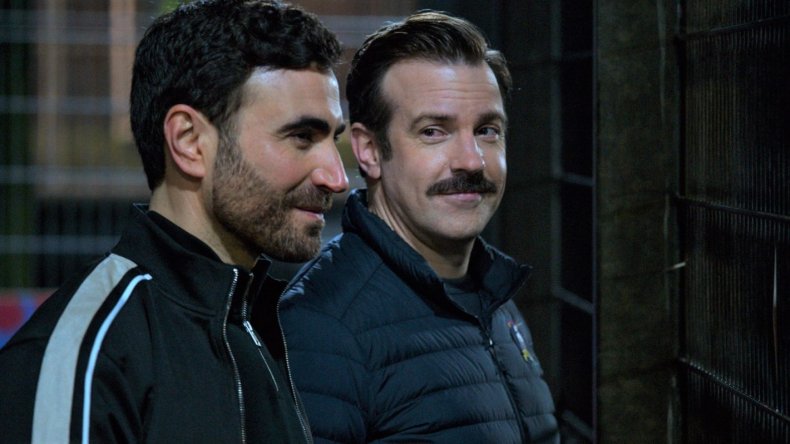 Goldstein is not being entirely serious when he discusses the end of Ted Lasso, which he is currently filming. After all, he follows up the above quote by joking: "Spoiler alert— everyone dies."
What does not seem to be a joke, however, is that the show was intended to always have three seasons. This was something Sudeikis said in an Entertainment Weekly interview, in which he said: "The story that's being told—that three-season arc—is one that I see, know, and understood."
This was the case from when the show was being pitched. Showrunner Bill Lawrence told Deadline after the Season 2 finale that when he and his fellow co-creators spoke with Apple, "we said this series was only going to be three seasons."
Coach Beard actor Brendan Hunt told Entertainment Weekly: "I think we've always meant it to be three seasons.
Three seasons has become a fairly standard run for streaming shows, with the majority of Netflix series ending either on or before that milestone.
"I think it would be pretty cool if, in the face of how much everyone likes this show, that we stick to our guns and really just do three seasons. But even as committed to that idea as Jason may have been, none of us were prepared to the degree to which people love this show...We're kind of in no man's land here, still being discombobulated by the response and I think that could make hard-hearted old Sudeikis soften up a little bit. I will say that, whatever he decides, I will happily abide," Hunt said.
More recently, however, there has been some softening of the line—perhaps due to the fact that Apple TV+ does not really have another show that has matched the success of Ted Lasso.
In March 2022, producer Liza Katzer told Deadline that the future of the show is, "up in the air at the moment." However, Lawrence told the same outlet that the final decision is being left up to Sudeikis.
Ted Lasso Seasons 1 and 2 are streaming on Apple TV+; Season 3 is coming soon.