A prominent House Democrat is calling out Representative Jim Jordan, an Ohio Republican, over his past refusal to comply with subpoenas, as he is expected to take over the House Judiciary Committee as chairman.
Representative Ted Lieu, a California Democrat, has taken to Twitter on multiple occasions to remind followers that the GOP lawmaker refused to comply with a subpoena from the bipartisan House select committee investigating the Capitol riot. This, Lieu highlights, runs counter to the GOP's promise to use subpoena power to conduct investigations into their political rivals.
"I will be regularly reminding the American people that incoming [Judiciary] Chairman [Jim Jordan] ignored a bipartisan congressional subpoena," Lieu tweeted Saturday evening.
Lieu's tweet was in response to author and former FBI agent Peter Strzok, in which he shared excerpts from a statement issued by the Department of Justice (DOJ), reiterating to the new House GOP leadership that it does not share files related to ongoing cases with Congress. House Republicans had previously proposed the review of such files as part of their pledge to investigate the alleged "weaponization of the federal government."
"Sadly for Jordan, [Matt] Gaetz, [Marjorie Taylor Greene], [Scott] Perry, and others, no exceptions for the files of the investigations of members of Congress," Strzok tweeted Saturday.
In another tweet shortly after his first, Lieu again reminded followers about Jordan and House Speaker Kevin McCarthy's refusal to answer the select committee's subpoenas in the past, in response to McCarthy's promise to use subpoenas "to get the job done."
"Your regular reminder that Judiciary Chair Jim Jordan and Speaker Kevin McCarthy both ignored bipartisan congressional SUBPOENAS," Lieu tweeted.
Previously serving as a manager for the second impeachment of Donald Trump, Lieu has been amongst the most outspoken Democratic critics of the former president and the general transgressions of far-right lawmakers in Washington, D.C.
In addition, Jordan has often been the target of Lieu's critiques in the past, with the California Democrat calling him out last month for lying about a controversial tweet that praised rapper Kanye West, Twitter CEO Elon Musk, and Trump that was posted to the House Judiciary GOP account.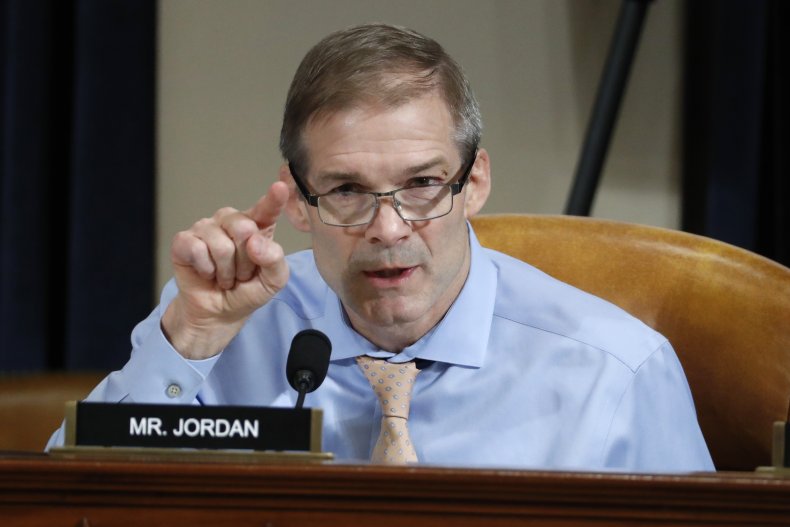 The tweet read simply, "Kanye. Elon. Trump," and became a point of mockery and condemnation online before it was eventually deleted. When asked if he condemned the tweet, Jordan, who served as a ranking member on the committee, reportedly lied and said it had not originated from the Judiciary GOP's official account. In response, Lieu shared a past quote from Jordan about small lies.
"One thing I've learned: People who mislead folks on small things mislead them on big things," Jordan said in the quote shared by Lieu.
Newsweek reached out to Jordan's office for comment.