Ted Lieu Slams GOP for Failing to Punish Gosar Over 'Despicable Video' as Censure Calls Grow
Representative Ted Lieu (D-CA) slammed the House GOP caucus this weekend for failing to punish Representative Paul Gosar (R-AZ) over a "despicable" parody video that has sparked growing calls for his censure.
Speaking on The Dean Obeidallah Show Friday, Lieu criticized House Republicans after Gosar shared an anime video on social media that depicted him killing New York Democratic Representative Alexandria Ocasio-Cortez and attacking President Joe Biden.
"That was a dangerous, disgusting and despicable video. In any other workplace in America if a coworker made an animated film killing another coworker, that person would be fired," Lieu said, per Mediaite.
"The Republican caucus had a meeting where they were talking about stripping committee assignments from members of Congress, but they weren't talking about Paul Gosar," Lieu continued, adding that House GOP members instead met to discuss punishments for 13 Republicans who voted for President Joe Biden's bipartisan infrastructure bill.
"And that is just where the Republican caucus is right now: They are in a very deep, dark and sick place."
Lieu and dozens of other House Democrats have since called on the Republican Party to punish Gosar for posting the video. On Friday, over 60 Democratic lawmakers announced a resolution to censure the GOP congressman and investigate his actions.
"For a Member of Congress to post a manipulated video on his social media accounts depicting himself killing Representative Alexandria Ocasio-Cortez and attacking President Biden is a clear cut case for censure. For that Member to post such a video on his official Instagram account and use his official congressional resources in the House of Representatives to further violence against elected officials goes beyond the pale, " the lawmakers said in a statement.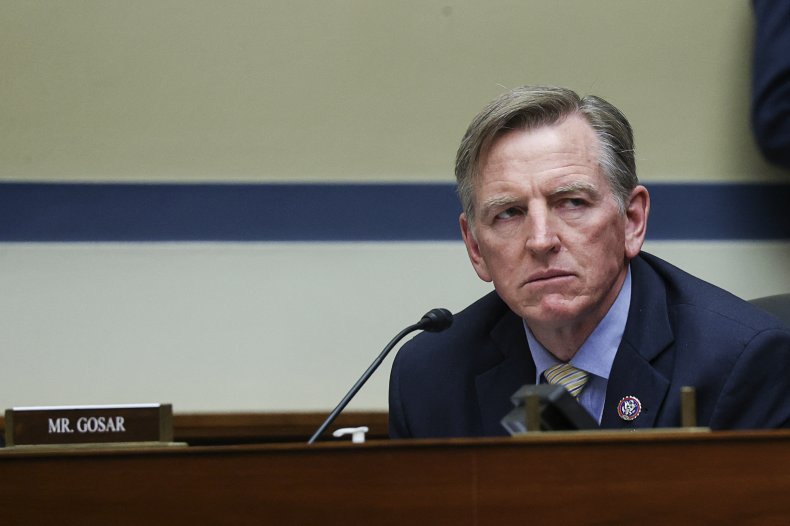 So far, House Minority Leader Kevin McCarthy (R-CA) has yet to publicly comment on the video. Earlier this week, Democratic House Speaker Nancy Pelosi urged McCarthy to condemn the clip, but she has not yet said if she supports censuring Gosar or bringing the measure to a vote on the House floor.
At least two Republicans–Reps. Liz Cheney and Adam Kinzinger–have signaled that they would join Democrats in supporting a censure of Gosar. In a recent interview, Cheney criticized McCarthy for his lack of action in the matter.
"In a moment where you've got an avowed white nationalist in Rep. Gosar who has posted a video advocating the killing of another member, the idea that our leader will not stand against that but that he's somehow going after and allowing attacks against 13 members who are conducting themselves in a serious and substantive way is really outrageous," she said.
In a statement earlier this week, Gosar defended the video as "symbolic" and maintained that "I do not espouse violence or harm towards any Member of Congress or Mr. Biden."
The footage was removed from social media on Tuesday.
If Democrats are successful at carrying out the censure, Gosar will be the first congressman to face the political rebuke in more than a decade.
Newsweek contacted Gosar for comment.