Teen Documents Her New Life After Accidentally Moving Into a Retirement Home
A teenager has compared her life to the plot of a "hallmark movie" after accidentally moving into a retirement home.
Madi Ann, 19, shared the bizarre story on TikTok, revealing she moved from Norman, Oklahoma, to start a new life in a "small town" in Arkansas.
Madi recreated the tale for her online followers, saying: "Me getting ready to move to an apartment out of state that I've never seen in person. And I realize I just moved myself into a retirement home."
After her clip went viral, racking up more than 2 million views, Madi shared more insights into her life at the "old folk's home," as she revealed she loved the lifestyle.
She filmed herself standing in front of the "senior citizen apartments" sign after realizing her hilarious mistake, hanging her head in embarrassment.
Madi, who moved last month, told Newsweek: "The first week of moving here was crazy! I was busy with finding a job and setting up my apartment, I didn't even notice! I thought it was a bit weird that all of my neighbors were significantly older than me. After my first week I saw a sign in front of the apartments, and it had clicked!"
Madi, who works as a nursing assistant for a local home health company, said most of her neighbors are over 65, as she called the senior citizens "kind and caring."
"I have also become friends with a lot of my neighbors. I have been able to go to dinner with them, have late-night conversations, and I have received some snacks as well! I love getting to know them and developing close relationships as well," she told Newsweek.
In a follow-up spoof clip, she films herself pretending to chat to "Brenda" and "Betty", as she captioned one of her clips: "This life I'm living is the storyline of a hallmark movie."
She said: "How is life at the old folks' home you might ask? Let me show you. When I get home it's usually always super quiet. Because most of my neighbors are asleep by the time I get home. But one major perk is that I can play music whenever I want to, because some of them can't hear.
"Another fun thing about living in the old folks' home is I can always hear about the tea in town. Another fun thing is whenever I get to come home after a long day, everyone asks me how I'm doing. Anyway that's how my life is going here at the old folks' home. And just remember if you're struggling with rent, start your early retirement."
People have questioned how she didn't realize it was a retirement home, as well as the facility's minimum age requirement.
Responding to some queries, Madi explained that someone had sent her the listing for the apartment and she snapped it up without ever seeing it in person.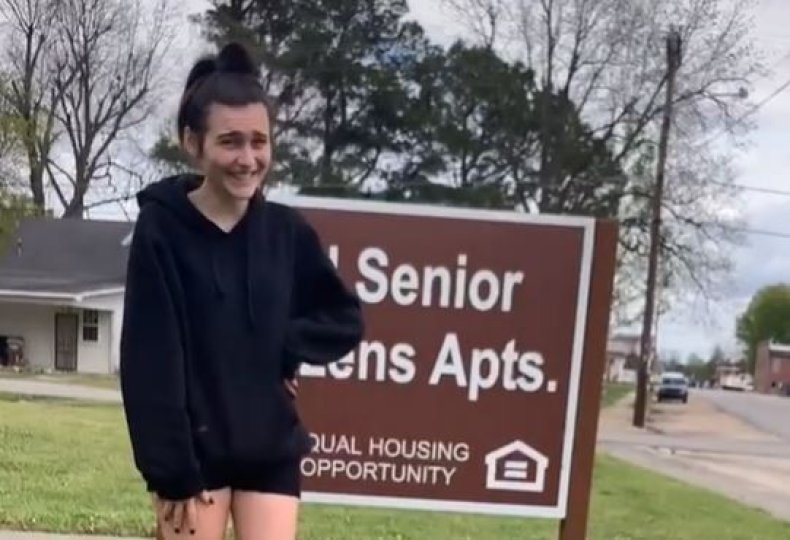 She told Newsweek: "They are equal opportunity housing, meaning they do not discriminate based on age. However, it is designed for senior citizens, as that is the primary age group residing here. I am the only teenager in sight. They have about 10 apartments on site, and I am the only teenager here! It has definitely been fun getting to have extra sets of grandparents. I plan on staying for quite a while! I absolutely love my neighbors."
She added the rent was a "financial blessing," revealing she pays $350 a month for a two-bedroom apartment.
"Never in my entire life did I think I would be living in a retirement home!" she said. "This is something that I could have never imagined."
Numerous people have commented on the clips, with TikToker Chlo wrote: "For people confused: most of those places are required by law to rent (for example) 15% of the units to 40+, or 18+ etc."
And Lisa commented: "My friend moved into one when she was 24. She still lives there 10yrs later and she loves it. She plays bingo with everyone."
While Char char binks thought: "But seriously I would watch this show #Boomers and the #Zoomer."
And Teresa said: "Wait, this is my dream! Quiet neighbors a bunch of adorable grandmas and grandpas to hang out with."
Manda wrote: "This is my dream. I love quiet mixed with the occasional elderly drama."
Whale Danai J Alexander added: "I honestly think it's a great idea to have young people and older people live together."
And Marilla jokingly wrote: "I'm more interested in the fact you moved to Arkansas on purpose."
Update 4/20/21, 12:15 p.m. ET: This article was updated with additional quotes from Madi Ann.