Teen Girl Bitten by Copperhead Snake, Likens Pain to 'Fire in Hand'
A teen girl has been hospitalized after a painful bite from a venomous copperhead snake, which she said felt as though her hand were "broken" and "on fire."
According to a report from The Philly Voice, 17-year-old high schooler and reptile enthusiast Audrey Weir was bitten on Saturday in Tinicum, Pennsylvania. The teen was walking with friends in High Rocks Park to watch the sunset.
On their walk back to their cars, the group came across a snake, which Audrey thought was initially a harmless corn snake.
"I'm not expecting to see a copperhead, I'm expecting to see a corn snake. I am not expecting to see a copperhead at all up here," she told The Bucks County Courier Times.
"When my daughter originally approached the snake, she thought it was a corn snake," her mother Stephanie added in another Bucks County Courier Times report. "Never in her mind did she think a poisonous copperhead snake would be here, until the instant it bit her, she immediately identified the shape of the snake's head and marking."
The outlet reported the brave teen managed to drive herself to the local hospital. According to her mother, she then advocated for herself while waiting to be seen by a doctor.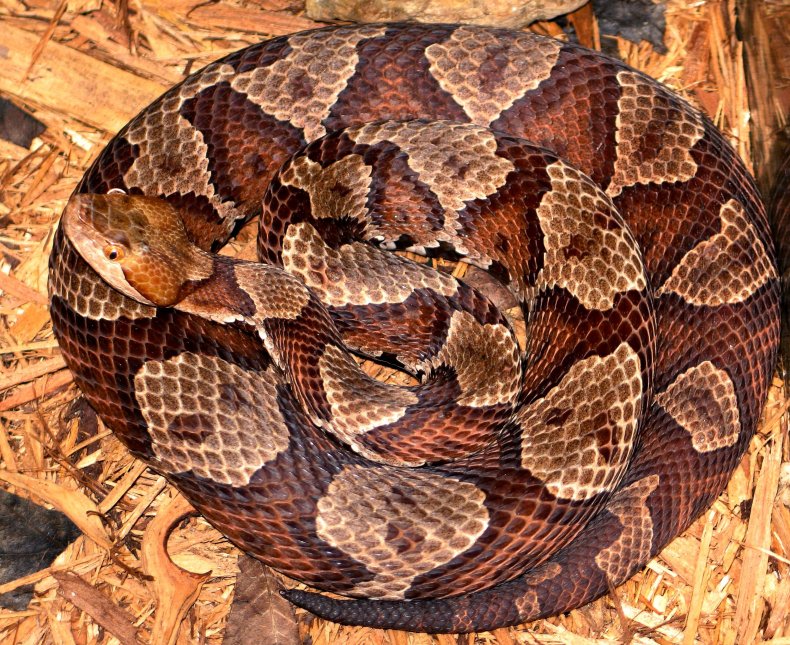 "As she waited, Audrey felt her body's response to the venom," Stephanie told the outlet. "She saw an EMT and said, 'Please help me! I was bitten by a copperhead and I need [anti-venom]!' Thank goodness the EMT understood and immediately got Audrey seen."
Audrey also told The Bucks County Courier Times the bite and the snake venom produced a pain she had never felt before.
"It felt like I broke my hand," she added. "I've never broken a bone in my body and that's what I compare that pain to, plus with fire pain going through my hand."
Audrey was later sent to the Children's Hospital of Philadelphia for further treatment and anti-venom. The Philly Voice also reported specialists were called into the case, as her hand had become so swollen. While she was able to avoid surgery, she did receive six doses of anti-venom.
A representative with the Pennsylvania Department of Conservation and Natural Resources confirmed with The Bucks County Courier Times that copperhead snakes are common in the area, but Eastern copperheads do not often bite and avoid confrontation. They advised park visitors avoid contact with wildlife they are not familiar with, especially as the area where Audrey found the snake lacks signs warning guests about snakes.
Newsweek reached out to the department for additional comment on the situation and lack of signs in the park, but they did not immediately respond in time for publication. Newsweek was also not immediately able to reach Audrey or Stephanie.
Similarly, in late June a 5-year-old girl in Georgia was bitten three times by a venomous rattlesnake. She was "fighting for her life" for over a week, and received more than 40 rounds of anti-venom in her recovery. In Alabama, a shocking video from last week showed a copperhead snake being eaten by a larger king snake.