Teen Girl Humiliated by Waterpark For Exceeding Weight Limit, Family Says
An Illinois family claims their daughter was publicly shamed for her weight at a waterpark last week, leaving lasting emotional damage—but the park says it was just following safety guidelines.
The 13-year-old girl couldn't wait to ride the new Mississippi Monster slide at Raging Rivers Waterpark in Grafton, Illinois, her father, Andrew Batton, told KMOV-TV. She had been a season ticket holder her whole life and looked forward to the water slide opening after more than a year of delays.
But when the family arrived at the ride on July 11, a worker asked her to step on a scale before a crowd of strangers.
The teenage girl was 205 pounds. The ride's weight limit was 200.
"Let's leave out the amazingly damaging psychological impact of forcing a young woman to publicly weigh herself," Batton fumed in a Facebook post. "But to have to see my daughter's face, eyes welling up with tears as she was turned away for being FIVE POUNDS OVER!"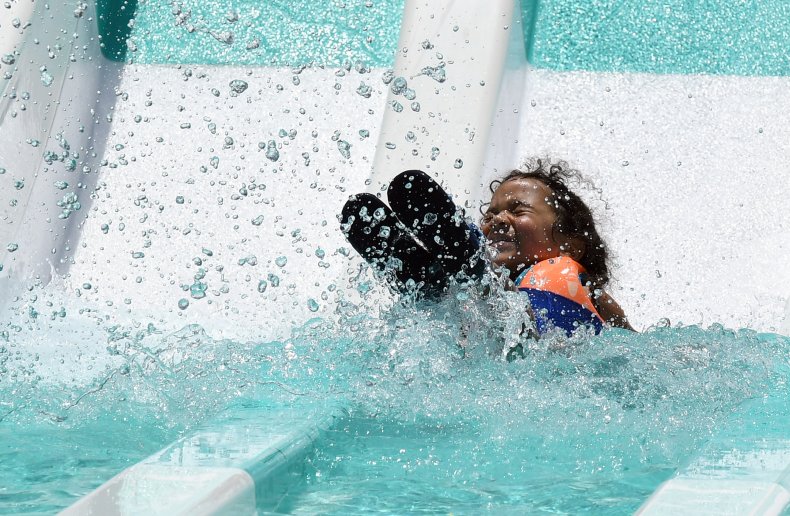 Batton said it was crushing to see a source of childhood joy for his daughter become a humiliating experience that they would be "discussing in therapy for years to come." He insisted on social media that Raging Rivers should have publicized the ride's weight limit during its rollout or at least provide signage about the scale well before visitors approached.
At 13 years old, 53 percent of American girls are unhappy with their bodies, according to data from the Park Nicollet Melrose Center, an eating disorder treatment facility. That figure rises to 78 percent by the time girls reach age 17.
Meanwhile, social media platforms have been shown to worsen body image and mental health challenges in adolescent users. Teen girls in particular struggle with increased rates of suicidal ideation, depression, anxiety, body dissatisfaction and eating disorders due to their engagement with social media, which spiked during the COVID-19 pandemic.
Raging Rivers told KMOV-TV that the staff never sought to inflict psychological damage, but had to enforce weight limits for the safety of all visitors.
"Raging Rivers takes an abundance of precautions to ensure the safety of our guests while enjoying our slides and attractions," a spokesperson told the station. "We will continue to follow manufacturer guidelines for safety while offering our guests a fun experience at Raging Rivers Waterpark."
Fatalities are rare at amusement parks, according to statistics from Web Tribunal, which said:
You're more likely to get struck by lightning than to die from a roller coaster ride—the chances are one in 700,000 vs one in 16 million.
Approximately 30,000 theme-park-related injuries occur each year, though not many of those can be classified as "serious injuries," and even fewer end in death.
In 2019, there were 1,299 injuries in US amusement parks.
Yet in 14 years (1990-2004), there were only 54 amusement park fatalities.
36 percent of the serious injuries people sustain in amusement parks have something to do with roller coasters.
In the U.S., roller coasters are implicated in only four deaths per year.
60 percent of ride injuries are a result of patrons' disregard for the rules.
Theme park accidents
On July 14, a 14-year-old girl died after the rear part of a roller coaster came off the track at an amusement park in northern Denmark, authorities said.
A 6-year-old girl died after drowning at a popular Michigan park on Memorial Day.
And in March, 14-year-old Tyre Sampson died after falling from a 430-feet drop-tower ride at ICON Park in Orlando, Florida. Sampson was nearly 100 pounds over the weight limit, an autopsy report found.
Newsweek reached out to Batton and Raging Rivers Waterpark for comment.