Teen Struck by Helicopter While Riding Tractor Rescues Pilot
A teenager was able to mount a remarkable rescue effort on Thursday, saving the pilot of a helicopter that landed on top of him.
Logan Schneider of Orondo, Washington, shared his story with KREM News. He had been riding a tractor on his family's cherry orchard around 9 a.m. local time when a helicopter, a Hiller UH-12, flying by collided with power lines and began to crash. He was wearing headphones at the time, leaving him unaware of the danger until it was too late.
"I had noise-canceling headphones on, and all of a sudden, I just hear something so loud above me," the teen explained to NCW Life. "And I look up, and I see the helicopter hit the power line, and then it comes crashing down, and it hit me on the tractor and pinned me against the steering wheel."
Schneider was able to free himself from beneath the helicopter. At that point, he looked inside the fiery, downed aircraft and saw the pilot hanging upside down.
"I heard him screaming," Schneider said. "I looked and I saw him upside down hanging. Fire was everywhere. When I was in the moment, I wasn't really thinking. I was just doing."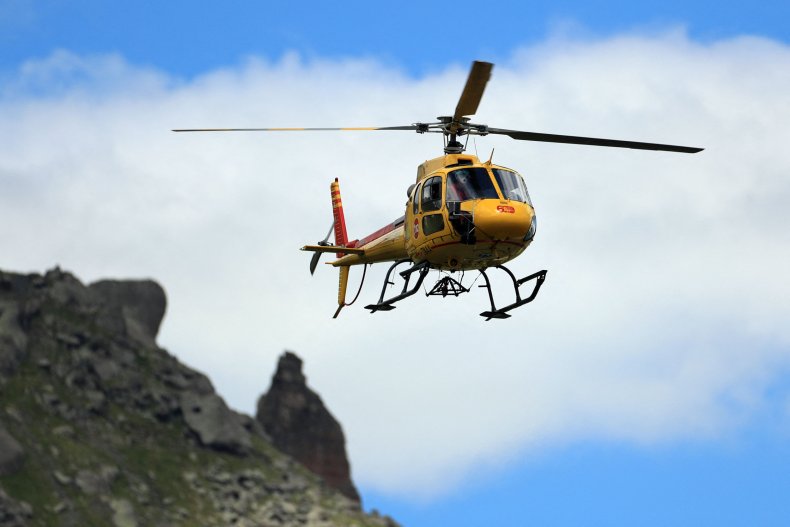 Acting quickly, Schneider was able to free the pilot from the craft and ended up sustaining only a burn on his arm and some abrasions on his back, NCW Life reported. The pilot, meanwhile, sustained burns and a broken arm.
"They took me in the ambulance with the guy, and we went to the hospital," Schneider told NCW Life. "I'm lucky to be alive."
Adding more remarkable wrinkles to the story are a few uncanny similarities between the teen and the pilot he saved. A recent high school graduate, Schneider said that he intends to begin flight school in the fall and aims to become a pilot himself. He also found out that he shares a birthday with the pilot, July 8.
"I feel like I always have someone watching over me, God watching over me, protecting me," Schneider added. "And you never know when it could be your last moment."
Little has been reported about the identity of the man piloting the helicopter, aside from him being 39 years old and a native of Idaho. The purpose of his flight was unclear at the time of publication.
Orondo, in Douglas County, sits along the Columbia River in central Washington, roughly 160 miles east of Seattle.
Newsweek has reached out to the Douglas County Sheriff's Office for comment.