Six Injured in Hawaii Helicopter Crash, Company Has History of Incidents
A Hawaii helicopter tour company whose aircraft crashed on Wednesday has seen other incidents in recent years.
The crash occurred on a lava field and injured six people who were taken to the hospital, according to Hawaii News Now. Two people suffered serious injuries. According to a statement on the website for the company, Paradise Helicopters, preliminary information showed the helicopter was carrying 5 passengers and one crew member at the time of the crash.
K&S Helicopters, which authored the statement and conducts business as Paradise Helicopters, according to Civil Beat, said that a "Paradise Helicopters helicopter aircraft operated by K&S Helicopters was involved in an incident at about 5:29pm" on Wednesday.
"At this time, K&S Helicopters Emergency Response Plan has been activated and the full resources of the company are being mobilized to respond to the incident. K&S Helicopters is cooperating with all authorities involved, and is also working to assist those affected," the statement said.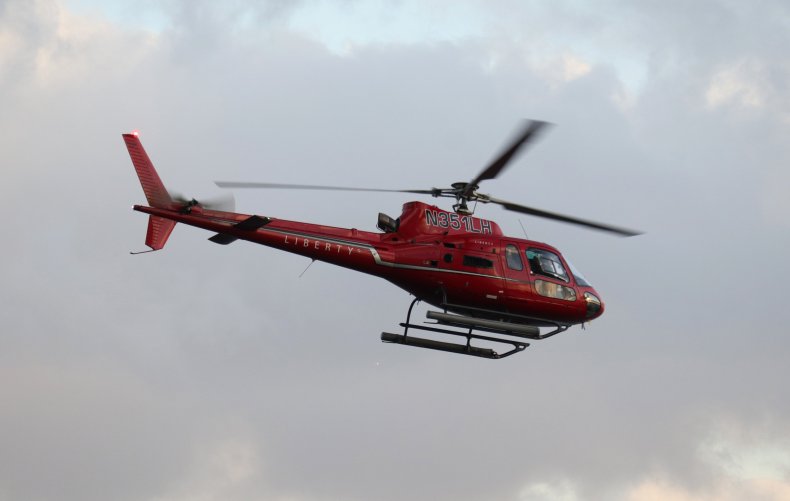 "The care of our passengers, crew members, and their families is our highest priority" Calvin Dorn of K&S Helicopters added.
The crash is being investigated by the National Transportation Safety Board and Federal Aviation Administration.
According to the Hawaii Tourism Authority, visitors to the islands spent approximately $5.83 billion as of April 2022 and more than 2.8 million people had visited.
Civil Beat reported in March 2021 that a passenger who was in a 2019 helicopter crash in Hawaii sued K&S Helicopters claiming she was injured and that the company's aircraft ran out of gas at the time of the incident. Hawaii's Division of Forestry and Wildlife chartered the flight to monitor seabirds, and four people were aboard the helicopter at the time of the crash. In April 2019, Hawaii's Department of Land and Natural resources said no one was injured during the crash, but the lawsuit claimed the passenger suffered severe and chronic upper-body and head injuries, according to Civil Beat.
In another incident in 2013, the Federal Aviation Administration said a tour helicopter registered and operated to K&S engaged in a hard landing and that its pilot reported an engine failure, Big Island Now reported at the time. The aircraft ended up on its side after the landing, but there were no immediate reports of injuries at the time, the news outlet said.
Newsweek has reached out to Paradise Helicopters for comment.
In 2020, Civil Beat reported that Hawaii has seen an increase in tour helicopter crashes in recent years—2018 saw six crashes and 2019 saw four, marking an uptick compared to the prior 20 years.