A teenager whose cancer had been dismissed by doctors as simply growing pains has now been told her disease is terminal.
Despite her prognosis, Eden Brown, 15—who lives in Oakdale, a village in Wales—has vowed to sit her upcoming school exams, the South Wales Argus reported.
Brown was first diagnosed with cancer in 2020 after experiencing pain in her leg. Initially, doctors told her the pain was likely due to growing pains—which can cause an aching or throbbing feeling in the legs.
But subsequent tests revealed that Brown was suffering from osteosarcoma. This is a rare form of bone cancer that often arises in the wide ends of long bones, such as the femur and tibia in the upper and lower leg, and the humerus in the upper arm, although it can begin elsewhere in the body.
Osteosarcoma is the most common type of bone cancer in children and teens, and is the third most common cancer in teens overall, after lymphomas and brain tumors, according to St. Jude Children's Research Hospital.
Around 400 children and teens are diagnosed with osteosarcoma every year in the United States. Most cases occur in children and young adults after the age of 10. The cancer is extremely rare in children aged below 5 years old.
In around 15-20 percent of cases, the cancer has spread by the time it is diagnosed, according to St Jude's. It typically spreads to the lungs, but also sometimes to other bones beyond the initial site.
After being diagnosed, Brown underwent surgery on her leg and also received chemotherapy. But the cancer spread to her lungs and other parts of the body.
On March 3, 2022, the family announced on a GoFundMe page that MRI and CT scan results had revealed that the chemotherapy had not worked, with doctors saying the cancer was terminal.
"It absolutely breaks my heart to have to say that the chemotherapy Eden has been having, hasn't worked," the girl's mother, Tess Lewis, wrote on the GoFundMe page. "The nodules in her lungs have continued to grow, one large one that they were concerned about has more than doubled in size.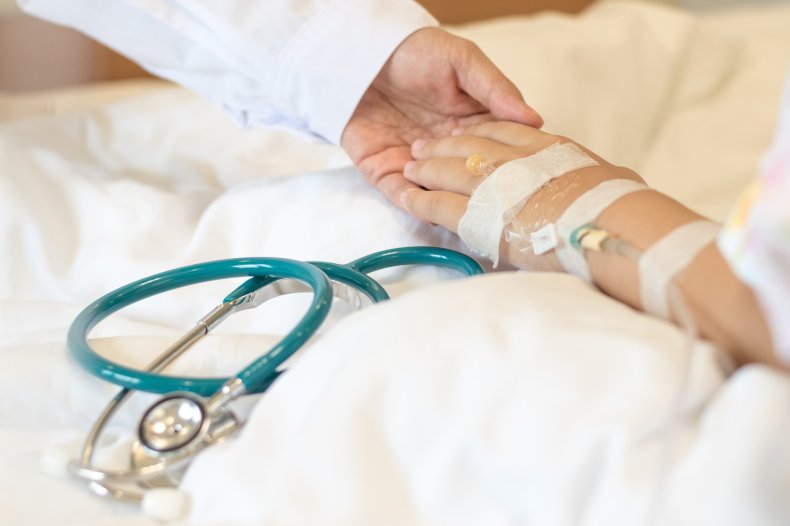 "The mass in her foot has continued to grow and appears to have spread to the surrounding areas. Because of this, the chemotherapy has been stopped, as there is now nothing that can be done for Eden, other than give her an oral chemo drug, that won't treat her, it will just make things more comfortable for Eden and hopefully give her more time. We're beyond heartbroken."
According to the family, doctors had given Brown only a few months to live. Lewis told the Argus that she is struggling to cope with the news.
"I still haven't come to terms fully with that she's gonna die," Lewis told the Argus. "I sit there and I look at her and other than her hair loss from the chemo and the limp from the surgery she had back October before last she looks like a normal teenager. But she's not, she's dying."
Despite the devastating news, Brown has said that she wants to sit her GCSEs (General Certificate of Secondary Education)—a set of exams taken by students in England, Wales, and Northern Ireland, usually by 14-16-year-old's—and go to her school prom.
The day after being told that her condition was terminal, Brown returned to studying for her math exam in hospital. "She wants to sit her GCSEs because doing her GCSEs means more than anything to her at the moment," Lewis said.
The family is now trying to raise funds via the GoFundMe page to make whatever time Brown has left "as comfortable as possible."
About the writer
Aristos is a Newsweek science reporter with the London, U.K., bureau. He reports on science and health topics, including; animal, mental health, and psychology-related stories. Aristos joined Newsweek in 2018 from IBTimes UK and had previously worked at The World Weekly. He is a graduate of the University of Nottingham and City University, London. Languages: English. You can get in touch with Aristos by emailing a.georgiou@newsweek.com.