Teen Who Sold Brother's Rare Pokémon Cards Without Giving Him Money Slammed
The internet has slammed a teen for selling his brother's highly valuable and rare Pokémon cards and refusing to give him all the money from them.
Published to Reddit's r/AmITheA**hole forum, a teen under the anonymous username u/Low-Hat-6035 shared his story in order to get the opinions of the "AITA" community—which has over 4 million followers. The viral post has over 5,000 upvotes and 1,000 comments.
The original poster (OP) began his story by explaining that he and his brother have been big fans of Pokémon since they were kids. He estimated that they have thousands of Pokémon cards in their collection.
The OP's brother is in the process of moving out and while helping his brother, he came across a deck of Pokémon cards and started to look through them. Due to the "piqued interest" in cards, he found some that he thought could be worth some money.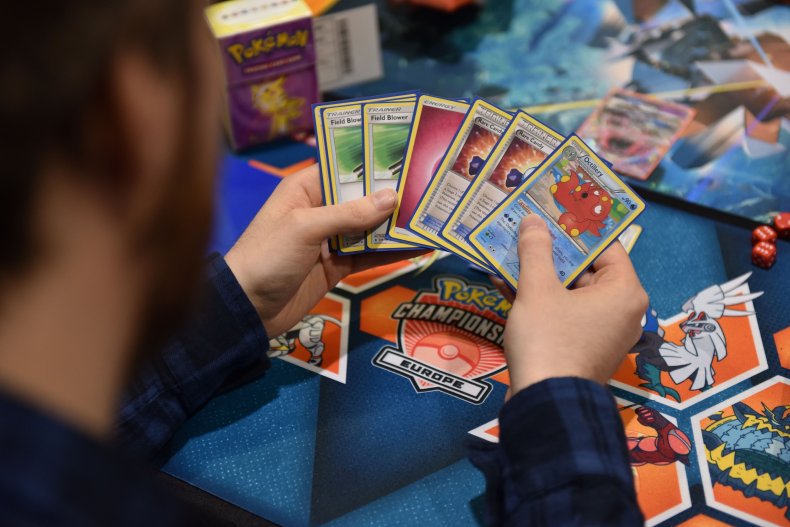 The OP went to get the cards appraised and found they were worth about $4,300, but ended up getting a better deal with a "private, organized sale" with a collector. When he told his brother about it, he was "infuriated."
He wrote, "He says I'm the a**hole for refusing to give him the full values worth of the cards. I told him without me they never would've even seen the light of day. I tried negotiating giving him a cut of the profits but he refused to even consider it."
"Now for the past few days, he's been sulking around the house, refusing to even acknowledge my presence. It's bad timing, my brother is leaving in a few days and I don't want to end on bad terms with him," he continued.
In a recent addition to the post, the OP explained that he and his brother are very close and it is likely that those cards that he sold are a combination of both his and his brothers. He wants a portion of the money made since he "put in the effort to find the cards and appraise them."
"Me and my brother resolved the issue, I took a small cut of the profits," u/u/Low-Hat-6035 wrote in a comment to Newsweek. Regarding the Redditors' responses, he says that they "took it too seriously."
"What needs to be established is that I basically share mutual possession with everything my brother has. He was not mad that I sold it, he was just mad that I wanted to keep a small cut," he said.
Newsweek has published several articles regarding conflicts between siblings including a sibling that was backed for labeling their sister obnoxious over "hypothetical pregnancy," a new mom was slammed for "ruining" her sister's vacation and a man who was supported for "ruining" his brother's family by telling his niece the truth.
What are the most valuable Pokémon cards?
According to dicebreaker.com, the most valuable Pokémon cards—and their values—in the world consist of the Prerelease Raichu (allegedly sold for $10,500), Master's Key (sold for $21,000), Espeon and Umbreon Gold Star POP series (sold for $22,000), the 2002 Pokémon World Championships No. 1 Trainer (sold for $31,200), the 1996 Pokémon Japanese Base Set No Rarity Symbol Holographic Venusaur (sold for $55,000).
The list continues with the 1999 Pokémon Japanese Promo Tropical Mega Battle Tropical Wind (sold for $65,100), the 1999 Super Secret Battle No. 1 Trainer (sold for $90,000), the 2006 Pokémon World Championships Promo No. 2 Trainer (sold for $110,100), the 2000 Pokémon Neo Genesis 1st Edition Holographic Lugia (sold for $144,300), the Kangaskhan-holographic #115 Family Event Trophy Card (sold for $150,100), the Black Star Ishihara Signed GX Promo Card (sold for $247,230), the Pokémon Blastoise #009/156R Commissioned Presentation Galaxy Star Hologram (sold for $360,000), the 1999 First Edition Shadowless Holographic Charizard #4 (sold for $420,000).
YouTuber Logan Paul owns the most valuable Pokémon card—the Pikachu Illustrator—and purchased it for over $5.2 million. He wore the card as a necklace at WWE's WrestleMania.
Redditor response
"[You're the a**hole], and a criminal. All of the money is his. What you're doing is theft," u/RatioNo1114 wrote, receiving the top comment with over 20,000 upvotes.
"[You're the a**hole]. You can't sell other peoples belongings (especially without their consent), making a profit and not giving them the money for their stuff. Either you give him the full money, get the cards back, or you accept being an [a**hole] having messed up the relationship with your brother because you're a thief," u/AlHazard33 explained.
U/Don_Ciccio exclaimed, "[Laughing Out Loud] of course [You're the a**hole], you (a) sold something that doesn't belong to you without permission and then (b) tried to keep a cut of the earnings. Who does that?? Get the cards back and return the money if you still can, it's the right thing to do. You owe your bro a major apology."
"[You're the a**hole]. You're a thief. I hope he presses charges against you. It wasn't yours to sell, and it CERTAINLY isn't yours to keep. Give him the full value back, or expect harsh repercussions," u/Snommies wrote.
Update 8/11/2022, 4:17 p.m.: This article has been updated to include comment from the original poster.