Teenager Who Escaped ISIS Slavery Says Her Captor Found Her in Germany and Police Didn't Do Anything
A Kurdish Yazidi teenager who fled Islamic State militant group (ISIS) slavery in Iraq has said her jihadi captor has found her in Germany, forcing her to flee back to her homeland.
Four years after ISIS fighters swept through northern Iraq and seized her along with her family and thousands of other Kurdish and Yazidi minorities in August 2014, young Ashwaq Ta'lo has revealed that she was approached by a Syrian man known to her only as Abu Hamam. The man reportedly bought her, along with a number of other young women and girls from ISIS, and held them near Mosul, abusing them on a daily basis for about 10 months.
After executing an elaborate escape plot, she eventually settled as a refugee in Stuttgart, Germany, as part of a humanitarian program that provides post-traumatic services. In 2016, she said she felt she was being followed, but nothing came out of it until earlier this year, when her past reportedly caught up with her one day, as she was walking home to the camp in which she was living at the time.
"Someone stopped me, on 21st February this year. I froze when I looked at his face carefully. It was Abu Humam, with the same scary beard and ugly face. I was speechless when he started speaking in German, asking, 'You're Ashwaq, aren't you?'" Ta'lo told Kurdish outlet Bas News in an exclusive interview Wednesday.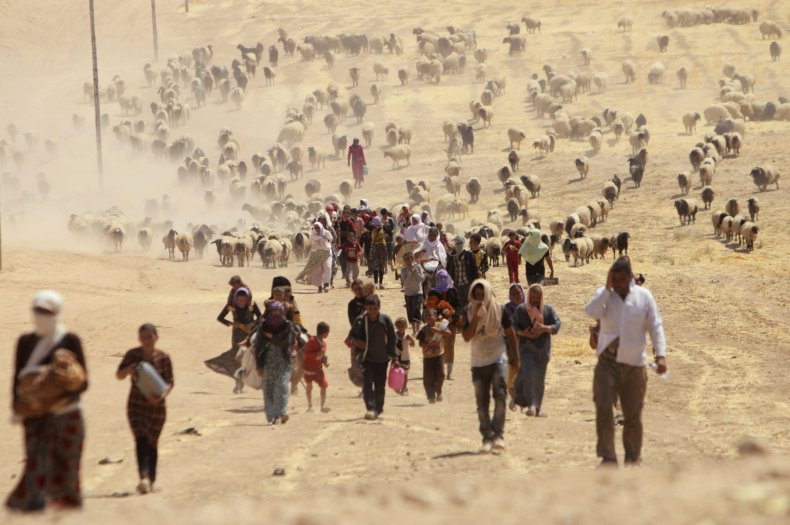 Ta'lo has feared not only for her own safety those of her loved ones. While she was reunited with a number of her family members after escaping Abu Hamam's captivity in June 2015, four of her brothers are reportedly still missing and one her sisters may still be held by ISIS.
Ta'lo only managed to break free herself by allegedly gaining access to Abu Hamam's cellphone and contacting her brother, who hatched a plan for Ta'lo and her fellow prisoners to scratch themselves to feign a skin disease. After Abu Hamam took them to the doctor, they received pills that they later put in the militants' food to make them fall asleep as they ran off.
Ta'lo said she denied her identity. Her former captor, however, was insistent, telling her: "Yes, you are Ashwaq, and you know me very well. I am Abu Humam, and you were with me for a while in Mosul. And I know where you live, with whom you live, and what you are doing," according to Bas News.
Ta'lo reportedly fled the encounter and hid in a nearby market until Abu Hamam left. She then contacted her brother, and then the manager of the refugee camp in which she was staying. They brought the matter to the police, who allegedly were able to identify the suspect on CCTV recording, but told Ta'lo that there was little they could do as he was a fellow asylum seeker and had not necessarily committed any crime.
"The police told me that he is also a refugee, just like me, and that they could not do anything about it. They just gave me a phone number that I could contact in case Abu Humam ever stopped me. After this response, I decided to return to Kurdistan and never go back to Germany," Ashwaq told Bas News.
The Stuttgart headquarters of the Baden-Württemberg Police were not immediately available for comment when contacted by Newsweek.
Germany has been a leading provider of humanitarian support for communities affected by ISIS and has accepted well over 1 million asylum seekers in recent years. The rate of applicants has dropped dramatically since 2015, however, and the current government has agreed to cap the number of refugees it accepts amid a conservative backlash.