Trump Says 'Crime in Germany Is Way Up'—It Isn't
President Donald Trump tweeted Monday that Germans were turning on their leaders due to migration policies, and that "crime is way up" in the European country. But in reality, the crime rate in the country is at its lowest since 1992.
Despite statistics saying the opposite, Trump suggested that migration was leading to an increase in crime. "Big mistake made all over Europe in allowing millions of people in who have so strongly and violently changed their culture!" he wrote on Twitter.
But just last month, Germany's Interior Minister Horst Seehofer released statistics showing that crime is at its lowest in more than two and a half decades.
"The number of crimes committed in Germany is the lowest since 1992," Interior Minister Horst Seehofer said while presenting 2017 police crime statistics in Berlin, Politico reported. "The frequency of fewer than 7,000 cases for every 100,000 inhabitants is unprecedented, even in a 30-year comparison."
In 2017, reported crime dropped by 5.1 percent compared to 2016. In total, 5.76 million crimes were reported last year in the country of 82.67 million. Trump claimed that migrants caused crime in Europe, but 2016 statistics from Germany revealed there were nearly 1,000 crimes targeting migrants at asylum and refugee centers.
That number dropped significantly last year, to 312 recorded offenses.
Nonetheless, German Chancellor Angela Merkel has been facing growing pressure over her immigration policies. Germany has taken in well over 1 million refugees in the past four years, with the number peaking at an estimated 890,000 in 2015. That figure fell last year to less than 200,000.
As a result of the influx, even political allies and some within Merkel's own political party have called for turning away migrants at the country's borders. The nation's interior minister suggested denying individuals who had previously applied for asylum or registered as asylum seekers in other European countries.
Political allies of Merkel have given her until July 1 to find a solution to the issue with her European partners.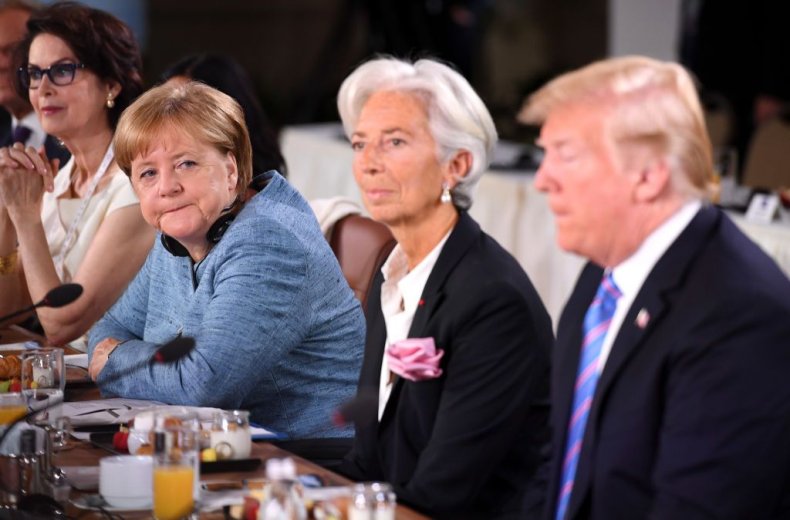 For her part, Merkel has expressed optimism about her leadership and her ability to manage Germany through the tensions. Asked recently whether she and her party could continue to lead the country through to its 2021 mandate and whether she was in full control, she said, "Yes to both," according to ABC News.
Merkel distanced herself from the prospect of turning away migrants at the border, saying such a move "could lead to negative domino effects" in Europe. "It is in Germany's interest to achieve the regulation of migration in a good partnership with our European neighbors," she said.
Trump's critical tweets came at a time of increased tensions between Germany and the U.S. After the G-7 summit in Canada earlier this month, Merkel said that Trump's tweets about the international conference were "a little depressing."
The U.S. president chose to to break ranks with traditional allies by backing out of a joint statement via social media, and deriding European and Canadian leaders. Merkel and other traditional U.S. allies were also angered by Trump's decision to impose new tariffs on imports.