Tegan Nox Talks Leaving Injuries Behind, Inspirations and the 'Women's Evolution'
The NXT Women's division is the deepest in all of WWE. With so many talented women, any one of them can slide into the main event picture. This Wednesday, it's Tegan Nox's turn.
Tegan Nox—whose real name is Steffanie Newell—will be taking on NXT Women's Champion Io Shirai for the coveted title. The title shot could be just the latest life-changing moment for Nox, who's had several in recent weeks.
She won the number one contendership the first night of the Great American Bash show two weeks ago, and recently she came out as a lesbian, making her one of the few openly gay wrestlers in WWE. But for Nox it's all about Wednesday and pushing her character and performance forward.
"I'm going to prove myself to people that I'm not 'the comeback kid' anymore," Nox told Newsweek on Tuesday. "I'm ready to write my own story that doesn't involve an injury. Wednesday is the rebirth of Tegan Nox."
Nox's injuries have played a big part of her journey in NXT. She was signed to the WWE in 2017 and was set to participate in that year's Mae Young Classic. Unfortunately, though, the Wales native tore her ACL before the tournament began and was replaced.
A year later, Nox was poised to make a huge splash in the 2018 Mae Young Classic using her previous injury as motivation to go far in the tournament. She made it to the quarterfinals against Rhea Ripley, but couldn't finish the match after tearing multiple ligaments in her other knee.
Now 25 years old, Nox made a triumphant return to NXT in June 2019 and has been an integral part of the brand since. She's fought for the Women's Tag Team Championships twice, participated in the first Women's War Games Match and was in this year's Royal Rumble. But what she wants is to move past her injuries and forge a new path for her character.
Newsweek caught up with Nox to talk about her journey, her inspirations and her match against Io Shirai. This interview has been edited and condensed for the sake of length and clarity.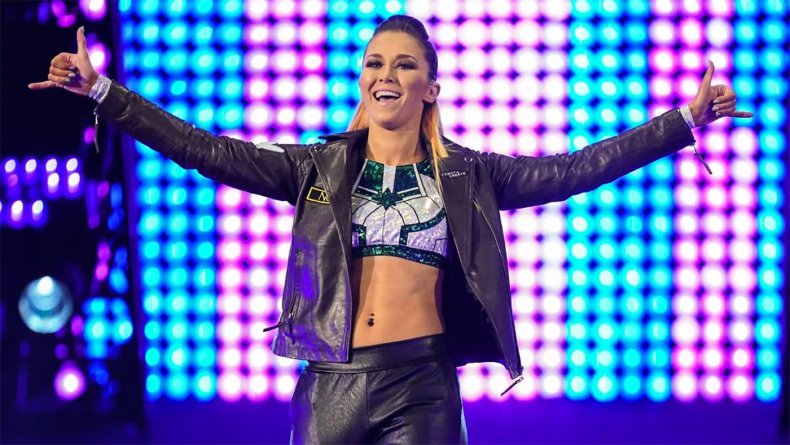 Last week you came out as a lesbian on Instagram. How do you feel a few days since and what has the reaction been?
My life has always been a "don't ask, don't tell" situation, but I felt like it was the right time, especially when you've found the right one you're in love with. It was the right time to do that.
The reaction has been great. There are a few people who obviously don't agree with that, but 99 percent of the reactions have been positive. I've got texts coming through from so many colleagues and friends. It was nice. It's great to see that there are so many nice people in the world.
Sonya Deville is a prominent LGBTQ+ name in the WWE. Has there been a dialogue between the two of you?
I actually talked to Sonya before I even did this. She was a big, big help. She gave me her phone number and told me to text her if I needed anything. So we keep in contact quite a lot about it. She's a massive help with the fans, because my family knew but my fans didn't. So she helped me bring it out to the public.
WWE is celebrating "Evolution Week" and it's been five years since the "women's evolution" began. What's it mean to you to be a part of this continued movement to bring women's wrestling to the forefront?
It's evolved so much from having the likes of Molly Holly, Lita and Trish [Stratus] and then we had The Bellas and Beth Phoenix and Natalya. Then we went to Bayley, Sasha [Banks], Charlotte and Becky Lynch. And now we're starting our own little journey in NXT to help further the women's evolution. So who knows where this will be 10 years down the line. Hopefully, it'll get even bigger and better than any of us could imagine. I'm just happy to be a part of it, to be honest.
You've said in past interviews how Molly Holly was a big inspiration for you. What about her inspired you or your style in the ring?
Molly Holly was the first woman I saw who would fly around the ring. She was the badass, and super-mean and aggressive. She was someone who could "go," and while it wasn't her style that I try to imitate, I just want to be one of the women who can "go" and do well in the ring and do it successfully. I feel like she did that perfectly. So if I can do a quarter of what Molly Holly did, even if it means shaving my head, I'll do it.
Recently, you faced off against Bayley and Sasha Banks, who were big parts of the women's evolution and NXT. What's it like getting in the ring with them?
It was incredible. They opened the doors for NXT and had one of the best matches I've ever seen in Brooklyn. So, being in the ring with them, we learned so much and I know me and Shotzi [Blackheart] came out of that match better competitors than when we went in. Even though the match didn't go the way we wanted it to, they taught us so much and I'm grateful for that match in general. But if they want to go again, we'll go again. That's no problem.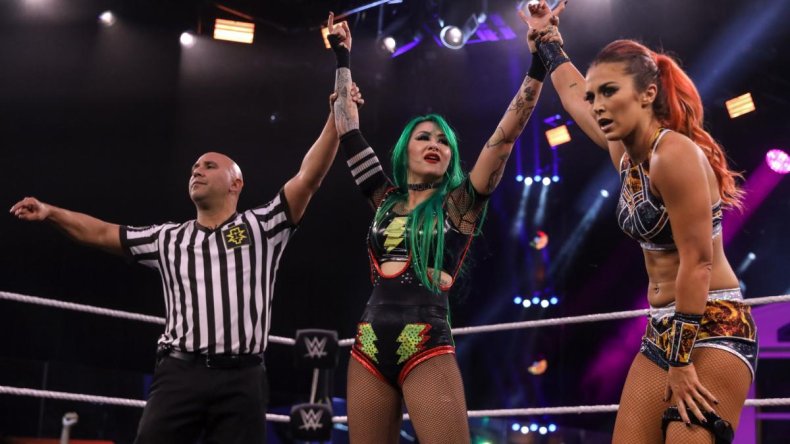 You were a part of the Mae Young Classic tournament in 2018 and the one-off show Evolution came shortly after—which, because of your injury, you couldn't be a part of—but do you want to see more female-centric programming?
Like you said, I was unfortunately unable to compete in the first Evolution, but I was lucky enough to be there to watch and witness everything. Now I feel it would be cool to have an Evolution 2—that would mean the world to not only myself but the other women who couldn't compete at the first one. [Women's wrestling] has a fantastic spotlight right now, but we can take it to another level with an Evolution 2.
If you had a dream match at Evolution 2 who would it be with?
Oh, Molly Holly. Please give me a Molly Holly match, I just need it. I'm not asking for a lot. Just one match. Let's go, Molly. If you want me to shave my head, I don't care. We'll have a hair vs hair match. Let's go!!
And she still has it, that's for sure.
She's never lost it. That's what's crazy.
We alluded to your injury at the Mae Young and your journey back has been a long one and still plays into your character today. Are you at the point where you want to leave that behind?
I've wanted to leave that behind for so long. It's like, "Yeah, here we go, it's going to happen again." But it is a part of my story and past, so I've had to accept it, but I'm so ready for that chapter to be over. I'm fed up being the "comeback kid." I just want to be Tegan Nox, the girl with the shiniest wizard. I'm fed up with people's sympathies and I'm sure they are fed up giving me sympathy. I'm done with the knees, they're healthy, they're healed, they're good.
Was it hard to get over the mental hurdles of your injury when you came back?
Right now, I don't really have that mindset because it's been so long. But it was the biggest thing to get over, the mental battle. Having to realize that the knee is actually stronger than it ever has been and it can do everything that it used to. You just can't think about, "What if it does happen again? Then I'm done." That was the biggest thing to overcome, but right now I just go in and do my job, I enjoy my job and walk away healthy and happy.
Since your return from injury, you've been a part of some amazing moments, like the first Women's War Games match and the Royal Rumble. Do you often think about those moments?
The Royal Rumble is the biggest thing for me. When you go on my Twitter and you see my profile, the pinned tweet is me making my entrance. And whenever I see it, it doesn't seem real. And then five minutes later I got destroyed by Beth Phoenix, which again was one of the coolest things that has ever happened to me in my entire life. Just thinking back, I was on SmackDown on my birthday, which is something I never thought I'd do. That was one of the biggest things to me even though it may seem small to some people—but getting that milestone on my birthday was pretty cool.
You've had quite a bit of milestones, but what are some of the things you still want to achieve?
Obviously, WrestleMania is the big one. Everyone wants to work at WrestleMania. I would like to do a RAW match, so I can say I've done all three. But honestly, I just want to have fun and travel with my friends. That's my milestone. If I get to do cool things like WrestleMania or win a championship one day, that's an added bonus for me.
How has it been working during the pandemic?
It's definitely different. We all love what we do so we make the best of an unfortunate situation. It sucks that we don't get to travel as much, but with the current situation it's best we don't. But when we do get to travel again, it'll be even better because the crowds will be hot and ready to see us in person in God knows how long.
On Wednesday, you have arguably the biggest match of your career against Io Shirai for the NXT Women's Championship. Can you talk more about your opponent?
Io is one of those people that are pretty indescribable only because of how amazing she is. She's done so much in such a short amount of time to become one of the best not just female athletes in the world but one of the best athletes to ever step into this sport ... that doesn't even put into words how great she is.
She's such a respectful person, too, so I know [Wednesday] I've got my work cut out for me and I'm ready for it. I'm probably going to be very sore on Thursday morning, which hopefully she will too, because I'm going to bring the fight to her and I know she will bring the fight to me.
You spoke earlier about shedding that "underdog" persona. What do you need to do to achieve that in the eyes of the viewers?
Just keep doing what I've been doing. Fighting as hard as I can, putting on matches that people enjoy. There are always going to be the negative people who use my knees against me and they still do to this day. But as long as my fans, friends and family continue to support me and I make them happy with my performance, then the people who talk about my knees won't bother me.
We've seen some NXT crossover recently. Do you want to see more of it?
I personally would love more. Getting to work with Bayley and Sasha was a big deal, so getting to work with other people on NXT and now with RAW and SmackDown, it would be cool. No one is the same style-wise, so we can learn a lot from each other if the crossover keeps happening. I want to wrestle Ruby Riott, man. Give me Ruby Riott.
I wasn't expecting to hear Ruby Riott. What about her makes you really want to have a match with her?
She's one of my best friends. She's such a fantastic wrestler and has such a unique style and we've wrestled way before either of us were in WWE, so I think now to top it off, I want a match with Ruby Riott in WWE. If it's in a RAW, SmackDown or NXT ring, I want to wrestle Ruby Riott because she's special. She's fantastic person and such an incredible athlete.
Watch Tegan Nox take on Io Shirai on NXT this Wednesday starting at 8 p.m. EDT on USA Network.