The president of Iran has raised the stakes in President Donald Trump's talks with his French counterpart by warning him not to pull out of the nuclear deal the Islamic republic signed in 2015.
In a televised speech Tuesday, Hassan Rouhani said Trump should honor the deal struck with five other world powers, in which Tehran agreed to ease its nuclear program in exchange for a lifting of sanctions. Trump has criticized it as one of the worst deals ever negotiated.
"I am telling those in the White House that if they do not live up to their commitments, the Iranian government will react firmly," he said, according to Reuters.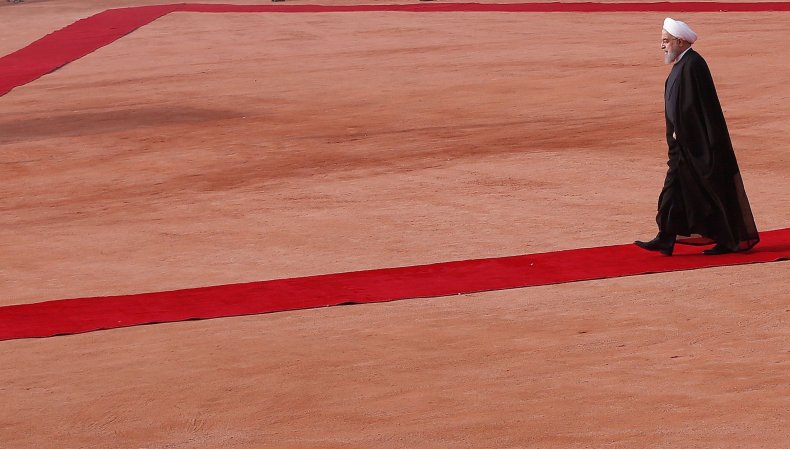 "If anyone betrays the deal, they should know that they would face severe consequences," he added.
Iran is on the table during this week's talks with French leader Emmanuel Macron on the second day of his state visit to the U.S.
The Telegraph reported that German Chancellor Angela Merkel is also expected to tell Trump to stick to the deal as he has until May 12 to decide whether to continue with the eased sanctions or to reimpose them.
U.S. disarmament ambassador Robert Wood said urgent discussions were being held with European allies ahead of that deadline.
Trump says the Obama-era deal is not tough enough and wants Tehran's ballistic missile programs and its military activities in the region to be included. However, Iran's Foreign Minister Javad Zarif wrote on Twitter that there is no Plan B and Washington must accept the three-year-old agreement "all or nothing."
"European leaders should encourage President Trump not just to stay in the nuclear deal, but more importantly to begin implementing his part of the bargain in good faith," he said.