'Tekken 7' Lidia Sobieska Release Date: When and How to Download New Fighter
Tekken 7 is adding a brand new character to its robust roster, which means that players will soon get to battle with Lidia Sobieska.
Bandai Namco announced that DLC 18 and 19 will release March 23, which will include Lidia and the new Island Paradise stage. The upcoming stage and fighter were both showcased in a trailer shared over the weekend. You can watch the clip below.
Of course, Lidia is a part of the Season Pass 4 for Tekken 7. Currently this pass includes DLC 16 and 17, which added Kunimitsu to the roster, as well as the Vermillion Gates stage. Lidia is the second confirmed fighter for Season Pass 4, with the Island Paradise stage joining her on March 23.
Players can purchase the entire Season Pass or Lidia and the stage individually.
Below is everything we know about Lidia's release date in Tekken 7.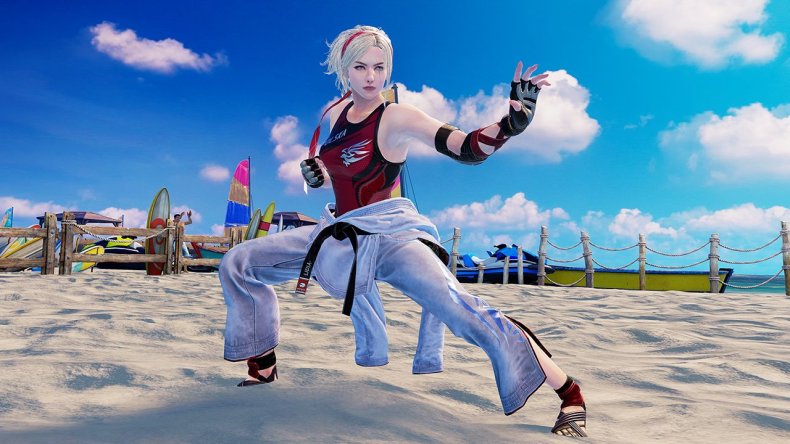 WHEN CAN YOU DOWNLOAD LIDIA IN TEKKEN 7
Bandai Namco has not revealed an exact time for when fans can download Lidia, but based off of past character releases like Armor King and Craig Marduk, here are the times when the new character will appear in the consoles' respective digital stores.
PS4: 12 p.m. EST
Xbox One: 12 p.m. EST
Steam: 1 p.m. EST
We'll update this section if we learn more about exact timing.
HOW TO DOWNLOAD LIDIA IN TEKKEN 7?
Before downloading Lidia, Tekken 7 owners should confirm that they have the latest version of the game. Your console may automatically update each title, but you can easily check the version of the game by pressing the Option button on your controller while you're scrolled over the software. The latest version should be 4.10.
Select "check for update," and the most recent update should appear. If you don't have the latest version, download the newest update.
To find Lidia, follow the steps below.
On PS4, players can verify content has been downloaded by doing the following:
Visit the Tekken 7 page on the PS4 Home Menu or Game Library.
Select the game and scroll down to the PlayStation Store section at the bottom.
If you have already purchased the DLC, download the content from the My Add-ons section. If not, it will take you to the PlayStation Store.
On Xbox One, players can verify content has been downloaded by doing the following:
Go to My Games and Apps.
Locate Tekken 7 and press Menu.
Select Manage Game.
Scroll all the way to the right on this menu to find and install available DLC.
Tekken 7 is available now for PS4, Xbox One and Steam.
Are you excited for the arrival of Lidia and the poolside stage? Let us know in the comments section below.