Tel Aviv Diary: Israel Braces Itself for a Submarine Scandal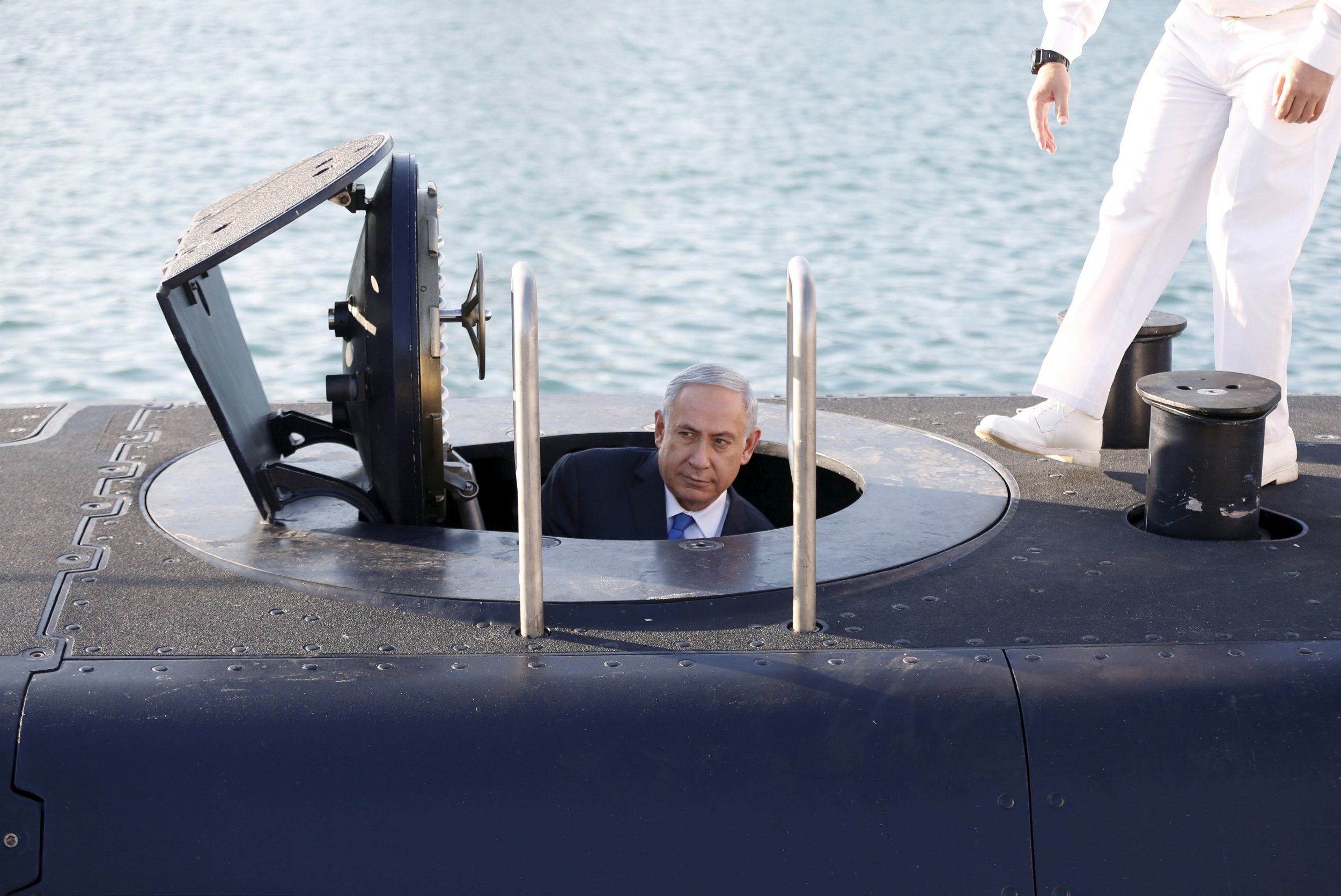 November 22, 2016, should have been a day of celebration for Prime Minister Benjamin Netanyahu. It is the day he broke the record, held by Prime Minister David Ben Gurion, for the longest consecutive years serving as Israel's prime minister.
Ben Gurion served from November 3, 1955, to June 26, 1963. Netanyahu has been serving as prime minister since March 31, 2009. Ben Gurion has still held the position of prime minister longer, having served an earlier term of five years, while Netanyahu's first term was cut short, at just over three years.
However, if Netanyahu can remain prime minister until July 19, 2019, he can surpass Ben Gurion's record there as well.
Related: Tel Aviv Diary: Bannon and an anti-Semitic America
Until recently, it appeared there was little that could possibly stop the 67-year-old Netanyahu from achieving that goal. He is seemingly in good health. Opposition to Netanyahu remains hopelessly fractured and without an apparent alternative leader.
Scandals have come and gone, but none have ultimately impacted the popularity of Netanyahu. His supporters have continually complained that it's mostly the media that are out to get him.
At least that has been the case until now. In the past week, a new scandal has developed, one potentially much larger and more sensitive than any other financial scandal in Israel's history. The initial accusations involve submarines.
Israel currently has five modern diesel submarines built by a German company, ThyssenKrupp, in Kiel. A sixth submarine is scheduled to be delivered next year. Israeli subs are largely believed to constitute a second-strike weapon in case of a nuclear attack, and are part of Israel's strategy to deter a nuclear strike from Iran.
Purchase of the sixth submarine was contentious but ultimately approved. The German government agreed to pay for part of the construction costs for the sixth sub, as it had done for the earlier subs. Considering the fact that for every operational sub at sea, two others are either in maintenance for or on training missions, owning six subs did not seem excessive.
A few weeks ago, the story broke that Israel had agreed to purchase three added submarines. This report received increased coverage, when it became known that former Defense Minister Moshe "Bougie" Ya'alon had opposed the deal, and it was the prime minister who had pushed it.
Only when Ya'alon was replaced by Defense Minister Avigdor Lieberman was the purchase of additional submarines approved.
Until last week, this saga still seemed to be a minor story about problematic management at worst, and or just a legitimate difference of opinion on the needs of Israel and the Israel Defense Forces going forward, at best. Then, last week, it became known that Netanyahu's private attorney and cousin, David Shimron, was representing Micky Ganor, who represents the shipyards poised to build the subs.
According to the German newspaper Hadelsblatt, Ganor will earn between 10 and 30 million euros on the sale. Reports from Germany indicate that Shimron's connection is being investigated by German authorities.
In the meantime, Netanyahu has claimed he had no idea the lawyer and confident he speaks to regularly also represented Ganor and the German shipyards. Moreover, Netanyahu staunchly contends that the decision to purchase the additional subs was made based solely Israeli security.
Related: Tel Aviv Diary: The Trump campaign is America's shame
Shimron has backed the prime minister's assertions, even presenting lie detector results to bolster his claim. However, at the same time, a number of reports publicizing Shimron's meetings with various Israeli government bodies regarding to the sale and related affairs.
In the coming weeks, Netanyahu is expected to be "interrogated under warning" (meaning that he is the target of an investigation) in a different case. Whether this probe will be tied to the submarine investigation is unknown.
On Wednesday night, Israel's Attorney General Avichai Mendelblit ordered a police inquiry into the matter. In Mendelblit's annoucement he stated that he was ordering the investigation after the police received additional information on the affair.
It is too early to know whether any laws were broken in the above mentioned cases, and even more uncertain whether the prime minister might have violated any laws. The matter of whether or not Israel should purchase additional subs, either to increase its fleet or to replace the oldest subs, is undoubtedly a legitimate question.
It remains clearly possible that nothing might come of this inquiry. On the other hand, as opposed to earlier investigations that surrounded flight tickets and other relatively small matters, this probe involves large sums of money and clearly shines a light on the very problematic place where private money and interests intersects with proper governance.
Marc Schulman is the editor of Historycentral.com.
Read more from Newsweek.com:
- Tel Aviv Diary: Obama exacts cold revenge on Netanyahu
- Tel Aviv Diary: Apartheid in the maternity room