Tel Aviv Diary: Israelis Feel Lonely In Their Grief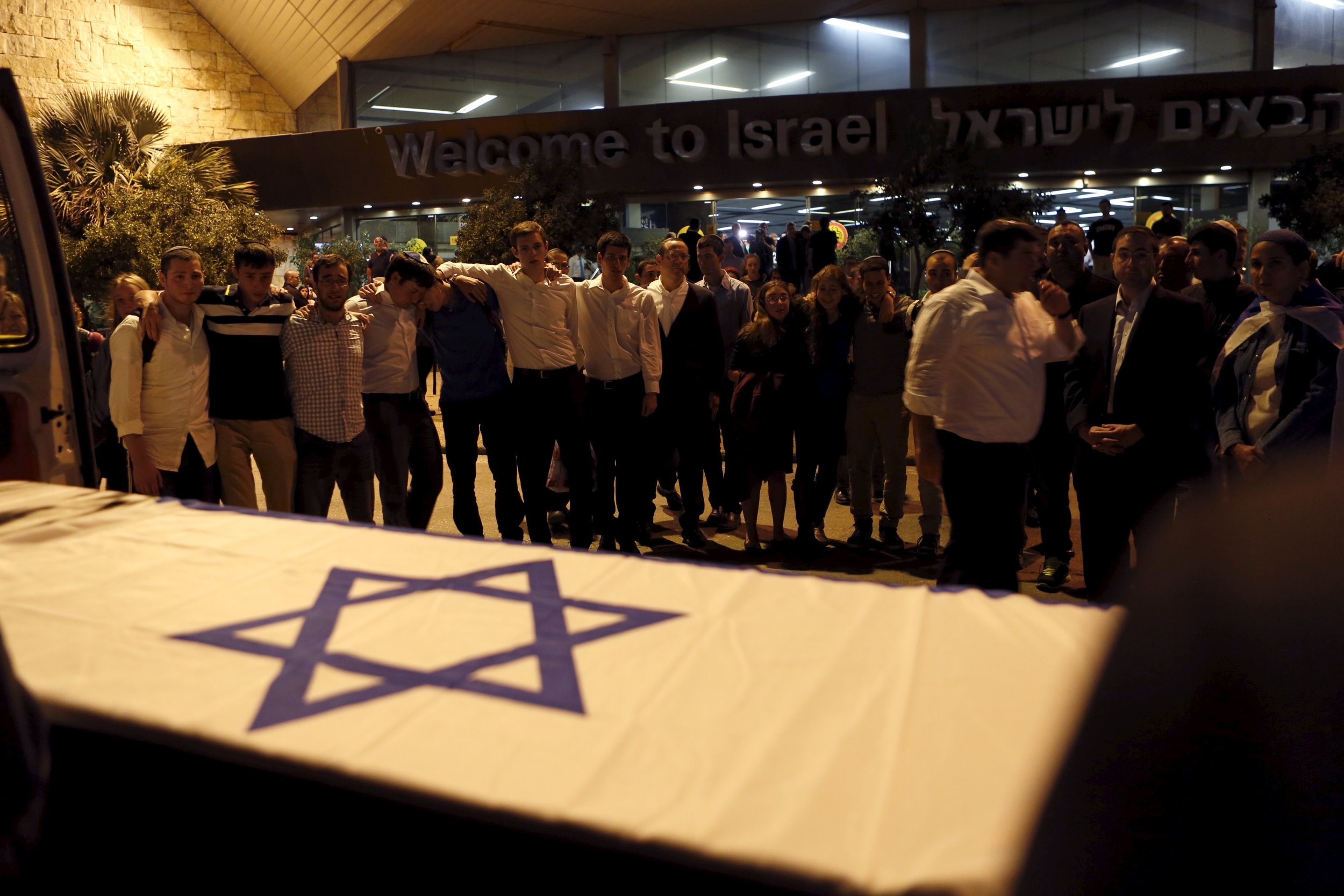 Israelis are a resilient people, living with terrorism and war since before their state was established.
Without question, Israeli history is full of tragedies that are worse than the events of the past two months, such as wars that claimed thousands of lives and a second intifada during which busses blew up daily and took dozens of lives with them.
It was only 15 months ago that the citizens of Tel Aviv were running to bomb shelters once or twice a day, because Hamas in Gaza continued to fire missiles at us. Nonetheless, the events of this most recent stabbing and vehicular homicide attacks are clearly beginning to take a toll.
It's been more than two months since the recent wave of terror began. There has been no singular spectacular event, just small attacks, day-in and day-out. A stabbing here, a shooting there.
Newsweek subscription offers >
Many of the attacks have taken place inside the West Bank. However, attacks have also been carried out in Tel Aviv, Jerusalem, as well as on the road between them. The mood in the country is one that combines profound weariness with steadfast determination. Every news bulletin raises the collective fear, with questions as to where violence has struck this time.
Last Thursday, November 19, was a particularly hard day, with attacks both in Tel Aviv (killing two) and an attack in the West Bank (where three were murdered, including an 18 year old American student.) Since then, there was an attack on Saturday night in the Israeli Southern city of Kiryat Gat, (home of Intel's large fabrication facility), resulting in no fatalities, followed by attacks on Sunday and Monday, both of which produced additional Israeli fatalities.
The feeling is that there is no end in sight. Moreover, it gives Israelis no real comfort to know the crisis appears to be worse in parts of Europe (with Brussels locked down, in a way that Israelis would never allow one of its cities to be shut down).
This time, there is also a serious sense of being alone. The general impression among Israelis is that no one cares. It is possible that the lack of attention to terror in Israel is that the violence and loss have been much worse in other parts of the world – whether in Paris, Mali or Nigeria.
Newsweek subscription offers >
Though this is likely true, it does not help. There is also a feeling that the press is more biased than usual, as a result of a presumed equivalency – between the Palestinian attacks and the Israeli responses.
Much of the seeming bias may be unintended. However, on Sunday even this publication (Newsweek) sent out a tweet that would anger any Israeli reader – "Three Palestinians killed in attacks on Israelis as stabbings, shootings and car rammings continue in West Bank." While the text of this tweet is totally accurate (and similar to many headlines in the press), a quick read first conveys the fact that Palestinians were killed, and only after that the fact that the three Palestinians were killed while trying to kill Israelis.
The Palestinian Authority has been quick to claim Israel has been planting knives on the terrorists, this, despite clear video evidence that these attackers have all been carrying knives. Some reporters did question the P.A.'s accusation—as did Luke Baker of Reuters when he tweeted—"Very serious allegations from the Palestinians? Do they have evidence of evidence tampering?" Clearly there is none. Nonetheless, the rumor is out there. The media covered the lie and, as a result, way too many people believe the P.A.'s allegation is true.
Israelis were particularly troubled by the comment made by U.N. Deputy Secretary-General Jan Eliasson yesterday when he "remind[ed] Israeli authorities that the use of excessive force feeds anger and frustration" and urged Israeli security services to "exercise maximum restraint."
Israelis ask, Is anyone suggesting the French or the Russians who are carpet bombing parts of Syria exercise restraint? One left-leaning friend in Tel Aviv said to me this morning, "The problem the world has with us is that we are no longer willing to go quietly to our deaths."
Lastly, the killing of Ezra Schwartz of Newton, Massachusetts, on November 19 was a case that underscored the core of the problem. Schwartz was an 18 year-old American citizen, visiting Israel for the year, as do many American Jewish students, especially those from Modern Orthodox community. Ezra's death hit the American-Israeli community particularly hard, since everyone knew someone who knew him or his family. (His parents and I graduated from the same high school.)
On Saturday night, Schwartz's body was transported back to the United States by his family. Before they left, a moving ceremony took place at Ben Gurion airport. Stuart Schnee, originally from New Jersey, has lived in Israel for 26 years and worked with the Bet Shemesh school Ezra attended was present at the airport ceremony. Schnee shared:
To see so many 18 year old American kids crying over the murder of their friend was jarring, to say the least. But as they started singing songs and prayers, which they obviously knew well, they suddenly seemed so strong and so connected to thousands of years of Jewish history.

And that actually comforted me. Because ultimately that is what Ezra has become …. he is another link in an incredibly long chain of people killed throughout Jewish history because of the fact that he was a Jew.
At about the same time the ceremony at Ben Gurion airport was taking place, President Barack Obama was holding a press conference in Malaysia. Obama decried:
"Today, families in too many nations are grieving the senseless loss of their loved ones in the attacks in France and in Mali." He continued, "As Americans, we remember Nohemi Gonzalez, who was just 23 years old, a design major from California State University. She was in Paris to pursue her dream of designing innovations that would improve the lives of people around the world. And we remember Anita Datar of Maryland. She's a veteran of the Peace Corps, a mother to her young son, who devoted her life to helping the world's poor, including women and girls in Mali, lift themselves up with health and education."
Obama made absolutely no mention of Ezra Schwartz. This glaring oversight spurred an online petition asking the President to acknowledge Ezra's death. U.S. Ambassador to Israel Dan Shapiro offered his condolences almost immediately, as is his norm. Secretary of State of John Kerry eventually issued a statement of condemnation. Finally, both Kerry and Obama called the Schwartz family to offer his condolences.
Of course, Israelis do not rely only on governments to show solidarity. Ezra Schwartz was a major fan of the New England Patriots. Israeli radio personality David Jablinowitz began a Facebook campaign to get the Patriots to honor Ezra's memory at a game. Jablinowitz's campaign went viral and eventually reached the Patriots owner Robert Kraft. As a result, at their game Monday night (against the Buffalo Bills) the Patriots held a minute of silence in memory of Ezra.
News of this touching tribute was widely covered in the American Jewish media, but not as widely in Israel. Since Ezra was attacked and killed, another two Israelis have died and been buried, by-products of a long string of attacks that continue today.
Israelis feel extremely alone in their latest encounter with terror. They hope it will end soon, though few believe it will.
Marc Schulman is the editor of historycentral.com.
Tel Aviv Diary: Israelis Feel Lonely In Their Grief | Opinion