Tennessee Bill Would Expand Ban on Homeless Camping to All Public Property
Tennessee state lawmakers are working on legislation that they said would protect homeless people, but one bill would expand the state's current ban on homeless "camping" from only state-owned property to all public property.
State Senate bill 1610/HB 978 would make it Class C misdemeanor for a person to camp on the shoulder, berm or right-of-way of a state or interstate highway, as well as under a bridge or overpass, or within an underpass of a state or interstate highway. The bill makes it illegal for any person to solicit from the "roadway, shoulder, berm or right-of-way of a controlled highway or entrance or exit ramp."
The proposed law would expand the Equal Access to Public Property Act of 2012, which makes it a Class E felony for anyone to camp on state-owned property not designated for camping use.
According to the proposal, the term "state-owned land" is to be substituted with the words "public property," and the regulations on camping and soliciting would be widened to include property owned by local governments. The language change would effectively widen the application of the 2012 Act to all public property, not just only state-owned property.
James Wilke, a homeless man who said he struggles with mental illness, told News Channel 5 that although he is close to finding a permanent home, it's extremely "easy to land back in that tent."
"If they're so worried about it," Wilke said about the bill, "why don't they take some of these abandoned buildings here in Nashville and turn it into another shelter. Open up more shelters for us to be in. They need to take the time and sit down together and figure out a solution that helps the homeless instead of punishing them for it."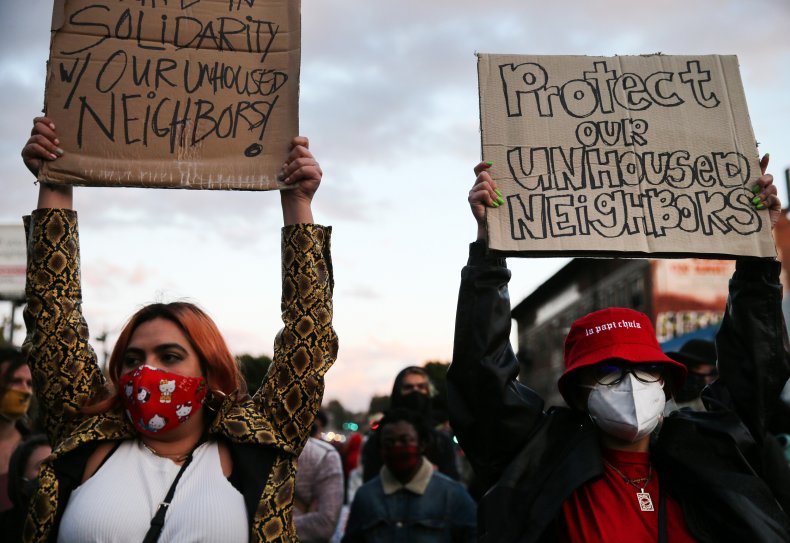 The proposal comes just two years after Nashville cleared the city's most visible homeless camp at Ellington Parkway and Spring Street off Route 31 in East Nashville. Dozens of people living on state Department of Transportation land were evicted for "health and safety concerns," the Tennessean reported.
"Already, unhoused people cannot sleep on private property or state property without violating existing law," the American Civil Liberties Union of Tennessee said in a statement. "If this proposed legislation passes and homeless people are barred from sleeping on locally owned property as well, then people who cannot find shelter cannot sleep without breaking the law."
Some state lawmakers said the bill was about protecting the homeless.
"This is totally about public safety for all Tennessee citizens, including our homeless population. We just want to make that everyone remains safe on our public roads as well as public right-of-ways," state Senator Paul Bailey said.
The proposal would not make any of the crimes a felony offense and is not designed to send anyone to jail, Bailey told CBS 8. The bill states that a person who violates the law will receive a warning citation for their first offense before they are are subject to a fine of $50 and 20 to 40 hours of community service for subsequent offenses.
"In lieu of a fine and community service, the court may require a person convicted under this section to remove litter from the state or local highway system, public playgrounds, public parks or other appropriate public locations," the bill reads.
Newsweek reached out to the Tennessee ACLU for comment on the bill but did not receive a response by publication time.