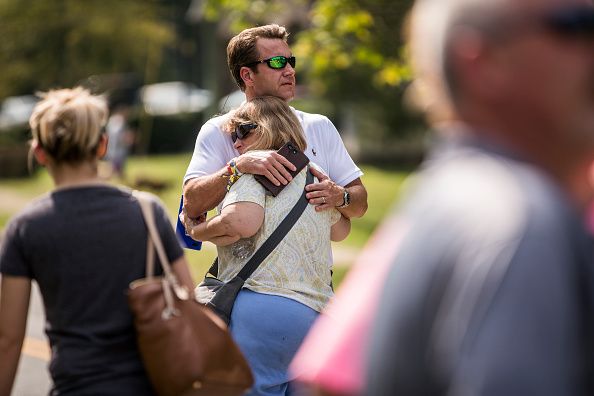 "Alt-right" pundit Stefan Molyneux is concerned about black-on-white crime. The white, Irish-born, Canadian YouTuber, speaking in a comically portentous drone to the camera, lays out the known facts about Sudanese-born Emanuel Kidega Samson, 25—a man who moved to the U.S. as a child, and is accused of perpetrating a horrific mass shooting incident that took place in a church in Antioch, Tennessee, on Sunday morning, leaving one person dead and seven others injured—all of them white.
Molyneux, who at one point in the clip cites an apocryphal and racist statistic implying that Sudanese people have lower IQs than whites, abruptly comes alive as he turns to the topic of a potential motive.
"Could the mainstream media do a more thorough job of [analyzing Samson's social media posts]?" he says. "Of course they could, but I guess it's up to foreigners [like me] to the jobs that the American media doesn't want to do."
He then cites a series of screenshots purporting to reveal Samson's bias against white people that were not captured not by him, but by GotNews.com's Chuck Johnson, an American media personality based out of California who is also associated with the so alt-right.
"It seems that young Samson was exposed to some race baiting," he hisses.
Molyneux's video, the "The Truth about the Tennessee Church Shooting and Emanuel Kidega Samson," which claims that the liberal media has willfully ignored the shooting and Samson's alleged motives, has already been viewed over 100,000 times, and is just one of countless other amateur pieces of DIY reporting devoted to the Antioch church shooting swirling around alt-right and conservative circles online right now—exploiting the tragedy to ignite political outrage. Johnson, who posted the original story Molyneux references, for example, calls Samson a "black power radical" based in part on a link Samson allegedly shared from the millennial-targeted website Mic.com.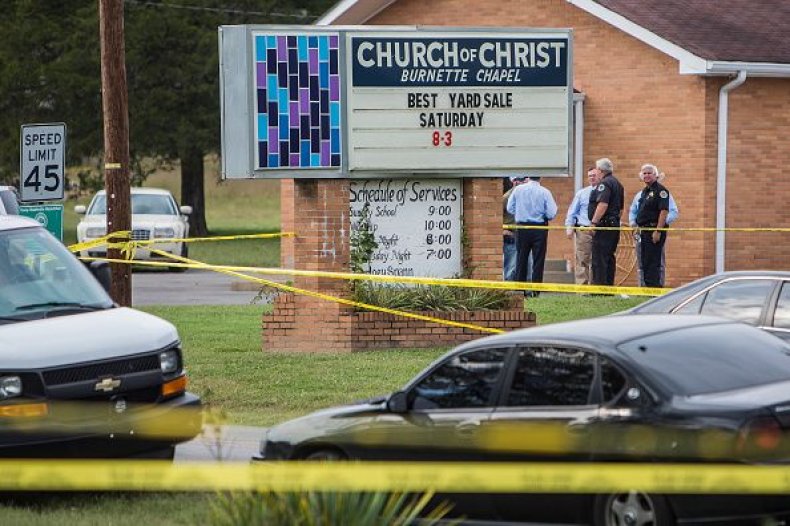 "It can be hazardous," Al Tompkins, a senior faculty member of the Poynter Institute for Media Studies, says of Molyneux's brand of punditry. "The police haven't ascribed a motive yet."
Tompkins, who reported out of Nashville for 15 of his 40 plus years in journalism, notes that there are no shortage of journalists covering the Antioch church shooting, but that they're limited by what can be proven about the story so far.
"The problem is that they just don't have very much information yet, and journalists are not in the business of reporting rumors," Tompkins says.
Tompkins notes that America is different from other Western countries in the amount of information reporters are typically able to access in cases like this one, which he calls "a good thing" that sometimes leads to unreasonable expectations for fast answers. Regarding the conspiracy that the media is deliberately covering up the story of the attack, Tompkins says that a "perfect storm" of issues contributed to the story of the mass shooting being less prominent to consumers of news than it otherwise would have been.
"You've had to search for this one," Tompkins says of the Antioch shooting, "and some of that has to do with the NFL protests happening on the same day, some of it has to do with the storm in Puerto Rico, and some of that has to do with the health care debate. All these things played a role in this thing not becoming a viral story."
Brad Griffin, an alt-right, self-described "southern nationalist" political organizer who goes by the alias "Hunter Wallace," and has in the past called for the creation of a "Jew-free, White ethnostate" rejects this premise.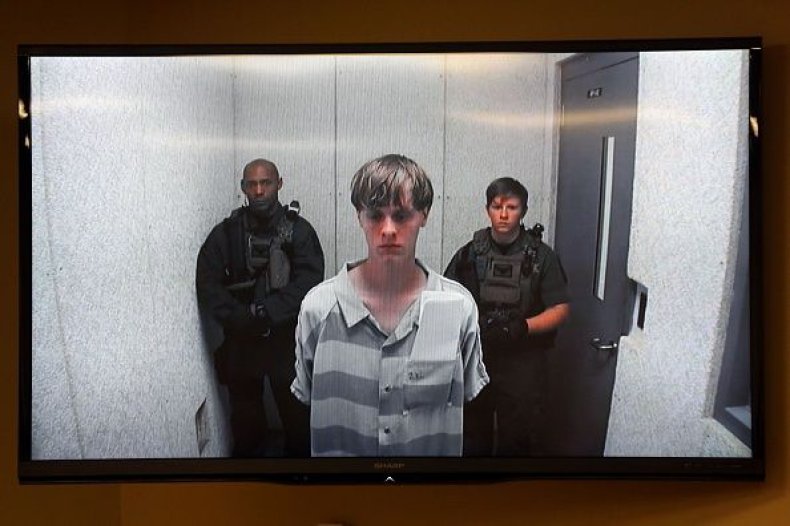 "It's because the media wants to push narratives," he says, arguing that the story has been deliberately buried by the press. "Editors in newsrooms don't want to make black people look bad. Black people can only be portrayed as victims by the media."
Griffin is among the many prominent voices in white nationalist circles calling the Antioch shooting a "reverse Dylann Roof" incident," referring to Roof's politically-motivated murder of nine black church goers in June of 2015. Johnson of GotNews also name-checked Roof in a conversation with me, saying that it was clear to him that Samson "was very pro-black" by his social media history, and adding that "if it were a white shooter with black victims it would be a very different story.
"People on Twitter often dictate what gets covered by the mainstream media," Johnson quipped.
Heidi Beirich, a spokeswoman for SPLC, told me that white nationalists and some conservatives who are making this comparison are ignoring the substantial evidence that led a federal court to convict roof of 33 hate crime charges in December of 2016.
"In Roof's case, we have the benefit of his own manifesto," Beirich tells me, referring to a document in which the killer outlined paranoid and hateful views about black people. "He mentioned how he came to read white supremacist websites."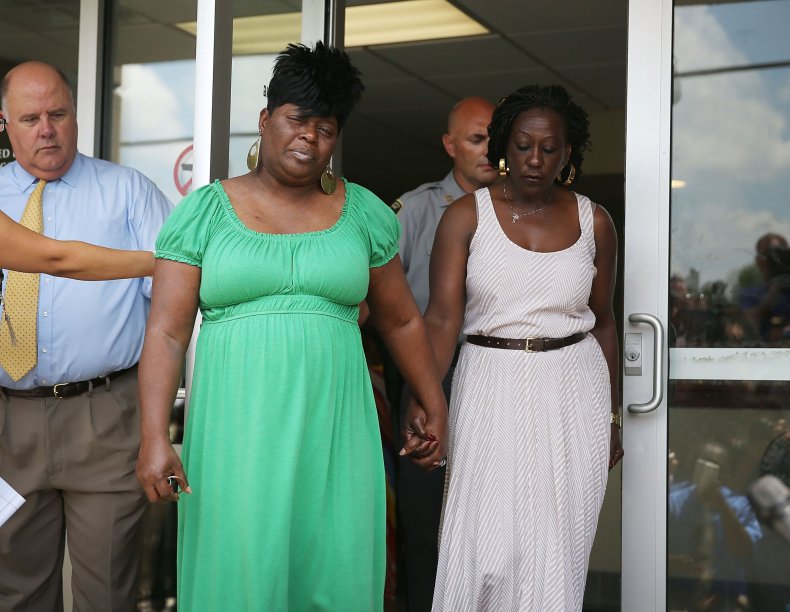 Roof was fixated on the issue of black-on-white crime, Beirich notes, and that the current interest in the Antioch church shooting represents the kind of issue that men like him latch onto as evidence to support their worldview.
"They consider any crime with a black offender and a white victim to be a hate crime, regardless of motive," she says. "I'm not surprised that they're Antioch shooting falls right into that framing."
Both Beirich and Tompkins note that a definite possibility exists that Samson was motived to kill based upon race, but that law enforcement officials have not made that allegation yet.
Meanwhile, far-right social media circles continue to drag the Antioch story further and further into the world of bizarre conspiracy. One user on Gab, a social media network that's popular with the alt-right, told me in a conversation that a photo he found of Samson kneeling was evidence that he supported the recent wave of so-called #TakeAKnee protests in the NFL. The shooting in Antioch, meanwhile, happened over an hour before Sunday's first football game was even played.
Laural Hemenway, a spokeswoman for Crimson Security, the company that employed Samson prior to the shooting, tells me that Samson worked just one night with her company as an unarmed security guard. He did a 2pm to 10pm shift without raising any red flags, less than 24 hours before he allegedly entered the church firing at congregants the next morning. Shortly before the shooting, he sent the company a text message saying that he wouldn't be coming to work anymore, she says.
Hemenway voices skepticism of some of the narratives that have emerged about the case. She adds that for people unfamiliar with Antioch, the area is home to many immigrants who sometimes battle emotional distress as they struggle to assimilate to a new culture.
"If I were looking into understanding how this could have happened," she says, "that's one of the places I would look."