Tennessee Backs Bill Allowing Residents to Carry Guns Without a Permit
A Tennessee House committee passed a bill that would allow locals to carry a handgun without a permit.
The bill was moved forward by the Tennessee House Judiciary Committee on Tuesday, according to the Tennessean, which also reported that the bill was passed within four hours.
Under the proposed legislation, the state would allow anyone aged 21 and older to carry a handgun without a permit, as well as military personnel aged between 18 and 20.
Gun theft would also be upgraded from a misdemeanor offense to a felony crime carrying a sentence of six months.
The proposed bill passed the Judiciary Committee by a vote of 16 ayes and 7 noes on Tuesday, and was handed over to the Tennessee House Finance, Ways, and Means Committee for further debate.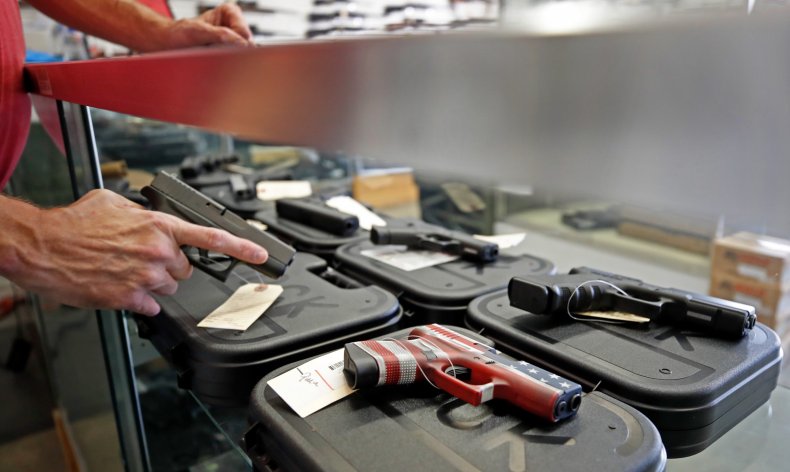 Before the novel coronavirus pandemic led to a state shutdown in March, the Tennessee Senate Judiciary Committee also passed the firearms legislation by seven votes to two.
According to the Tennessean, state legislators have disagreed over the projected impact the bill would have on state finances.
The bill primarily sponsored by Republican State Rep. William Lamberth is estimated to cost local authorities more than $20 million in increased spending and lost revenues.
Newsweek has contacted the gun bill's primary sponsor and Tennessee Gov. Bill Lee's office for comment. This article will be updated with any response.
Speaking to the Tennessean earlier this month, Gov. Lee said the bill and other such legislation was "not the priorities" of his office amid the ongoing coronavirus pandemic.
"My priority is going to be on the state's budget and making sure that we make the decisions that are going to best serve Tennesseans through this next particularly challenging economic period," he told the newspaper.
Memphis Police Director Mike Rallings also appeared at the Tennessee state capitol this week to argue against the passage of the bill while defending the Second Amendment of the Constitution.
"I fully support the Second Amendment, but we face the challenge of managing the coronavirus pandemic across the state and across the world," Rallings said.
"And the last thing Tennessee needs is gun legislation that will allow for permitless, unconstitutional handguns that are either concealed or unconcealed without a permit."
The advancement of the Tennessee open carry bill came in the same week that Democratic senators introduced legislation making it more difficult for Americans to obtain untraceable 3D-printed weapons known as "ghost guns."
Under the federal bill, parts and materials used to make the guns at home would be placed under strict regulations.