Tennessee Marriage Bill That Sparked Outcry for Lacking Age Minimum Is Dead
A bill that was being debated in the Tennessee state legislature that garnered national controversy last week will not advance in this year's legislative session.
Supporters of the bill said that it was originally written to provide a separate pathway to marriage for only opposite-sex couples other than what is legally recognized in the state, out of objections that same-sex marriages have the same legal process and rights as traditional marriages.
However, the bill drew national attention and outrage over the fact that did not list an age minimum for marriage, which critics said could open the possibility of abusers using the process to disguise child abuse as a common-law marriage.
While the bill was later amended to add a minimum age requirement of 18, the public outcry was enough to slow its original momentum and send it to a "summer study"—meaning it is effectively shut down for this session, The Tennessean reported.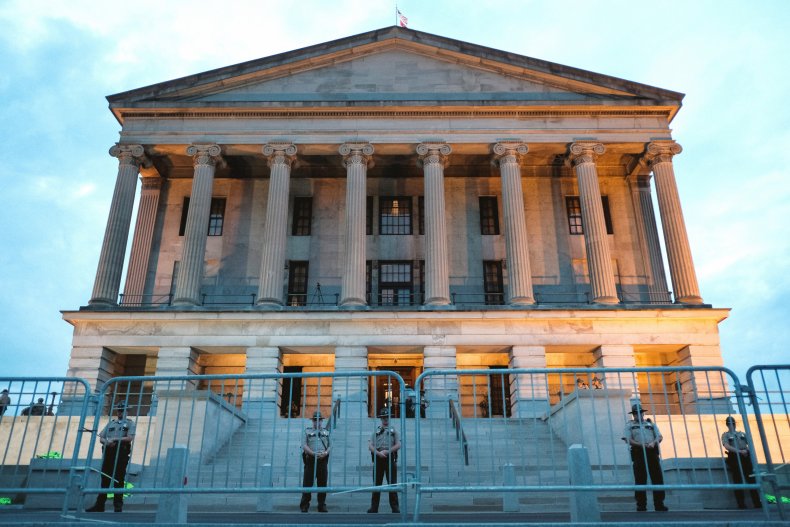 "There's still a lot of sincere concern about this bill," Representative Tom Leatherwood, one of the bill's sponsors, said Wednesday. "And a lot of misinformation about this bill."
Supporters of the bill, including a former state senator, David Fowler, who now leads the conservative Family Action Council of Tennessee, said that the bill was meant to provide priests and religious groups an alternate marriage certificate not available to same-sex couples that they could sign because they object to those couples having the same marital rights, according to The Tennessean.
However, opponents said that it was legislating against a problem that didn't exist, as no priests or religious groups have been "forced" to be involved with certifying a same-sex marriage that they may object to.
A spokesperson for Leatherwood told Newsweek last week that the concerns were unnecessary and the bill would not have legalized child marriage because it would have created "marriage contracts," which minors would not have been able to sign. However, the bill received negative attention once it was reported by local media that Leatherwood and other Republicans had refused to add an age minimum amendment in committee hearings.
"This bill would produce a marriage certificate that would reflect marriage as being between one man and one woman and the certificate would be filed with the county clerk," Leatherwood said in the statement.
"In current law in [Tennessee], a man can marry a man, and the marriage certificate reflects that," the statement continued. "If this bill passes, a man can still marry a man and the certificate would still reflect that. But there would also be an alternative form that would say, marriage is between a man and a woman, and the certificate would reflect that."
Current Tennessee law allows people as young as 17 to be married with parental consent, but a 17-year-old is not allowed to marry someone more than four years older, Newsweek previously reported.
There is no federal legislation regarding child marriage, and states have varying laws ranging from total bans to allowing minors to be married with no restrictions. Advocacy groups that work to ban child marriage have estimated that some 300,000 minors were involved in marriages between 2000 and 2018, mostly at 16 and 17 years old.
Update 4/13/22, 5:45 p.m. ET: This story was updated with additional information.
Update 4/13/22, 4:40 p.m. ET: This story was updated with additional information.