Tennessee School Kids to Be Charged With Vandalism Over TikTok Trend
Multiple students in Williamson County, Tennessee, schools will face criminal charges, police say, after allegedly vandalizing school bathrooms in a destructive social media trend.
A recent trend on the video social media platform TikTok began by encouraging students to attempt stealing items from their schools' classrooms and bathrooms without getting caught. Now, the viral movement has advanced to include additional vandalism of school property.
Officials of the Williamson County School District have reported bathroom soap dispensers missing, ceiling tiles ripped down, paper towels clogging toilets, urinals broken and other vandalism. Students then posted videos about their actions on TikTok.
"Our [school resource officers] (SROs) will investigate each incident of vandalism and destruction of property and will prosecute any offenders to the fullest extent allowed by law," Williamson County Sheriff's Office Captain Leonardo Zollicoffer told WKRN.
The school district is cooperating with police and wants parents to get involved too.
"At this time, we have seen this destruction in a handful of our high schools," Safety and Security Director Michael Fletcher told WKRN. "While there may only be a few students involved, it is impacting students and staff throughout these buildings. We need our parents to work with us to stop this bad behavior before it starts."
The trend, called "the bathroom challenge" or "devious licks," originated when TikTokker @jugg4elias, posted a video of what appeared to be a box of disposable masks stolen from their school. Another Tiktokker, @dtx.2cent, posted a popular similar video with what appeared to be a bottle of hand sanitizer stolen from a school.
The trend has proliferated from there, including stolen objects such as soap dispensers, fire extinguishers and fire alarms, and has grown to include vandalizing plumbing and other school property.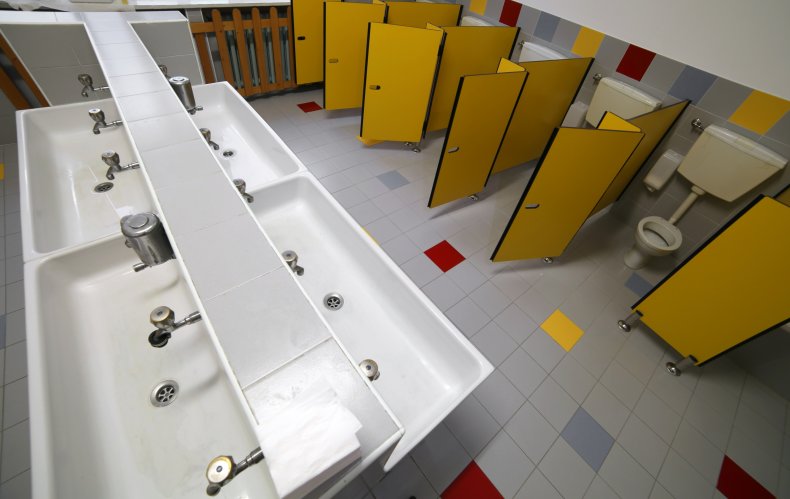 Green Hill High School Principal Kevin Dawson sent a message to parents on Monday asking them for help stopping the behavior.
"As you can imagine, this is both gross (pandemic, restroom germs, etc.) and frustrating for our custodial crew," the message read. "I also do not have an abundance of extra soap dispensers lying around, so the likelihood of not having access to soap in a restroom increases with this ridiculous behavior."
Tennessee schools are not alone in dealing with TikTok-related vandalism. Schools all over the country have been reporting damage related to the trend. Students in states including Pennsylvania, Georgia, South Dakota and Texas have all been warned they will or could be facing vandalism charges related to the viral challenge.
Newsweek reached out to Safety and Security Director Michael Fletcher for comment.